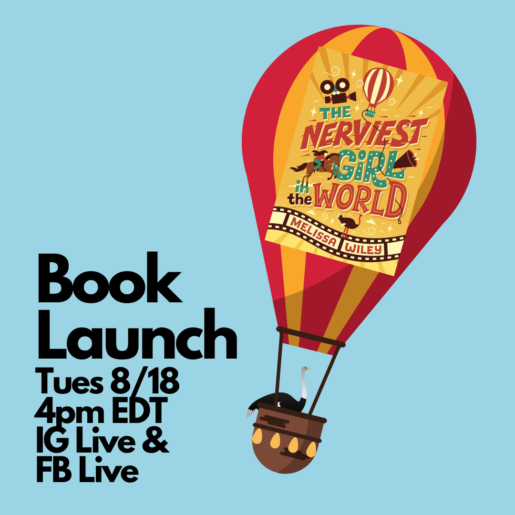 Up, up, and away! I can't believe The Nerviest Girl in the World's publication day is almost here! Friends around the country have been sending me screenshots of their Amazon delivery pages with my book marked "Arriving Tuesday." Exciting!
On launch day, Tuesday, August 18, I'll be celebrating with a live readaloud and Q&A on Facebook and Instagram. Please join me (or have your kids tune in) at 4pm EDT, 1pm PDT, on Facebook Live or Instagram Live. I can't wait for you to meet Pearl!
In other news: Giveaway alert!
Author (and friend) Chris Barton recently published an interview with Anne Nesbet and me about our middle-grade novels & silent-film favorites. Anne is the author of Daring Darleen, Queen of the Screen, which, like Nerviest Girl, celebrates the early days of motion pictures. I had so much fun chatting with Anne and Chris. You can read the interview here (complete with some favorite movie clips)—and enter Chris's giveaway of both of our books!
Out today: Everyday Motherhood podcast interview
The delightful Christy Thomas interviewed me for her Everyday Motherhood podcast. The episode airs today! We chatted about homeschooling, creative practice, Harriet the Spy, my secret history of writing Plumfield fan fiction, and my research & writing process for The Nerviest Girl in the World. Christy is a wonderful interviewer. Enjoy!
I hope to see you at the book launch on Tuesday!