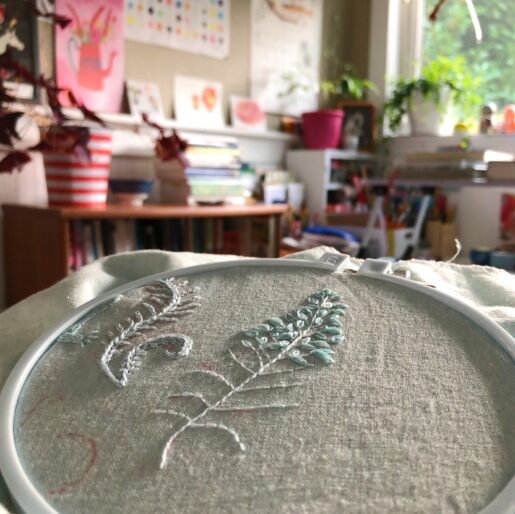 It's early, and I'd like to be stitching. But my fountain pen leaked all over my fingers and even after scrubbing off the ink, there are stains. I worry about leaving black marks on the piece of linen I'm—ah, and now I'm derailed by the search for a verb that accurately describes what I'm doing to the linen. Not embellishing, ornamenting, decorating—all too ornate, too fancy. Ferning, perhaps. Covering it with ferns.
I'm handstitching a drawstring bag (this pattern) because handstitching, including and especially embroidery, is one of the very few activities that quiets my mind enough for real thought. Gardening works, sometimes—if I don't fall into a swirl of longing for plants I have neither time nor budget for—and has, in the past, yielded entire books while my fingers occupied the rabbity part of my brain. Mopping wood floors works: the smell of Murphy's Oil Soap, the light gathering on the boards, the repetitive motion. I miss the job I had for a couple of years in San Diego, cleaning the floors of a yoga studio on Saturday mornings before it opened. I did some of my best writing while vacuuming or mopping those bare floors in empty rooms.
The thing about floors is that cleaning them doesn't take terribly long. And then they're finished. You rinse out the mop head, put away the bucket, and you're done. Gardening is never finished, and neither is stitching, really—I may finish one project but there are a dozen others clamoring in the wings. Lately I find myself dreaming of an interval in which I could tip the balance in the other direction: spend the afternoons stitching instead of writing. What's with that? I baffle myself. But I have these ideas, you see…
And if there's anything slower than writing a novel, it's handstitching! Ha!

We finished our readaloud of The Firelings yesterday. Oh, how I wish this were still in print! If you ever come across a copy at a library sale, snatch it up. I've read it at least twenty times since my dad brought it home from a used bookstore when I was eleven or twelve. Probably more. It explores, as I wrote here some years ago, "the relationship between custom and reason"—a tension I have always found intensely fascinating, as anyone knows who has heard me refer to the "ham in the pan."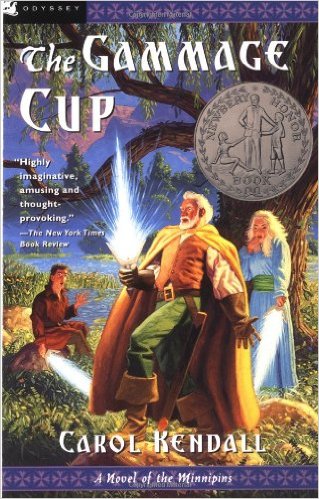 I didn't get my hands on Carol Kendall's other books until I was older—gosh, much older, my archives tell me. I posted about The Gammage Cup in 2010, shortly after reading it for the first time. (Scott, when you see this, skip the blockquote—I know you prefer to encounter a new book with a totally blank slate. I'm probably starting Gammage as a readaloud today.)
Kendall is one of those writers whose voice I just plain enjoy. She's a quirky storyteller with a taste for misfits. This novel is about the Minnipins, a tradition-loving people who live in small villages in an isolated mountain valley. Their distant ancestors settled here after escaping from terrible enemies about whom little is known, now, except their names: The Mushrooms. A few centuries ago, one of the Minnipins journeyed over the mountains and back via hot air balloon. Most of Fooley's souvenirs—and memories—were scattered when he crash-landed back at home, but the remaining fragments have been carefully enshrined in a village museum and in the customs of his descendants. (You can tell them apart from the rest of the villagers by their names, which are taken from a scrap of paper that survived the crash and is now presumed to be a list of the friends Fooley made on his journey: Ave., Co., Wm., Eng., etc. "The Periods," as these folk are reverently called, run the village.)

Folks in the village like things to be done just so, and they have little tolerance for eccentrics like Gummy the poet or lively Curley Green, who recklessly paints images of things from real life, in disregard of the proper classical style. (My kids love Kendall's work, but her character names drive them up a wall.) When Muggles, the reluctant heroine, and her misfit friends begin to suspect the terrible Mushrooms are preparing for another attack, they have to persuade the rest of the villagers that the danger is real. Instead, they get kicked out of the village.
Whoops—time to accompany Huck to his garden gig. I'll come home with strawberry juice on top of the inkstains. You see why I need afternoons free for stitching!