October 19, 2021 @ 4:55 pm | Filed under:
Books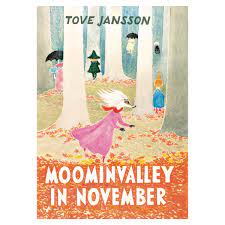 We finished The Whisper of Glocken last week and I'm in mourning—no more Carol Kendall books to read aloud. We did The Firelings, The Gammage Cup, and Whisper all in a row, and that's it. Kendall did write four more books (as far as I can tell)—three for kids and an adult mystery' but I've never been able to track them down anywhere. ONE DAY. She's got to be in my top five authors. A magical way with words, characters with flaws and foibles, and utterly unique worldbuilding and plotlines. And funny!
The only antidote for my Carol Kendall withdrawal: Moomins, of course. And here we are sliding toward the end of October, the perfect time to begin Moominvalley in November. I wouldn't say I usually identify with the Fillyjonk, but today I was really feeling her:
"She began to feel cold because of the rain, and because she had tumbled all the way through her life in a single second, and she decided to make herself a cup of coffee. but she when opened the cupboard in the kitchen, she saw for the first time that she had far too much china. Such an awful lot of coffee cups. Far too many serving dishes and roasting dishes, and stacks of plates, hundreds of things to eat from and eat on, and only one Fillyjonk. And who would have them all when she died?"
Substitute books and pens for the dishes, and that's my house. Hundreds of things to read and write, and only one me. ::heavy autumnal sigh::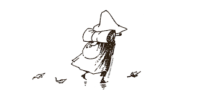 Snufkin is my favorite, of course. He set off for the wilds in early fall, and now, a few weeks in, he's feeling like he wants to write songs. He's listening and waiting, knowing the melody is somewhere in Moominvalley waiting for him to find it.
"There are millions of tunes that are easy to find and there will always be new ones. But Snufkin let them alone, they were summer songs which would do for just anybody. He crept into his tent and into his sleeping bag and pulled it over his head. The faint whisper of rain and running water was still there and it had the same tender note of solitude and perfection. But what did rain mean to him as long as he couldn't write a song about it?"
What, indeed?