A friend pointed me toward a conversation in which a 6th-grade teacher explains why he "reflexively cringe[s]" when he sees his students head for the comics and graphic novel section of the school library. His first post, which suggests that graphic novels are "nothing more than the literary equivalent of Jersey Shore for our kids," drew an impassioned response from comics advocates. (The entire comment thread is worth reading.) In his follow-up post, the blogger acknowledges that he is, as a result of the discussion, reevaluating his stance on graphic novels, but he's still not entirely convinced of their merits—not without informed guidance from a teacher, that is.
Just like iPads, graphic novels AREN'T magical tools. One of the things that blows my mind is the blind faith that many people seem to put in the ability of graphic novels to save struggling readers.

My favorite comment of this entire conversation came in my email inbox from a teacher who described graphic novels as a "fanciful dance" that:

Encouraged visual literacy skills.
Taught students to interpret and analyze at a deep and meaningful level.
Introduced students to video production skills.
Engaged readers in critical self-analysis.

Listen to those words, y'all:  encouraged, taught, introduced and engaged.  Books don't do those things.

Teachers do.
(His post continues here.)
I chimed in with this response:
Teachers *may* do those things, but books certainly can and do "encourage, teach, introduce, and engage." I'm sure you could find examples in your own life, both as a kid and an adult, when you learned something from a book without the intercession of a teacher. I can certainly point to many examples in my own life and my kids' lives.

Here's one: I bought a book on weaving and learned to weave by following the instructions in the book. I made hand towels and scarves without ever speaking to a weaving teacher or expert. The book taught me how.

I have certainly been "engaged" by hundreds upon hundreds of books.

A quick list of topics to which I was "introduced" by a book would include beekeeping, westward expansion, political strife in Burma, candymaking, English gardening, Greek mythology, the Salem witch trials, and–this list could go on for days! I'm sure your own list would be a mile long. 🙂

Raina Telgemeier's excellent middle-grade graphic novel, SMILE, has proved a source of great encouragement to my 12yo daughter as she copes with orthodontic work. SMILE, incidentally, is an example of a smart, literary graphic novel that engages readers and gets them excited about reading, sending them hunting for more great books.

Another of my children made a huge leap in reading fluency and comprehension at age six when she jumped from the Bob books (beginning reader series) to Tintin comics. Her older sisters were Tintin fans, and the 6yo would pore over the pictures and puzzle out the words, wanting to read just like the big girls. The art is what drew her in, but she desperately wanted to know what was going on in those word balloons. The vocabulary, as is often the case in graphic novels and comics, was quite sophisticated. The stories introduced her (to borrow your word) to countries and cultures all over the world. At the time, I was reading aloud to her from various children's novels, but she read Tintin by herself, asking for help only occasionally. That child is now 10 years old and an avid reader–of prose and comics. Her favorite authors are Roald Dahl, Emily Rodda, and Brian Jacques–all prose novelists.

I know this is but one anecdotal example of a kid whose door to reading was a comic book. I have heard many, many similar stories. At the recent San Diego Comic-Con, I attended a panel on Comics in the Library in which four public librarians talked about (among other things) the ways they see kids reading and learning from comics. I was particularly struck by a comment from one of the panelists, who said he read comics almost exclusively as a kid–and went on to major in English, get his MLS, and become a librarian.

I'm glad you're reassessing your thoughts on graphic novels—the Jersey Shore comparison was seriously off base—but it seems like you're caught on the notion that books require teachers as intermediaries, and that too seems off base and contrary to the experience of, well, millions of kids and adults who have learned incredible things alone with a book.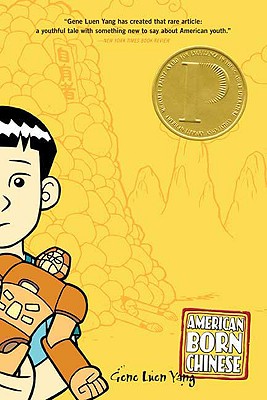 No response yet, but I appreciate that he's been open to the discussion with the commenters on his blog, and I hope he'll read some of the excellent books they have recommended, including one of my own favorites, Gene Yang's American Born Chinese—a rather brilliant and deeply moving graphic novel about a Chinese-American boy struggling with identity and acceptance. I think this teacher's negative feelings about comics are quite common among adults, especially those who sincerely wish to cultivate in students a love for reading and a nuanced engagement with literature. Comics may strike these adults as fluff, twaddle, mental junk food. In my experience, this negative stance nearly always means the adult hasn't read many comics—or is possibly repeating disparaging things said by adults in his life when he was a kid immersed in the exploits of Metamorpho and Adam Strange, so enchanted by story and pictures that he didn't notice he was acquiring an impressive vocabulary and a sophisticated grasp of story structure, character development, and setting.
Amusing side note: today's mail brought a review copy of The Manga Guide to the Universe by No Starch Press. Jane has learned a ton about electricity, relativity, and statistics from previous Manga Guides. I would be so much smarter if I read more comics…