December 1, 2012 @ 12:04 pm | Filed under:
Books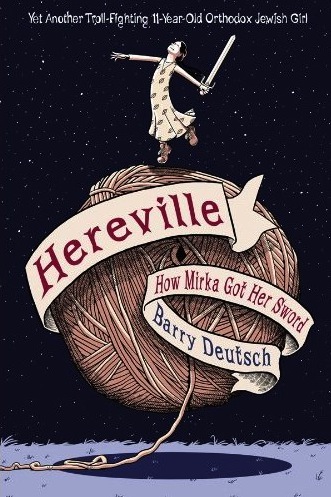 Someone on Twitter was looking for suggestions. I rattled off a list…and then copied it to Facebook and thought of more…and I figured I'd throw the titles up here too, for easy access, though of course this is a mere sliver of what I'd put on my ideal Books for Ten-Year-Olds bookshelf. Later, when time permits, I'll try to come back and add capsule reviews, but today is not that day.
(Um, it goes without saying I recommend my own The Prairie Thief for this age, yes? Because I'm totally saying it anyway. For boys and girls. Ahem.)
• Turtle in Paradise by Jenni Holm
• The Evolution of Calpurnia Tate by Jacqueline Kelly
• Hereville: How Mirka Got Her Sword (and sequel) by Barry Deutsch
• Smile by Raina Telgemeier
• Jane of Lantern Hill (happy sigh) by L.M. Montgomery
the Betsy-Tacy books (obviously)
• The Firelings by Carol Kendall
• The Gammage Cup / The Whisper of Glocken by Carol Kendall
• Understood Betsy by Dorothy Canfield Fisher
• By the Great Horn Spoon by Sid Fleischman
• The Children of Green Knowe by L.M. Boston
• The Great Turkey Walk by Kathleen Karr
• Rowan of Rin (and sequels) by Emily Rodda
• Wonderstruck by Brian Selznick
• The Penderwicks series by Jeanne Birdsall—the first one is my favorite
• Rules by Cynthia Lord
• Bad Island by Doug TenNapel
• Linnets and Valerians by Elizabeth Goudge
• The Ranger's Apprentice series by John Flanagan
• The Warriors books by Erin Hunter—Rose's longtime obsession!
Harold Underdown suggested Rapunzel's Revenge by Shannon Hale, and I second that—my kids and I loved it (and the related Calamity Jack—both graphic novels); they love all Shannon's books like CRAZY. Next to Betsy-Tacy and Percy Jackson, the Shannon Hale novels are the most frequently borrowed books by their friends. We basically have a Lovelace/Riordan/Hale lending library going here.
Obviously, I could go on and on here. (See the comments for more suggestions.) This truly is a just-off-the-top-of-my-head list. Also check out my master list of book recommendations!