November 22, 2013 @ 9:31 am | Filed under:
Books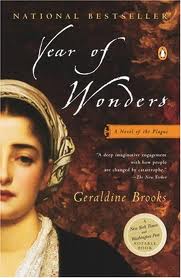 The historical fiction course I'm taking at Coursera continues to delight me, and this week's Geraldine Brooks seminar on her plague novel, Year of Wonders, pretty much knocked my socks off. The professor, Dr. Bruce Holsinger of UVA, posted a long excerpt from what was also my favorite part of the seminar–Brooks on how she writes characters from other eras, how she forms their consciousness.
"And as a foreign correspondent in the contemporary world, I would hear people all the time saying, 'They're not like us.' One side saying about the other—white South Africans about black, Palestinians about Israelis—'Their values are different, they don't love their kids, they're willing to sacrifice them, they don't have the same material needs that we have,' and it's all BS in my view. You know, the sound of somebody keening for a dead child, is exactly the same, no matter if they're in a…New York apartment, or an Eritrean refugee camp. There's a fundamental belief that the human heart hasn't changed that much. … At a time when you couldn't expect to raise your kids, when death was ever present, there would've been a different approach to loss. But I don't think it felt any different, I don't think the emotion of loss felt any different, and I don't think hatred felt any different, and I don't think love did. And so, that for me is, where you start, with believing that human beings have these strong emotions in common. And that, that is more crucial to shaping consciousness than the furniture in the room. So, that's my conviction about historical fiction, and it … drives everything for me."
There's more, well worth the click-through. And if you sign up for the course (free), you can watch the videos. Such a treat to hear smart people talk about their work. Author Jane Alison's seminar on her Ovid novel, The Love Artist, was also fascinating and thought-provoking. I haven't yet watched the Katherine Howe videos (The Physick Book of Deliverance Dane)—greatly looking forward to it. Dr. Holsinger's lectures have captivated me, to a one. Lots of peeks at rare first editions from UVA's special collections library (swoon) and really excellent, meaty discussion of various historical fiction novels in their own historical context: Tale of Two Cities, Clotel, Anna Katharine Green's detective novel The Forsaken Inn (new to me, and the genesis of a subgenre, historical mystery). Dr. Holsinger even has me wanting to give James Fenimore Cooper another shot, which is saying something.
Looking forward to upcoming seminars on Mary Beth Keane's Typhoid Mary novel, Fever, and Yangsze Choo's The Ghost Bride.
• Plague, Witches, and War: The Worlds of Historical Fiction •