Okay, then. Blogging first, blogging freehand.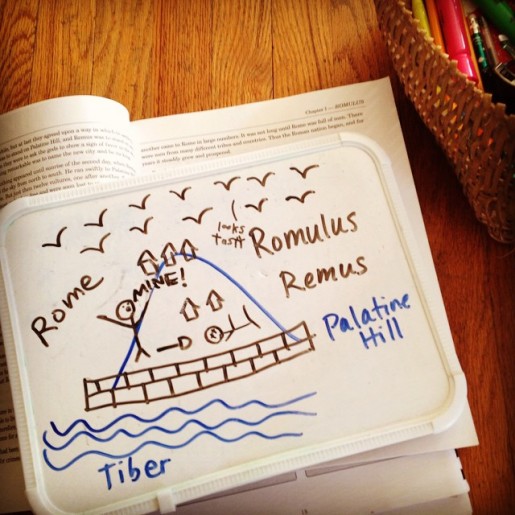 My visual aids are world-class.
 Some things we're having fun with these days:
Famous Men of Rome. Rilla's first time. Rose and Beanie are listening in—they know these stories well and enjoy them, and it's amusing to them to watch Rilla encounter them for the first time. She's doing a lot of narration afterward, mostly at dinner in the guise of "tell Daddy all about Romulus and Remus." Sometimes during or after a chapter, I use the whiteboard to help her remember names.
Whiteboards in general. You guys, I use them for EVERYTHING. A million years ago I made the brilliant move of buying a whole bunch of scratch-and-dent markerboards for a song. The larger size are perfect as painting boards, underneath our paper—they wipe up easily and can be moved elsewhere while the masterpieces dry. We also use the big ones for things we're trying to learn by heart. Presidents and their terms, British monarch family trees, and so forth. The smaller ones fit handily beside my chair and are great for our Latin lessons. I'll write out a sentence and let them parse it. Meanwhile, Huck is keeping himself busy nearby with another markerboard and my best dry-erase pens.
Horrible Histories Kings and Queens of England sing-along. Penny!!! I can't thank you enough for mentioning this a while back when I wrote about using Memrise to learn British monarchs. This video—all the HH videos—delightful. Hilarious. We've been watching this one every morning for two weeks and today we got through the entire song without a hitch. I wish you could hear Huck imitate baby Henry VI. (Wah!) Spot on.

Charles II is my favorite.
Creativebug. The other day I happened upon this rather amazing site. It offers video tutorials in a zillion artsy and crafty pursuits, everything from embroidery to cake decorating. I signed up for a free two-week trial subscription, and if you're my friend on Facebook you know I've been having a whale of a time. Rilla and I have already devoured illustrator Lisa Congdon's Basic Line Drawing course, and we're three-quarters of the way through Dawn Devries Sokol's Art Journaling class. We have Art on our schedule twice a week after lunch, but that's not been nearly enough to accommodate the creative outpourings inspired by our Creativebug explorations. I'm finding the Lisa Congdon class has been particularly inspirational and instructive, spurring me to do a bit of sketching when I hit a snag in writing. Sometimes my other jobs—raising kids, educating them, managing a household, editing—plant me pretty solidly in my left brain and I need a right-brain pursuit like drawing (even though I'm no visual artist, as the whiteboard above attests*) to exercise my creative muscles. I'm enjoying, too, painting backgrounds in the art journal and returning to them later to practice line drawing. Rose plans to watch all the cake decorating videos. Beanie's interested in the embroidery. Right now Creativebug is offering a whole MONTH of free trial (use promo code "CRAFT," good through Sept. 14, and thanks Kortney for the heads up on that!), so if your interest is piqued, now's the time to give it a try. After the trial, a subscription is $9.95/month for unlimited courses, or $9.95 to buy individual courses that you can access forever.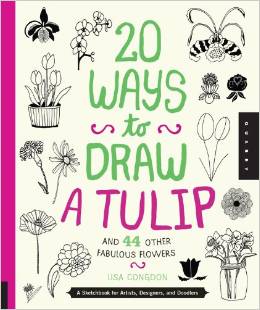 *In my defense, I did draw a lot of it upside down.
20 Ways to Draw a Tulip. Lisa Congdon mentioned this book of hers during her line drawing tutorial. I'm in love with it. It's tulips and 44 other flowers. Twenty ways to draw each of them, from simple-and-sweet to highly detailed to stylized and folk-arty. Wonderful, wonderful, out of all hooping.
And guess what's back. ModPo!!! The best Coursera class I've taken, and I've taken some darn good ones. Modern and Contemporary Poetry with Al Filreis and his MFA students at University of Pennsylvania. Last year I watched about 75% of the videos. This year I'm hoping to tune into the entire course, but listen, even if you only manage a single video all semester, you've gained something. The discussions are engaging, thoughtful, and lively. My highest recommendation.
Best of all: Wisteria and Sunshine, Lesley Austin's lovely membership site, has reopened its doors. There's nothing else like it on the web. Lesley's posts and pictures are nourishment for the soul, and I always come away with something to ponder, something to act on, something to cherish—just like in the Charlotte Mason motto about how a child should always have Something to Love, Something to Think About, and Something to Do.