If I really had it together, I'd have pulled some of these books out last week in anticipation of the Supermoon. Truth is, I didn't even think of these in connection with Saturday's moon until, well, just now. I did think, sometime Sunday afternoon, Ooh, we should read Owl Moon to Rilla and Wonderboy, but I forgot about thinking that until just now.
What did happen is I was hunting for a package of address labels I thought I'd stashed on a shelf in Wonderboy's room (which doubles as Scott's office), and although I didn't find the labels, I found half a dozen picture books I really love and don't remember reading in the past year. I gave up my label hunt, addressed the darn package by hand, and snagged Rilla for a readaloud.
That accounts for the first two books in this post. The third one is a quiet marvel of a book and we met it for the first time the weekend before last, when my perfectly scrumptious wee goddaughter came for a visit.
But first: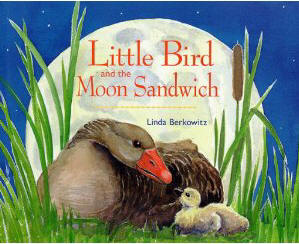 This, along with its companion, Alphonse, Where Are You?, has enchanted each one of my children in turn. I actually kind of squealed when I found it yesterday because I hadn't seen it in a while and I knew Rilla wouldn't remember it and it's such a delight to share it for another first time. Alphonse the goose is the friend and protector of Little Bird. They gaze at the great round moon together, and Alphonse remarks that it's made of swiss cheese, and Little Bird would like to eat it but alas, it's glued to the sky. Except—they round a bend and there's the big swiss-cheese moon floating in the pond. All the geese crowd around, commencing a frenzy of splashing and diving, and though their efforts don't capture the moon, they do dredge up a swiss cheese sandwich—and if it weren't for Alphonse, Little Bird would be left without so much as a nibble. I love the gentle interplay between the big goose and the little one, and I wish I had a record of Rilla's deep chuckle the first time she heard the words "moon sandwich."
When Moon Fell Down by Linda Smith, illustrated by Kathryn Brown.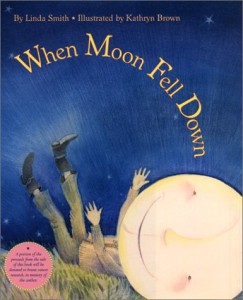 It's funny how you connect books with the people who introduced them to you. Just as I always think of my friend Joan when I read one of the Alphonse and Little Bird books—I think she was the editor of them, and I know they were, like Brave Georgie Goat, gifts from her—my original Little House editor, the great Alix Reid, comes to mind every time I pick up When Moon Fell Down. "You're going to love this one, Lissa," she told me. "It's one of my favorite books I ever worked on."
"Moon
fell
down
one
night…

fell upon a farmer's lawn,
rolled about in sheer delight
on fields he'd only shined upon."
Before long he encounters—who else?—a cow, and the two of them take off for a stroll through town. Moon has never seen the world from this vantage point before; until now, he "didn't know a horse had knees." There's a lush, hushed, magical quality to this book—and thinking over past Rillabooks entries, I think that's something I'm often drawn to in a picture book, partly because the magic holds my little ones rapt. This art is, well, luminous, and the combination of whimsy and wonder seems to appeal to the children just as much as it does to me.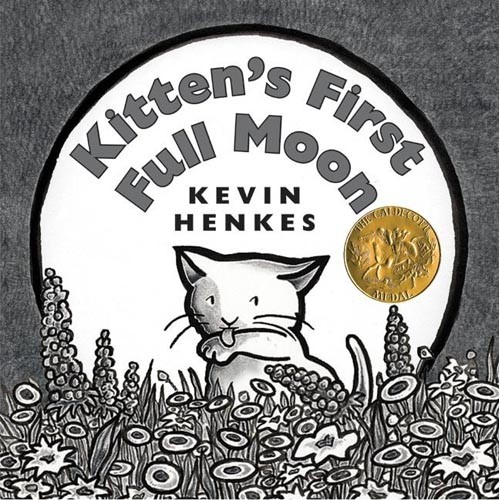 I'm a big Kevin Henkes fan but somehow I'd missed this book until my pal Kristen pulled it out of her bag last weekend! It's a great favorite of my little goddaughter, who is just eighteen months old, and Huck and Rilla swooped in upon it immediately. The black-and-white art is magnificent. Like Little Bird above, Kitten spies the big white moon and wants a taste. It looks, after all, just like a gigantic saucer of milk. Kitten climbs a tree, splashes in a pond, tries everything to get to that bowl, to no avail…We were almost as sad to say goodbye to Kitten as we were to Vivi and her parents. This is a book I might just have to add to our collection.
(Which is funny because as godmother, I consider it one of my responsibilities to help curate Vivi's collection. But on this visit, it was Vivi who introduced us to two keepers. The other was Not a Box by Antoinette Portis, which I keep wanting to rave about here. I fell madly in love with that book. I mean like A Visitor for Bear level, The Maggie B. level, Christina Katerina level—that last is a particularly apt comparison, as you'll see if you check it out. It's the kind of deceptively simple artistry that really takes massive talent to pull off, and it speaks so exactly to a child's sensibility. "What are you doing in that box?" asks the narrator. "It's NOT a box!" replies the bunny, blasting off in its spaceship.)
(Here, I was going to save it for another post, but now that I've gushed about it this much I might as well show you the cover. Only you've all seen it already, I bet. I don't know how I missed it. I mean, look, it's got the Geisel honor medal! Where've I been?)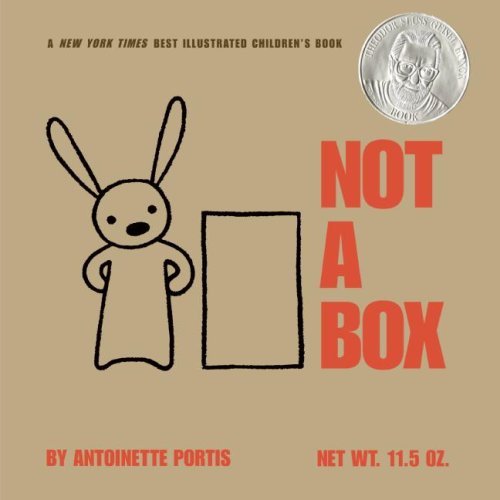 Now I've gone and blown my whole moon theme. This is what happens, though; one book leads to another. I suppose the common thread for all the books in this post is that they came to us by way of dear friends. We can pretend that's what I was going for the whole time.
Oh but I was going to mention two other moon books we love but haven't read in a while…I mentioned Jane Yolen's Owl Moon at the top of this post, and When Moon Fell Down reminded me of The Moon Jumpers, a strange and lyrical little book by Janice May Udry, gorgeously illustrated by Maurice Sendak. I remember Rilla going through a Moon Jumpers attachment about six months ago, but I haven't seen it in a while. This might be the week to pull it back off the shelf.
I don't know who gave us those two books. I think I bought Owl Moon when I worked at a children's bookstore, or if not I bought it because it was part of Before Five in a Row or something. The Moon Jumpers, I must have just picked up myself because I loved the art. I really am crazy about all that early Sendak work.