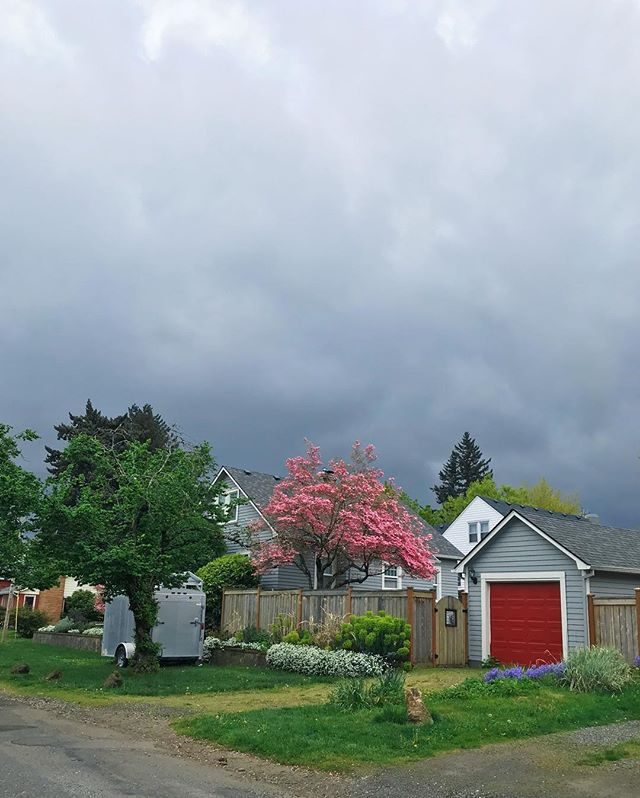 I think this is my favorite photo of the hundreds (thousands? eek) I've taken since we moved to Portland. I posted it on Instagram with a riff on the much-beloved William Carlos Williams poem:
so much depends
upon

a red garage
door

glazed with rain
water

beside the pink
dogwood
And while I've appreciated "The Red Wheelbarrow" for many years, I feel like I get it in a deeper way now. There's a feeling I get when I look at gray-blue clouds piled over a blue mountain, or sunlight shining through black tree branches, or the evening sky shot through with light and shadows—a feeling like Emily Starr's flash, you know?
I started writing this post last week (thus the title) and didn't have a chance to come back and finish until now. It's Monday morning, early, kids still in bed, sky like mother-of-pearl. I've been awake since before dawn, dunno why. The enthusiastic birds outside my window, probably. I contemplated getting up and taking my walk early—I usually go in the evening, during golden hour if I can possibly manage it—but I opted to lie in bed and watch the walls turn from gray to blue. Got up around six and slipped out to the back yard to smile over our little garden like a proud mother. We have radishes coming up in the garden, and my first strawberry is very-nearly-almost ripe.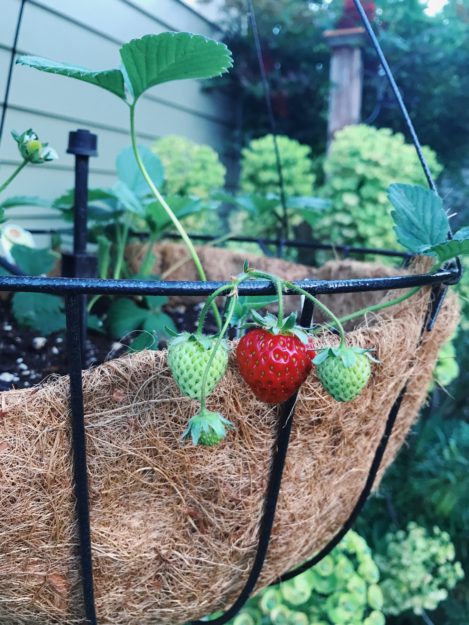 Anyone remember my big long strawberry-rhapsody post from a million years ago?
Eighteen dollars: less than four times the amount we paid for last night's gone-in-a-flash berry feast. And now I get a steady stream of berries from June to September. Like the wantons they are, the plants have multiplied with abandon: we must have hundreds of individual strawberry plants now, each fertile and heavy with fruit in its season. I am a neglectful gardener (just ask my neighbors) and I do nothing to baby these plants. I ignore them. I don't do chemicals and I can't be bothered with fertilizer or compost. We have terrible soil: thick red Virginia clay that is not at all disposed to encourage root growth. The kids' caterpillar farm (fennel and rue) springs up right from the middle of the strawberry bed. The strawberries don't care. They thrive on adversity. They scoff at the miserable growing conditions; they sneer at the crabgrass; they launch themselves over the retaining wall and bloom in mid-air. They send exploratory runners into the lawn, and Scott mows right over them. For this callous treatment, they reward us with a riotous, bountiful harvest. You can't beat us down, they proclaim. You only encourage us to flaunt our fertility. We will, we must, reproduce! We will fill the world! Let those fat, bland, expensive greenhouse-grown excuses for berries beware! We are sun-warmed and sweet. We will make you weep for joy.

There is no modesty in strawberries.
And there was no brevity in 2005 me, apparently. 😉 Oh for the days of big long text-heavy posts!