January 20, 2014 @ 2:29 pm | Filed under:
Television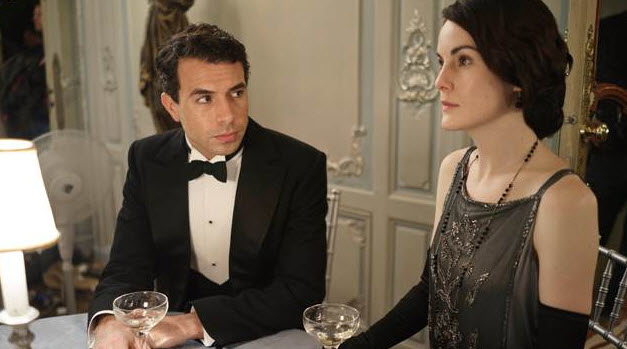 I once read a scathing review of my book Little House by Boston Bay in which the reviewer lambasted me for utterly mischaracterizing events in a small Massachusetts village during the Revolutionary War. The reviewer was something of an expert on the Revolution and was openly disgusted with my apparent ignorance. Such-and-such would not have happened during the War of Independence, he declared, did not happen. And he was right: because, you see, Boston Bay does not take place during the War of Independence. The novel is set in 1814, some thirty years after the end of the Revolution, during the War of 1812. The reviewer, it turned out, disliked my book because he thought he was reading an entirely different book.
It struck me this week that I've been doing the same thing with Downton Abbey. I've been mentally classifying it as the same kind of smart, probing period drama as the BBC's Pride and Prejudice, when really what it is is a beautifully dressed Melrose Place. It is, I can confidently say, the most gripping and linguistically clever Melrose Place I've ever seen. But it's never going to be Pride and Prejudice, in which every tiny morsel of plot supports the primary narrative and themes. Here we will have characters stride in, devastate a life or two, and stride back out into the credits, serving purposes more dramatic than transformative.
I'm trying to make my peace with this, trying to stop expecting a bite of orange when I sink my teeth into an apple.

And so we say goodbye to Braithwaite, that "manipulative little witch," as Thomas called her, and to Lord Gillingham as well. Ah, Tony, we hardly knew ye. Mrs. Hughes dispatched Edna as effortlessly as she would have swatted a fly. (And just as viciously. "I'll tear the clothes from your body and hold you down"—good heavens! Since that's exactly what happened to Anna last week, this remark is in rather bad taste.) It's interesting to note that Mrs. Hughes is the real mover and shaker of this season so far, the catalyst of events in the lives of Isobel, Carson, and now Tom. I'm fully expecting her to be the eventual force of reconnection for Anna and Bates. Perhaps not; Anna is generally her own catalyst, but I can't imagine Mrs. Hughes will be able to watch this painful distancing go on for long without interfering in some small way.
But I'm not quite ready to talk about Anna yet.
I liked Lord Gillingham quite a lot and I thought Mary's scenes with him were her finest of the season so far—the layers of her emotions each distinct and apparent. Affection, wistfulness, regret, ache. But it was too soon, too soon, for us to root for that romance, and in the end, her gentle refusal felt entirely familiar. We've seen Mary in this moment before. The only fresh note was when her calm mask cracked, her eyes filled with tears, and she spoke of how Matthew fills her brain and she isn't ready for that to change, isn't ready to mentally leave him. That was a raw, honest moment, but still the whole story arc left me feeling like I'd been strong-armed back onto a roller coaster before I'd caught my breath from the last looping ride. Also, now I have to think about Tony being sad and stoic out in the world somewhere, making the best of a life with poor Mabel.
Will everyone please stop bumping into Isobel in the graveyard? We get it, she's there a lot. One tombstony encounter would have been sufficient to make the point (and I'm certain we're going to see another proposal before the season's out—I only hope we don't have to watch another regretful 'I'm terribly sorry but no').
At the Lotus Club—why on earth didn't Tom or Tony go rescue Rose sooner instead of sitting there watching that drunken Bullock slobber all over her? Oh that's right, it was to contrive a moment—and a very sweet moment it was—between Rose and the singer. Well, it could have been much less clumsily contrived. Now the question is, will Mr. Ross be dispatched brokenhearted in the next episode a la that nice young farmer, or is he the next Tom Branson/Michael Gregson?
Speaking of Michael, it's remarkable how the bold, modern Edith shrinks back into her chastened, pre-war self the moment Rosamund raises an eyebrow in her direction. But then I think Edith has a lot of uncertainty about this very unorthodox path she's walking. At least her aunt doesn't underestimate her, the way everyone else persists in doing, year in, decade out. "Edith's as mysterious as a bucket"—oh, come on. (I forget who said it—Mary? Cora?)
I'll leave the tortured Kitchen Love Rectangle to the rest of you. Still wondering why Daisy chooses to stay at Downton in misery rather than go be mistress of her very own farm. If ever a woman needed a change of scenery, it's that one.
As for Anna and Bates…I don't know. I'm so unhappy about this story arc that I find myself just hoping it'll all be resolved quickly, and then I feel sick, because of course that's the point. What happened to Anna can't be 'resolved quickly,' can't be neatly wrapped up in a three-episode arc. It's 2014, and rape should not be Melrosed.
I did watch an interview with Joanne Froggatt, who plays Anna, discussing her confidence in Fellowes and her feeling that the storyline is not gratuitous (i.e. not being played for drama only). I appreciate her thoughtful comments (here's the link if you can't see the video below), and I want to say I think Froggatt is doing a beautiful job of conveying Anna's pain and trauma. But. But. Something still isn't sitting right with me, and it's what I talked about last week: the decision to create a rift between Anna and Bates before her trauma. His sharpness and jealousy, the suggestion that Anna was being a bit flirty with Mr. Green. Those two writerly decisions (and always, always with this show, we come back to the very visible hand of The Writer, who is meant to be invisible) are so wrongheaded they undermine whatever sensitive or unflinching exploration of a very real trauma they are striving to create.
I'm also bothered that Anna's trauma is becoming all about Bates. He did kind of bully her with his "I will find out." Bates is being written all wrong this season, period.
Well, Carson's being written rather wonderfully, I'll give Melrose Abbey that much. He wins best line this week: "I always think there's something rather foreign about high spirits at breakfast." Oh, the layers of disdain he piles into the word 'foreign'!
So who's your pick for the next lady's maid? A return of Miss O'Brien? She's not that old. I'm trying to remember what 'older' women Thomas knows…
My previous Downton Abbey recaps are here.