Like many people, I'm still reeling from the bizarre, ill-considered piece of legislation that recently went into effect which (among other things) makes it illegal for Americans to buy, sell, or barter children's books published before 1985.
I graduated from high school in 1986. That means all the books I read growing up, all the precious copies my sisters and I absconded with when we left home and all the ones waiting for our kids in our old bedroom closets, could now be considered, according to the Consumer Product Safety Improvement Act (CPSIA), a form of hazardous waste. It is against the law to sell them and possibly even to give them away.
Quite often on this blog I find myself encouraging readers to look for certain out-of-print gems, children's books I think no child should miss. Some of these books were published in the dark ages—that is, prior to 1985. There's no point in my recommending them anymore; no one can sell them to you.
Which is a very great pity.
Alicia at Love2Learn began a meme for sharing treasured titles CPSIA now makes illegal to sell or swap. Here are some of our favorites. I'm sorry you can't buy them anymore, even from used vendors at Amazon Marketplace.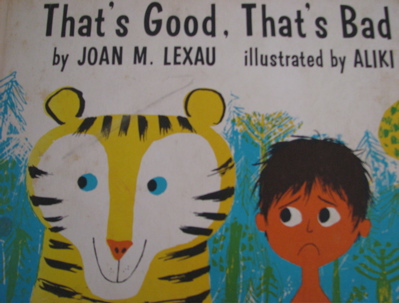 That's Good, That's Bad by Aliki. I posted about this beloved picture book here—beloved especially by Scott. This is his childhood copy, fragile now, kept on a high shelf and read at special times with great ceremony.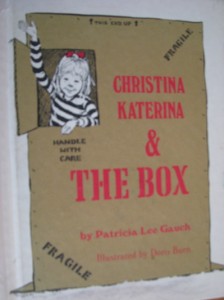 Christina Katerina and the Box by Patricia Lee Gauch. This one belonged to my sisters and me, growing up, and I'll probably be in trouble when they read this post and discover I snagged it from our parents' basement. One of my favorite picture books ever because it rings so true. Christina's mother gets a refrigerator and lets her play with the box, aka the pirate ship/clubhouse/racecar/ballroom/etc etc etc. It sort of drives the mother crazy, and I can so relate to that, wanting on the one hand to allow the kids to play the superawesome game they've got going with the big old cardboard box that takes up half the living room, but on the other hand THERE'S A BOX TAKING UP HALF THE LIVING ROOM. When Scott really wants to get my goat he'll tell me I'm being like Christina Katerina's mom.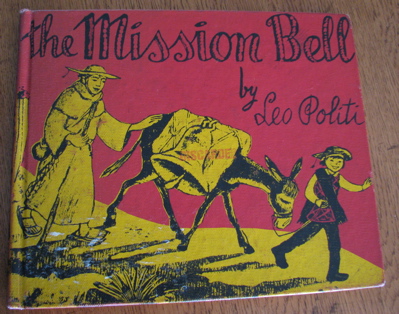 The Mission Bell by Leo Politi. A gem of a book about a California mission, a gift for Wonderboy from his godmother a few months ago. Good thing she sent it before February 9th.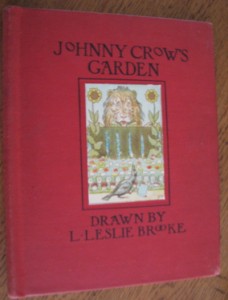 Johnny Crow's Garden by Leslie Brooke. I wrote about this absolute masterpiece of a picture book last year: read about it in Noel Perrin's A Child's Delight, ordered it online from a seller of used books—something it is now illegal to do—and about jumped out of my skin with excitement when it arrived and I saw the illustrations and remembered reading the book as a child. "A stork…gave a philosophic talk…in Johnny Crow's garden." Rilla adores it now and the older girls chuckle as I read it to her, so amusing is the text. Oh, I'm so very sad that you can't all run straight to Amazon Marketplace and order a copy. This is so wrong.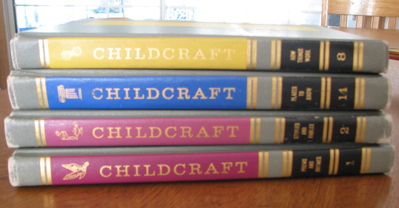 When I first started reading homeschooling message boards, people were always talking about the Childcraft books, a set of encyclopedias organized by topic. Occasionally someone would score a set at a yard sale and there would be much envious oohing by the other moms. Imagine my delight when Scott's mother produced a complete set from her attic, one summer day: "Would you like these for your kids?" Scott (who knew nothing of the online buzz) whooped and said "THERE THEY ARE! I loved those books!" and I whooped and said "I've heard so much about those books!" and of course we snatched them up. I think Jane has read the whole set cover to cover. We love them. They are in frequent use.
It's against the law to sell them now, even at a yard sale.
The meme roundup at Love2Learn has many links to more information about CPSIA, including the advice to contact your congressman.
Comments
Jennifer says:

I was wondering about the Childcraft books. I have a later set – 1982. I would spend hours reading these as a child and my daughter does the same thing. We use them every single day. They've held up remarkably well too. Must be the asbestos.

Penny in VT says:

Hey there, Johnny Crow's garden (a smaller, paperback copy) can be found here:

http://www.amazon.com/Johnny-Crows-Garden-Illustrated-Press/dp/1409917347/ref=pd_bbs_sr_1?ie=UTF8&s=books&qid=1236258992&sr=8-1

I'll be scouring the library shelves for some of these, you can bet on that!

We love our Childcraft books too, bought at a library sale, and Jennifer's right (wink) must be the asbestos and arsenic in the binding that helps them hold up… LOL

I have an Art & Music one from 1949 – it's glorious…

Lisa says:

I wrote my Senators about the CPSIA. One responded promising better jobs for Ohio, the other did not reply. Never heard from my Representative either. It's seemingly a non-issue to them. Sad. As I pointed out in my letter, how many books per hour would a child have fully eat before they are harmed??

Yvonne says:

Ah Childcraft. I read them cover to cover when I was a kid along with a set of Britanicas from the early 60s. I managed to buy a set of Childcraft cheap on ebay several years ago. My 12 year old has most certainlly read them all. I always meant to buy a set for my sister too, but I thought I had plenty of time since her kids are preschoolers–who knew? We have a copy of that Aliki book–twas my husband's from childhood. Our library book sale is in two weeks–I wonder if there will be any kids' books.

Lenetta says:

After reading this post, I thought "hmm" and went to check a box of books that I hastily assembled in my husband's grandmother's basement after she passed away. Sure enough, I have a set of Childcraft from 1976! And I have a bonus one of prehistoric animals!

Lissa, I do wish you'd continue to post about favorite books – that way, we can keep an eye out at the library, or perhaps our own childhood closets, for such gems. Your reviews haven't steered me wrong yet!

Beth says:

Hey, I remember those Childcraft books from when I was a child. Huh. I'm certain they're long gone.

Whenever I think of this law, especially in terms of the books, my brain splinters and I lose all coherence. So thank you for writing this, as I'm certain I couldn't manage any such thing just now.

Melissa Wiley says:

Penny: good to know about the Johnny Crow reprint.

Beth: you'll note it took me weeks to get this meme up–I'm having the same trouble managing coherent thought on the issue as well. The sputtering outrage kind of hinders coherency.

Lenetta, thanks, that's very kind! I've been in a booksy mood lately and expect to do lots more posting in that vein, sort of taking the blog back to its roots, LOL. You know, from four long years ago. Funny how that's practically middle-aged in blog life.

Jennifer G. Miller says:

We grew up with the Childcraft and World Books. Loved them. Used them all the time. Met my dh and his family had the same ones on their shelves, which they use all the time. We were meant for each other.

Fast forward to last month, my MIL just gave us the Childcraft set. I'm thrilled, and older son is just poring over the pages.

nina says:

Apparently I am the only peson who didn't read the Childcraft books as a child. I didn't know. I see volumes (circa 1980's) at the Goodwill all the time. Hmm…I will have to pick up a set.

On that note, I still find books at the Goodwill that were published prior to the 1980's. Also, one used bookstore that I visit told me flat out they weren't going to abide the ruling.

I picked up a set of 1930's Book House books for only $30 a few months ago. The only problem was it is missing volume 9. So I am searching for it in hope of finding it before this ruling becomes more of a reality.

I will be delighted to read more book reviews.

MelanieB says:

We had Childcraft when i was growing up. Oh so many fond hours spent with those books… Alas, I think my parents gave them away long ago. What were they thinking?

Fortunately people on my book swap site seem to be ignoring the whole thing. Is anyone really going to bother to track down every single member who's got one or two books listed? Or will they try to make the site owner do the policing? I certainly hope not because the bulk of our library is books obtained that way, many of them pre-'86.

I'm kind of curious about the Amazon Marketplace and how that is being enforced. Are all pre '86 listings really gone? Is Amazon cracking down or are vendors pulling down the listings on their own for fear of enforcement? I haven't been following that end of things.

Hannah says:

CRAZY. ANd to think of all those beautiful books being just thrown away since they can't be sold by the used bookstores anymore … often these days I find myself wondering whether I am still living in the U.S. of A.

Hannah says:

CRAZY. ANd to think of all those beautiful books being just thrown away since they can't be sold by the used bookstores anymore … often these days I find myself wondering whether I am still living in the U.S. of A.

Karen Edmisten says:

I need to do this meme, too. Sigh. I think I'm just in denial. I came out of denial long enough to interrogate my librarian the other day. She said that, at last word, they've been told to do nothing while "the situation" is being looked further into.

We should keep speaking up about it to the right people — or, in my case, come out of denial and start speaking up ….

Lenetta says:

I also was able to get one of the books you mentioned here, Lissa, via a book swap site. I hope HOPE that book sellers and swappers are sitting tight for now.

I also decided to pay a visit to our local teeny thrift shop and found half a set of Childcraft books there; I believe they're more of the vintage shown in this post. In casual conversation, one of the volunteers told me she has some old encyclopedia type books at home and we exchanged information so that I could take a look. I didn't want to mention this law since it seems to be up in the air a bit and they are connected to an organization in a larger town (not quite a city) that I'm sure is in the know. I probably shouldn't mention that the Childcrafts were 10 cents apiece, either . . . :>)

Heidi @ GGIP says:

I have a set of Childcraft books and some other really great out of print children's books.

I really hope someone fixes this law. It is really ridiculous. I have heard that there are different ways to interpret it (aka that it has nothing to do with giving things away) but we'll see in time.

Joan Peterson says:

We gave Scott the copies of Child Craft either when we moved or you got married

Melissa Wiley says:

Was it that early? I thought I remembered you bringing them down from the room over your garage after you moved to NC. I don't remember having them before we lived in Virginia, but then again those NY years were kind of a blur for us so I am probably misremembering. In any case, thank you so much for the treasure! I am still so grateful that Scott is the one you gave them to. Sorry, S, P, J, and J. 😉

Beate says:

Amazon is selling the books you mention, including a complete set of the Childcraft books. Also, the ALA got a reprieve of another year, while our trusted politicians do some research. Phew, I feel better now :-/

I'd think some of the board books might be problematic – I had no idea that the shiny pages contained lead – all of my dc have chewed on books as babies!

Matt says:

Hi,
A little of my background, I work in DC doing public policy/advocacy work for a trade association.

I have been trying to keep up on CPSIA. It seems the more the Consumer Prodcuts Safety Commission (CPSC) continues to publish proposals on CPSIA the more suspicious i get. At first, i thought it was pretty innocuous, but the apparently the devil is in the details.

I've looked at some of what's posted on love2learn and its great. However, public comment and recourse to Congress for oversight maybe the means to steer this train. I posted on the HMS blog yesterday the February 23 Federal Register notice requesting comments for the guidance on what will be considered in the rule. http://edocket.access.gpo.gov/2009/pdf/E9-3808.pdf it's only 4 pages long, a quick read and commenting is not difficult. This may be another way of getting the message to those who can affect change. Let them know about the list of books that must be thrown away. Comments are due to CPSC by March 25.

I hope this suggestion helps in your pursuit.

Jennifer says:

Out of the blue, Johnny Crow's Garden made me remember Aldous Huxley's brilliant children's book, The Crows of Pearblossom, that we read to pieces when Marianna was little. Illustrated by Barbara Cooney in 1967 I am so, so hoping we still have one of our copies in storage.

Megan says:

I just bought a 1976 Childcraft book Volume 11, Make and Do. I got it off of Amazon. No problems there!!
No one is enforcing it yet!