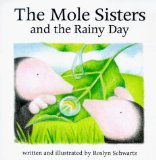 The Mole Sisters and the Rainy Day by Roslyn Schwartz
I heard about the Mole Sisters at the Greenwillow blog a while back and thought it sounded like something Rilla would love. I was right. What a sweet little book: lovely small trim size, so appealing to preschoolers; soft, charming illustrations; and a simple storyline with minimal text—this can double as an early reader—that has delighted my young miss. We'll have to look for more Mole Sisters adventures.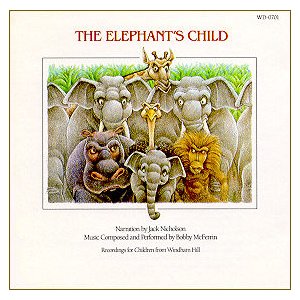 The Elephant's Child by Rudyard Kipling
This isn't the edition we read—I'm reading out of an illustrated Just So Stories—but each story gets lingered over and talked about so thoroughly that each one seems to warrant its own entry here. This one was a particular hit with Rilla: all those unfathomable spankings, and the satisfying turnabout at the end. We also read "How the Leopard Got Its Spots" but she talked all the way through that one, more interested in questions (which is fine!) than the story itself.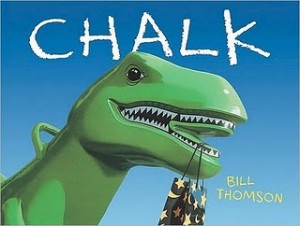 Cybils fiction picture book finalist. Jiminy crickets, what art! Amazing expressions on the kids, especially when they're running in terror from the T Rex…Rilla and Wonderboy were transfixed by this one. The magic of chalk that brings drawings to life, the dramatic turn of events, the clever solution. A wordless story, which is something Rilla always enjoys.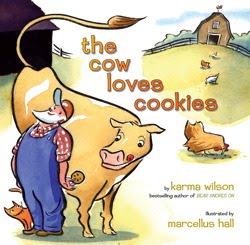 The Cow Loves Cookies by Karma Wilson
Cybils fiction picture book finalist. Silly, funny, sweet. Very satisfying for Rilla and Wonderboy. A rollicking rhymed text that isn't torture to read, and the joke at the end went over big.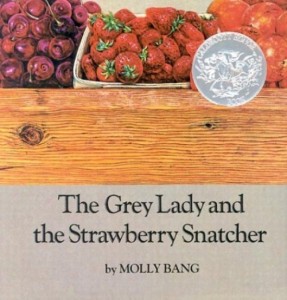 The Grey Lady and the Strawberry Snatcher by Molly Bang
All my little ones have been attached to this book at a certain age. Rilla's turn now, it seems. Had to 'read' it to her three times today. Well, the third time she was telling it to me. Always makes me crave berries and cream.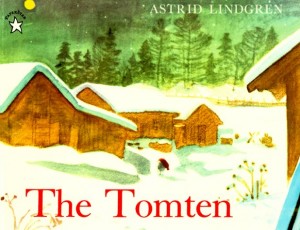 A taste of icy northern winter for my little California girl. The tone of this book, as the tomten makes his rounds of the farm at night, is as hushed and glittering as its own snowy fields.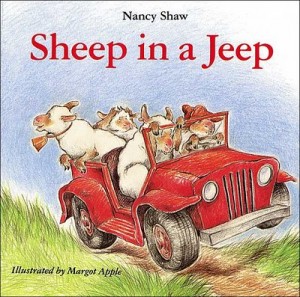 Sheep in a Jeep by Nancy E. Shaw
As funny now as when I read it to Jane fourteen years ago. Rilla is at the point where she can read this one to me, which makes it even better.
Tags: Astrid Lindgren, Bill Thomson, Chalk, Elephant's Child, Just So Stories, Karma Wilson, Mole Sisters, Molly Bang, picture books, Rillabooks, Roslyn Schwartz, Rudyard Kipling, Sheep in a Jeep, The Cow Loves Cookies, The Grey Lady and the Strawberry Snatcher, The Tomten
Comments
MelanieB says:

Sheep in a Jeep is a current favorite round here. Mainly with Ben and Sophie. I think Bella's probably got it memorized too.

Hannah says:

I love Karma Wilson's books, and I'm thrilled to find she has a new one out. Normally I'm not a fan of rhyming books … unless they're done really really well (Mary Ann Hoberman generally succeeds, IMO) but Ms. Wilson wins me over every time.

Nina says:

We read a book today that I think you will love entitled Ocean Soup: A Book of Tide Pool Poems. Great poems, simple non-fiction side text and wonderful illustrations. My kids love tide pooling with my husband so they loved this book. We read that and at least 15 others today. lol.

Also, there is a complete Mole Sisters story book. Our library had it. Cate loved it when she was 4. Thanks for reminding me of it. Off to order it from the library for Si.

Colleen says:

Oh, we so love The Mole Sisters too! We were even able to find a little mole sisters finger puppet to add to our collection (Chinaberry I think). And Sheep in the Jeep is a long time favorite here too. I'll have to check out your other recommendations. Even though the youngest in my house right now is 8, we still love all our picture books.

Eileen Smithdeal says:

I love reading your book picks!!! Oh, and I forgot about sheep in a jeep. Going to have to find it. Tommy would love it. I've Never heard of the "cow loves cookies." Will have to look for that at the library 🙂

Anne says:

Sheep in a Jeep!!! OH how we loved that one! I think I could still quote it if I tried, and my youngest is 10!

AZ says:

Wow – awesome choices all!

Lisa says:

I think I can still recite this one!!!