March 3, 2013 @ 8:46 pm | Filed under:
Books
The other day I asked Jane to hunt up our copy of Noel Streatfeild's Dancing Shoes for Beanie in relation to something we were discussing. At the time I couldn't remember whether the event I was recalling happened in Dancing Shoes or Ballet Shoes, or possibly even Theater Shoes. It didn't matter which, because it turned out what I was really wanting was to reread all the novels myself.
I haven't started yet, but I'm so in the mood. Streatfeild's writing is delicious and occupies a unique niche in children's literature: the behind-the-scenes lives of children in the performing arts, in London, in the mid-20th century. (An extremely prolific author, she wrote a great many books about other subjects, but the only Streatfeild works I've read are her "Shoes" books—and not even all of those. Party Shoes, for example, is still on my TBR list.)
The cover at left is from the mid-90s reissue, which is when I was introduced to Streatfeild's work. I missed them, somehow, growing up. During the year I spent at Random House after grad school, my boss, the brilliant Stephanie Spinner, was in charge of bringing the three Shoes books mentioned above back into print. These were the editions with the Diane Goode covers like the one pictured above.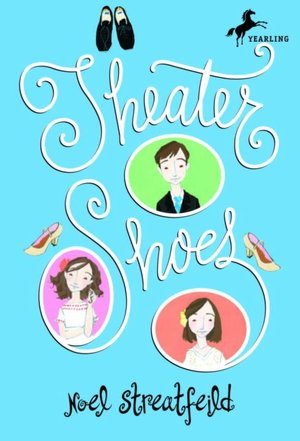 All we had to work with were out-of-print editions from the archives. I was offered the job—freelance, during my off-hours—of typing two of the manuscripts into Microsoft Word. I was either saving up for my wedding or freshly returned from my wedding (I left Random House for HarperCollins in the summer of 1994, just a few months after Scott and I got married), and the eight bucks an hour I was offered for the typing gig felt like a windfall. I remembered reading that Hunter S. Thompson honed his writing skills by typing out novels by Hemingway and Fitzgerald. There was something thrilling about continuing this practice of literary apprenticeship, and I enjoyed the hours I sat up late at night, typing onto my Mac Classic, wrapped up in these charming stories I'd never read before.
Streatfeild is a good writer to study under. Her prose is rich, wry, vivid, never treacly, laced with humor. She conjures up wonderful old London houses and populates them with memorable personalities, including adults who treat children with great respect. (Some of governesses and tutors seem straight out of Charlotte Mason's teacher's college at Ambleside, and I smile, sometimes, at the influence this trio of novels must have had on my ideas about education.)
Anyway, I'm in the mood for a nice Streatfeild binge and I wondered if any of you would like to join me? Which of her books is your favorite—Shoes or otherwise?