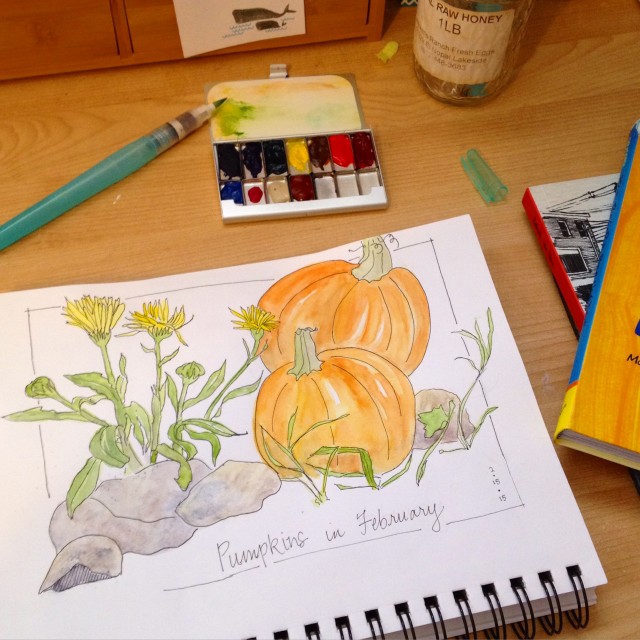 Remember those pumpkins I said might be ripe in time for Christmas? More like Valentine's Day. We gave most of them away to a neighbor (who thanked us with pumpkin bread, so we came out ahead) but kept a couple to perpetuate the cycle. We'll ignore these and let Nature do her thing, and maybe we'll have some seeds sprouting earlier in the season this time around. In the meantime, I'm enjoying the jarring contrast of spring flowers and fall harvest.
Spotted two tiny caterpillars on the milkweed! Sadly, however, we also found a withered monarch chrysalis hanging on the fence with a pinprick hole in it. It looks like we're raising caterpillars for something's lunch. Not cool, Nature. Monarchs have enough to contend with these days.
Comments
sarah says:

I love the picture! If it eases your mind, we have quite a few monarchs here at the moment, although nowhere near enough. Sadly, I've noticed significantly fewer bees this year. It worries me.

Kim says:

Beautiful painting. It would be delicious to see your new book with your own illustrations. No pressure, just dreaming out loud.

Kimberlee says:

Lovely, lovely peek – thank you! Jarring contrast, indeed. Amazing!
And monarchs! In February. Hard to wrap my frozen east coast brain around that. In summer we bring all of the eggs and cats we find inside to raise. It's an arduous task to keep them all fed, but it keeps them safe from parasites and disease. They need all the help they can get.

Alice Gunther says:

There is more to your art than just giraffes. Beautiful!

Melissa Wiley says:

ROFL!! I am *still* drawing that same giraffe, can you believe it?

Alice Gunther says:

I would be deeply upset if you told me otherwise. And why isn't he in your blog header?

tanita says:

We've got a bee house this year for the solitary/wild bees and are putting in our butterfly garden – definitely fewer, but if we all do our part, and the rain comes back, we ought to make up some of this shortfall…

I was whining about your cilantro just the other day – mine dies, yours lives eternally. I am challenged that things grow so much better (and apparently year 'round) on your end of the state. I got out my Territorial Seed Co. catalogue and I am determined to try again!