The recommendations in this post also appear on my Brave Writer Retreat Resources page, which includes books and materials mentioned in my other talks at the Retreat (Tidal Homeschooling and Read-Alouds).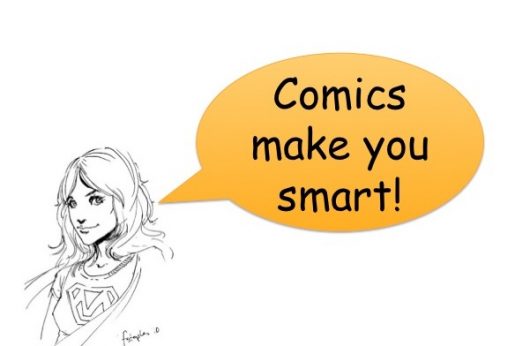 The following comics and graphic novels are recommendations from my "Comics Make You Smart" talk, presented at the Brave Writer Retreat in July, 2016.
Part of this talk was broadcast on Periscope—you can view it here. Note: For now, what follows is simply a booklist—no mini-reviews. I'll add those as time permits. I promised the retreat attendees I'd put together a post of all the comics I mentioned in my talk, so here it is for easy reference. Commentary to come later!
Gotham Adventures by Scott Peterson (my brilliant hubby)—Batman comics aimed at young readers. These came out monthly in the '90s and are now available in digital editions. (The books at this link that say "by Ty Templeton" were edited by Scott; the others were written by him.)
Calvin and Hobbes by Bill Watterson—of course these need no introduction! We have several collections and have checked out many others from the library. You can't go wrong with Calvin.
American Born Chinese by Gene Yang
Boxers and Saints by Gene Yang
Sunny Side Up by Jennifer Holm and Matthew Holm
Babymouse series by Jennifer Holm and Matthew Holm
Squish series by Jennifer Holm and Matthew Holm
Zita the Spacegirl series by Ben Hatke
Bird & Squirrel by James Burks
Smile by Raina Telgemeier
Odd Duck by Cecil Castellucci
Owly by Andy Runton
Sidekicks by Dan Santat
Hereville: How Mirka Got Her Sword and sequels by Barry Deutsch
Bake Sale by Sara Varon
Lunch Lady series by Jarrett J. Krosoczka
Tintin by Hergé
Oz graphic novels — excellent adaptations by Eric Shanower and Skottie Young
(Here's a detailed post I wrote about this series)
Nursery Rhyme Comics: 50 Timeless Rhymes from 50 Celebrated Cartoonists
(Here's a post I wrote for Wired.com about this fabulous collection!)
Fairy Tale Comics: Classic Tales Told by Extraordinary Cartoonists
(I interviewed one of the cartoonists here. Unfortunately it seems GeekMom's migration to GeekDad has broken the images.)
(Note: this is Fable Comics published by First Second, NOT the outstanding but very adult Fables series published by DC Comics.)
Some awesome nonfiction graphic novels:
Around the World by Matt Phelan
Lewis & Clark by Nick Bertozzi
The U.S. Constitution by Jonathan Henessey
A few recommendations for older readers:
Bone series by Jeff Smith
The Eternal Smile by Gene Yang and Derek Kirk Kim
Anya's Ghost by Vera Brosgol
(There are many, many other excellent books I could rave about. I'll continue to add recs to this page as time permits!)
Amazon links earn me a small referral fee, which will undoubtedly be spent on yet more books.
Comments
felicity says:

Thank you for this. I have a daughter that gets intimidated by the idea of reading a Book but will happily devour the same stories in comic form or will read every book in a graphic novel series. I'm thrilled that she's reading and your recommendations are great go-to's for me since I know next to nothing about the genre.

Ellie says:

Many of these we've read and loved — now off the the library website to place some holds. Yay books!

Emily says:

I had NO idea they had more of the Oz adaptation comics! Oh my goodness! I will have to get them toute de suite.

Kat Kan says:

I'm a school librarian, and I have most of the books you listed in my library's collection. GNs are super-popular with my students, especially gr. 3-5. I also have a lot of the TOON Books GNs in my "Easy" section for K-2. Always glad to see more people recommending comics and GNs as smart reading!

kortney says:

Woot! Thanks for this excellent list. Old favorites and new-to-us titles. Loved hearing a bit of your talk on Julie's Periscope to 🙂

Kortney says:

Just read Boxers and Saints and Around the World–both so good. Thanks for the rec. Here to send this link to a worried RAR mama. Then I got all nostalgic for the Thicklebits when I saw that superhero Lissa up there! <3