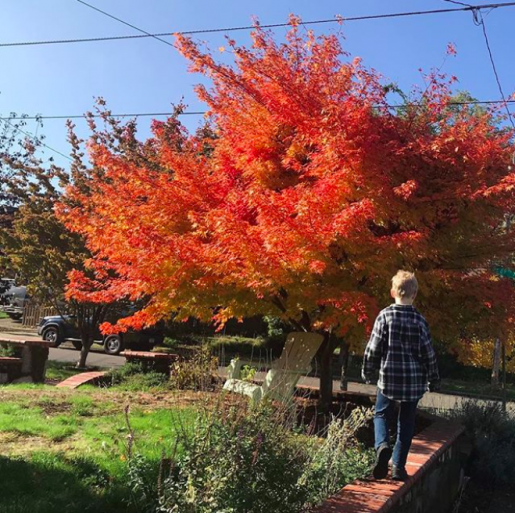 I don't have time to write, which is exactly why I'm writing. I don't want to let too much time pass with silence in this space. I've realized one of the reasons I lean on Instagram is because I can do it in bed—last thing at night, or early in the morning, lying there cozy under my quilt, playing with photos. It's relaxing. But the WordPress phone app works just as well as Instagram. I don't know why it never occurs to me to blog from there. I guess because I think of blogging as long-form, even though that's totally ahistorical.
Anyway, here I am. I'm working really, really long days, these days. Have to make up for time missed during my illness. Thank goodness for our high-tide mornings. Homeschooling is the fun part of my day. We're reading Comet in Moominland (still! begun in San Diego!), taking loooong nature walks (oh these trees!), and reading Lewis & Clark, Paddle-to-the-Sea, and a lot of poetry. Beanie and I are supposed to be starting a big Shakespeare project this week, but I'm behind on the reading. 😉
A fun thing: I held my first live monthly Q&A session this afternoon for my Patreon subscribers! We talked about what tidal homeschooling looks like with teens, books about the craft of writing, and I answered a question about Martha and Charlotte books. I also shared a stack of picture books we'll be reading tomorrow for Halloween, and I finished up with a piece of advice about encouraging creativity. If you are interested in tuning into these monthly chats (either live or in replay), they're available to all subscribers to my Patreon at the $3/month-or-more level.