February 2, 2022 @ 10:08 am | Filed under:
Books
When I read the Moomins books aloud, I have to remember which voices I used for each character in our first reading many years ago. For some, that's a piece of cake (I never have to wonder what Snufkin sounds like; Snufkin is immutably Snufkin), but sometimes a secondary character will pop up and I'll have to ask, wait, what did the Muskrat sound like? And sometimes I'll run through a few possibilities and the kids will say, There, that's the one.
The Hemulen sounds like Eeyore, only British. I think of Moominmamma's voice as low and soft, but I think it sounds lower inside my head than outside, because Scott says it sounds like Mrs. Banks in Mary Poppins. Votes for women!
Moomintroll is easy—he's had the same enthusiastic timbre for a decade—but it was only this year that I suddenly realized what voice I'm doing for him. It's my Hayley Mills voice—or more precisely, my version of the Hayley Mills impression Julia Sweeney does in one of her one-woman shows. "Girls," she breathes, "I've got a scathingly brilliant idea!" That's my Moomintroll. Excited, eager, delighted, always rallying his companions to adventure.
I was therefore mightily amused when, in a recent chapter, Moomintroll actually does say "I've got a brilliant idea!"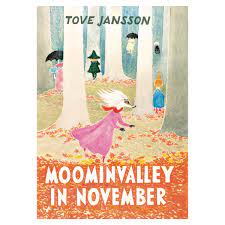 I'm a little vexed with myself over the Moomins, though. After a many-years stroll through the series, Huck and Rilla and I took up the final book, Moominvalley in November, last November (fittingly and deliberately). I hadn't read that one before and it became one of my favorites, though it is markedly different from the rest of the series in tone and cast of characters. There were so many passages I wanted to share here. But a readaloud is the one time I can't stop and make a note! I mean, I do occasionally, interrupting the narrative to ask Scott to Slack me a phrase—but I lose track of those messages and never seem to follow through on copying out the quote or noting a connection.
After November, it was decided by unanimous vote that I should start all over again at the beginning of the series. Comet in Moominland was a deep delight—containing as it does Moomintroll and Sniff's first encounter with Snufkin. Not to mention the Snork Maiden, her brother the Snork, and the Hemulen. It also contains the scene Rilla and I agree is the funniest in all the series: the visit to the small shop run by a kindly old lady. Snufkin tries on a pair of new trousers but decides to stick with his old ones (this is extremely Snufkin of him). The others' purchases are tallied up—"That will be 20 3/4 pence altogether"—and that's when they remember none of them is carrying a single penny.
Nobody said anything. The Snork Maiden picked up the looking-glass and laid it on the counter with a sigh. Moomintroll started unpinning his medal, the Snork wondered if exercise books cost more or less after you had written in them, and Sniff just thought about his lemonade, which was mostly on the floor anyway.

The old lady gave a little cough.

"Well, now, my children," she said. "There are the trousers that Snufkin didn't want; they are worth exactly 20 pence, so you see one cancels out the other, and you don't really owe me anything at all."

"Is that really so?" asked Moomintroll doubtfully.

"It's as clear as day, little Moomintroll," said the old lady. "I'll keep the trousers."

The Snork tried to count it up in his head, but he couldn't, so he wrote it in the exercise book like this:

Exercise book 1  3/4
Lemonade 3
Medal 5
Looking-glass (with rubies) 11 

Total 20 3/4
Trousers 20

20=20
3/4 left over.

"It's quite right," he said in surprise.

"But there's 3/4 pence left over," said Sniff. "Don't we get that?"

"Don't be mean," said Snufkin. "We'll call it even."
Rilla and I agree we like this kind of shopping math.
I did remember I'd made note of page 120 in Comet, but not what was on it. Today I finally refreshed my memory and found this, which made me laugh because it reminds me of blogging:
"My pappa has built a wonderful bridge," said Moomintroll, for about the third time, "but mostly he writes in a book called 'Memoirs.' It's all about what he has done in his life, and as soon as he does something else he writes that down, too."

"Then surely he hasn't got time to do very much?" said the Snork Maiden.

"Oh, well," said Moomintroll. "He makes sure of doing things now and again, even if it's only to give himself something to write about."
Ha!