January 25, 2013 @ 4:38 pm | Filed under:
Handcrafts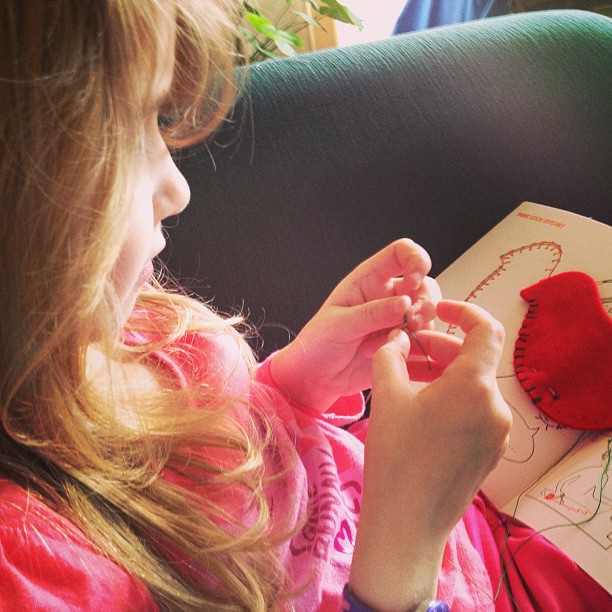 Rilla found a Winky Cherry beginner sewing kit on the shelf—one of those things I've had stashed for ages and forgot we owned. I used to feel pangs of guilt over forgotten acquisitions, but they so often seem to turn up at exactly the right moment, such a nice surprise. She's busily stitching away and I look forward to a menagerie of felt critters in the days ahead. Felt is the nicest thing for a beginner, don't you think? For both sewing or embroidery. No hemming required, overstitch looks lovely, it's stiff enough not to need an embroidery hoop (for small pieces, at least), and no matter what you do it always looks cozy and cheerful. I love Felt Wee Folk and Doodle Stitching for ideas.
I had all sorts of little stitchery projects going before Huck was born (a mere four years ago), but I put everything aside when he came along and haven't returned to it since. (To my chagrin: I still owe a couple of quilt blocks to certain VERY UNDERSTANDING members of my virtual sewing circle, and I never even sent out my own fabric for them to magic into something wonderful. IT'S STILL ON MY LIST OF THINGS TO DO, THOUGH.) (I'm shouting at myself.)
We had planned to go to the zoo today to celebrate Beanie's 12th (TWELFTH!!!!) birthday, but the rain foiled our plans. Perhaps next week. Among all the other delights of the zoo, I want to give Rilla and Huck a chance to pet a real sheep, feel the lanolin in its wool, for a little sheep-to-yarn rabbit trail I've planned for Rilla, who got knitting needles for Christmas. With pink cats on the ends! And how's this for incentive to pick up my own needles: I was sent a KnitCrate package to review for my subscription-box series at GeekMom—it's loverly. The two yarns they included are to swoon for. I'll let you know when that post goes up, probably next week.