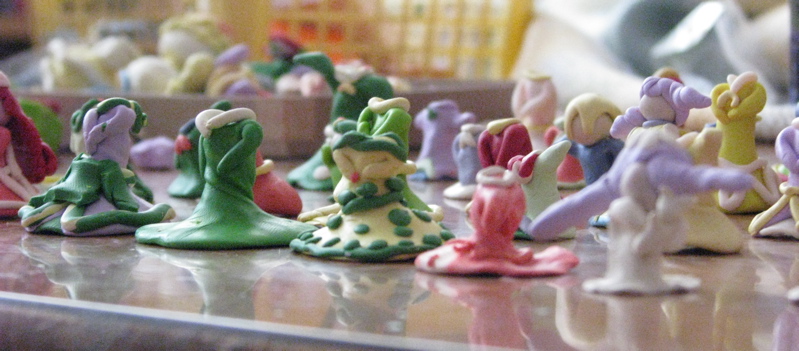 When I think of this category, I think of my kids in the backyard in San Diego, deeply immersed in the Warriors-inspired make-believe games that occupied so many hours when they were little. Or the long stretches of Sculpey play: elaborate scenes crafted and acted out. Epic adventures spanning hours and days. The Thomas the Tank engine set, the Playmobil stories, the blanket forts.
For myself, this category is a little harder to define. Rose and Beanie used to walk in circles (literally walk in circles!) on our back patio, making up stories for themselves. All the action was happening inside their heads. Here in the second year of the pandemic, my head is full, full, full—full of inputs, full of tasks to be done. I notice in myself a pattern of clearing a little time for my grownup version of play—or for white space, which has some crossover with this category, since it's the soil from which imagination and creativity grow—and then immediately filling the space with yet another form of input, sometimes nourishing, sometimes fluff. An audiobook, a podcast, a show on Netflix, a screen game.
Funny as it sounds, holding space for imaginative play in my life takes more effort than almost anything else on my list of essential activities!
Where I find it is at my art table, or within the borders of an embroidery hoop. On the blank page of a notebook: a jumble of words arranging themselves into phrases, into poems.
I know exactly where to find the doorway to imaginative play, but I have to make myself walk through it. To mess around with paint, not listening to a book or podcast. To doodle in my sketchbook while my mind roams. Not tuned into other voices. I find this challenging; I'm so accustomed to making the most of my minutes! Not enough time to read and exercise and make art and learn new things—better bundle them together.
Bundling is wonderful—in moderation! If every morsel of my sketchbook time, treadmill time, gardening time, has a soundtrack, I'll never hear my own self. Even the time I spend in my poetry notebook several mornings a week can become a clamor of other voices. I'm impatient with the seed-time of my own thoughts.
Where I find the easiest ground for imaginative play is with embroidery. I think that's because it combines a satisfying and meditative activity (stitching) with invention and beauty. You could say the same thing about painting, drawing, knitting, woodworking, but for me, a #7 Tulip needle is the key to the realm of imagination. Perhaps that's because even after years of daily drawing and online art classes, I remain unsatisfied with my ability. When I picked up the embroidery habit, I gained skill with gratifying speed. And I found a blank round of fabric to be fertile ground for original thought and design, much more so than on a sheet of watercolor paper. Curious, no? I seldom like the original art I make on paper. (I say original to distinguish it from online course assignments, where I'm following steps and often do enjoy both the process and final outcome).
I hadn't been stitching for long—using patterns purchased from my favorite Instagram designers—when I felt the itch to create my own designs. Ideas flooded in—but I could see that my they outstripped my ability. So I ignored the voice that kept urging me to be original. I gave myself time to practice and learn. I gave myself scraps of fabric to experiment on, reckoning that they were the embroidery equivalent of an artist's sketchbook.
And eventually, after a long time, a project began to shape itself in my mind. It's playful and inventive and combines elements and subject matter I care about intensely.
My challenge is holding space for it. I have an hour set aside after I tuck Huck into bed, but by that time of day I'm often too fried. This week I only picked up that hoop a couple of times.
I'm still stitching, though. I've found what works best for me is to have three projects at the ready, at all times: one for study (learning new stitches or techniques); one for thinking (a simple design purchased from creators like Cozyblue or Dropcloth, where the stitching is satisfying and meditative, and I don't have to make decisions as I go); and the hoop containing my own project-in-progress.
The second type of hoop—I've written about this before—is an essential part of my writing practice. When I hit a point in a piece of writing where I need to stop and think, picking up that hoop quashes the urge to pop open a social media tab and "just" take a peek. Those peeks (which are never just a peek, are they) are the fastest route to utter derailment on a writing project. So I keep my "thinking hoop" handy and pick it up whenever I'm tempted to open a tab.
(I love the Momentum Dash browser extension for Chrome—it allows you to set a default New Tab that opens to a beautiful nature photo, different every day, with a blank for you to enter that day's focus activity. Sometimes while I'm writing, I write PICK UP YOUR HOOP in that blank, so that if I do succumb to new-tab temptation, I'm smacked with a reminder before I can load another site. Other times, I write the day's Highlight (a task or activity that I absolutely must attend to that day) or whatever piece of writing I'm working on at the moment in that blank. This has the same effect of redirecting my attention to my work. Probably one of my best workflow hacks! I also use Momentum's built-in Pomodoro timer quite a lot.)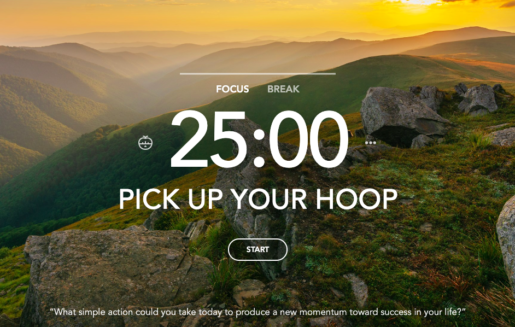 My time's just about up for this morning, so I'll close with a quick look back at the week's imaginative play. I started, but didn't finish, this fantastic Peggy Dean tutorial (free!) on how to draw canyons in Procreate. Except I just grabbed my notebook, not the iPad. I'd like to spend more time with that today. And Rilla and I are working on a pretty exciting art project together on Saturday nights. She's done almost all the work so far, but last week we got to the painting stage and spent a happy hour testing our acrylic paints on a black canvas to see which colors show up best from a distance. I'm looking forward to putting in some more time on that project this weekend.
And writing this post reminds me to start my afternoon work session by threading some needles. I'm a big believer in always leaving thread in the needle—both literally for embroidery and figuratively for my writing (Hemingway's trick). Never stop at the end of a scene! Break off mid-scene, mid-paragraph, even mid-sentence if you can. It's much easier to pick the work back up next time.
• encounters with beauty
• encounters with living books
• meaningful work;
• imaginative play;
• big ideas to ponder and discuss;
• white space;
• connection.
If this post ends abruptly, here's why