Thursday evening, after I returned to the hotel from my first art museum visit, I met Scott in the lobby with a crowd of artists and writers. That evening set the tone for the rest of the trip: each night we gathered in the piano bar around seven or eight (there was a piano but no pianist) for lively conversation until moving en masse to the dining room at 9:30. Dinner stretched to midnight every night, and then the party usually moved back to the piano bar until the wee hours of the morning. I loved the opportunity to swap stories with all these other creative folks.
I guess it was Thursday at dinner that we first met Andy Diggle and Jock, the former a British writer and the latter a British artist who have collaborated on many projects. Jock is the studio-mate of one of Scott's very favorite artists (and people), Lee Garbett, who pencils Midnighter. Scott was bummed that Lee wouldn't be at the con (but for the best of reasons; he had a one-week-old son at home), but was looking forward to meeting Jock and Andy, whose work he loves. The four of us hit it off right away, and the truth is we liked them both so much that I'm in danger here of gushing in the most embarrassing manner. So let me just say that they are two of the nicest, smartest, funniest guys I've ever met (reminded me of Scott's brothers, if Scott's brothers were artsy and had cool accents), and we loved them to pieces and I'm dying to meet their wives and children, and I hope our families will be best friends forever.
(Good thing I decided not to embarrass myself with the gushing.)
Friday morning we meant to get an early start. Scott didn't have to start portfolio review until 5—his one free day of the week. But when dinner isn't over until 12:30 in the morning, the words "early start" are relative. It was close to eleven, I think, when we finally set off for the elevator, intending to seek out some Gaudi architecture. After almost 48 hours in Barcelona, it was high time.
My plan was to visit La Sagrada Familia first. But in the elevator lobby we bumped into Tim Sale and his friend and translator Diego, who sold us on a section of town called Park Güell (we thought he was saying Parkway, so now you know how to pronounce it).
He mentioned a salamander sculpture, and I pulled out my guideboook and pointed to the cover. "This one?" "That's it," he said. He told us we could get there by subway and there would be a short walk "up to the Park." With moving staircases, he added. We hopped into the elevator and stopped by the front desk to ask for subway directions. There's a station directly outside the hotel, and the line we needed makes a stop there. The hotel clerk told us which stop to take. There would be signs, he said, pointing the way to Park Güell.
A nice Cockney man (whose father, he told us, lives in Alaska) helped us navigate the ticket machine and subway gates. We found our train and enjoyed the ride. Once out of the subway, we did indeed see the signs pointing us toward the Park. But it seems Diego, who is by all accounts a brilliant linguist, one of the best translators in all of Spain, had nevertheless omitted some tiny little words from his description: he should have said "up A VERY STEEP MOUNTAIN to the Park." And those moving staircases? Half of them were out of order. We huffed and puffed our way to the top—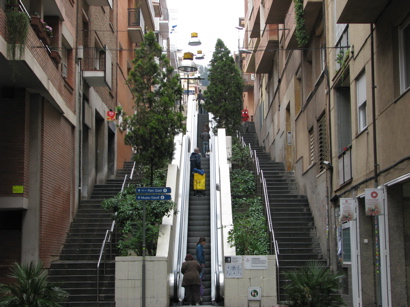 Going up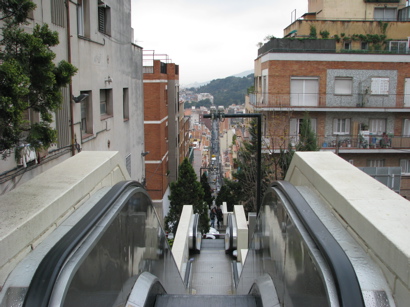 Looking down
—and were rewarded with excellent views of the city.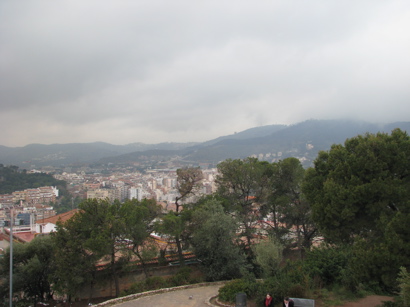 At the summit of the hill are stone steps leading up to three stone crosses.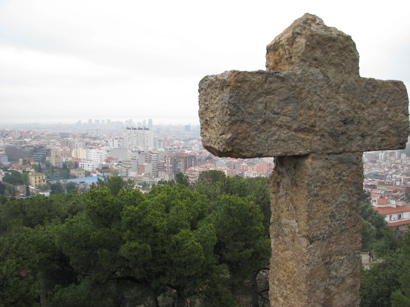 From this perch we could see the spires of La Sagrada Familia, and the green lanes of the avenue known as La Rambla leading down to the sea. It had begun to rain by this time, but only a drizzle. I had my pricey pink umbrella. Scott got wet.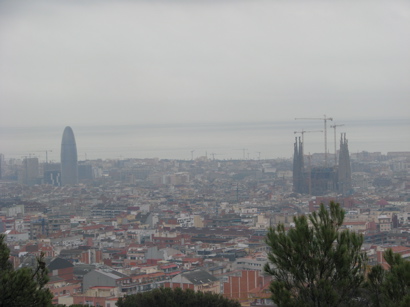 La Sagrada Familia on the right, and the building called Torre Agbar on the left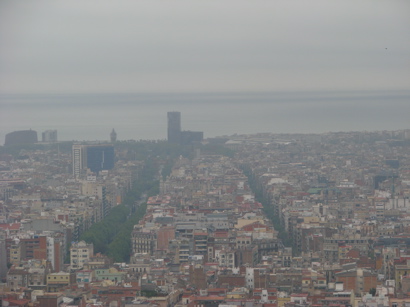 The wider green belt on the left is La Rambla, a pedestrian walkway lined with shops.
From far below us floated up the strains of trumpet music: the song selections amused me. Raindrops Are Falling on My Head, Singing in the Rain…I wondered if the musician was playing at a restaurant somewhere on the streets below.
Despite the rain, this was a beautiful place—but where was the Gaudi? After some uncertainty over which path to take, we tramped through dripping woods and down a dirt lane. A ripple of brightly colored mosaic railing told us we'd found the right place. The path took us to a wide, flat terrace with the undulating mosaic rail curving round.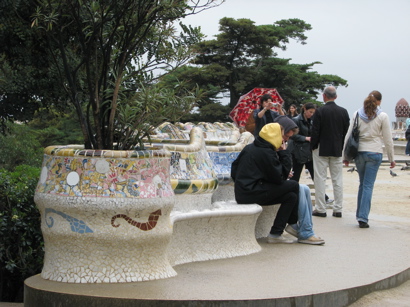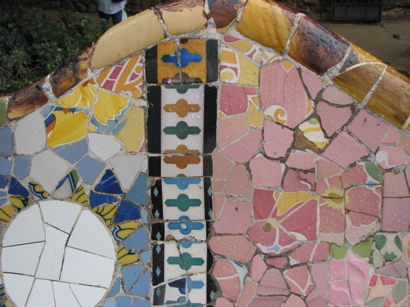 And there too we found the trumpet player: a busker leaning against the curved wall just out of the rain. I dropped a euro in his trumpet case, and he smiled wide and thanked me. He was from Cuba, he told us, and has a cousin in California. He's been in Barcelona for six months. "Do you know the song I was playing?" he asked me, and I said, "No, but when I was up on the hill I heard you playing "Raindrops Are Falling on My Head," and it made me smile." He grinned broadly and said, "You knew!" Then he said he'd play a song just for us, a little Sinatra. It was "Fly Me to the Moon," which I sing to my kids all the time. I laughed and clapped and he bobbed his trumpet up and down in reply, adding a little blast at the end to startle some children who were seeming a little too interested in his heap of change.
We walked to the edge of the terrace and looked down upon two buildings that were unmistakably Gaudi designs. A tall blue-and-white mosaic spire rose from a house right out of fairyland, or maybe candyland. Gaudi's use of mosaic to ornament his structures is at once whimsical and breathtaking. (Scott, reading this, snorts: "Fairyland? More like Dr. Seuss on acid.")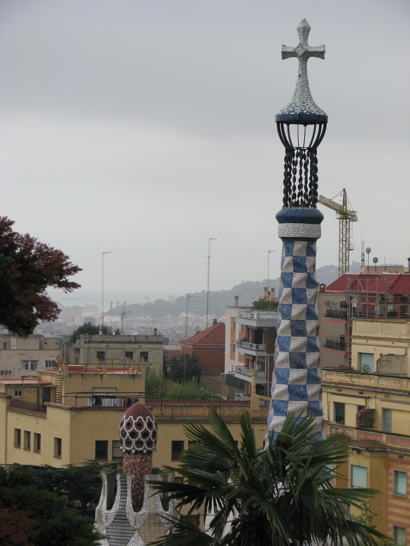 I wish the colors were true in these photos. The overcast day dulled the pictures, but even through the drizzle the real mosaics gleamed bright and vivid as jewels. Rich blues, greens, golds, crimsons…Everywhere we looked, we gasped. Every tiny detail is original and magical.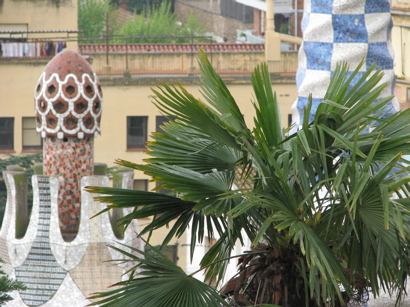 Scott thought the blue-and-white spire looked made of fabric.
Eventually we tore ourselves away from the view and followed some more steps down to a lower level, where we discovered we'd only just begun to see the wonders of Park Güell.
Below the terrace we were standing on is a…I don't know what to call it. Domed area with many columns. The terrace forms its ceiling. That ceiling is like nothing else on earth. Concave circles side by side, like an Escher painting, circles done in mosaic. Most of them are a sort of iridescent tile, with here and there a dazzlingly bright ring of jewels.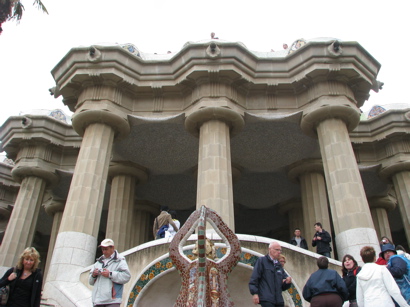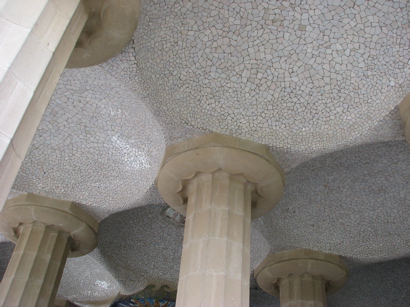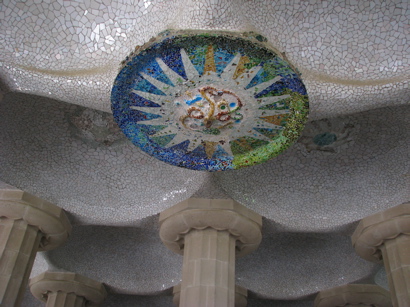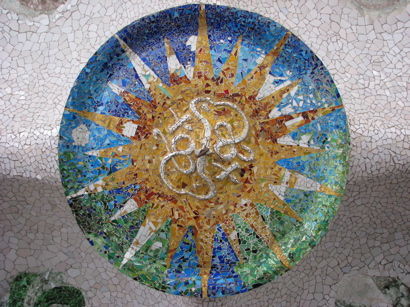 Another staircase leads down, presided over by my old friend the salamander.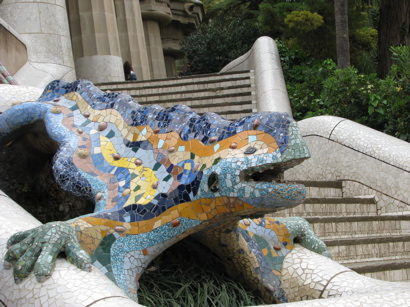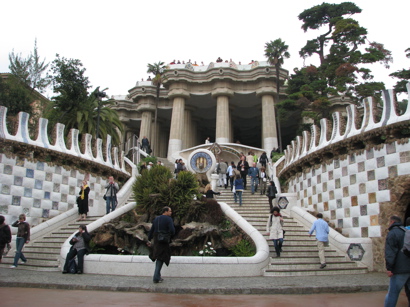 The main staircase. The big walls on either side are ornamented with the most beautiful tiles that have been broken and reassembled as mosaics in a repetition of the undulated surface used all over the park. Each colorful square has a concave shape, irresistible to the hands and soothing to the eyes.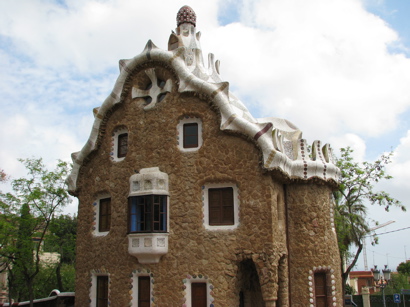 You can find much better pictures on Flickr and elsewhere. My camera batteries died partway through this visit, and the light was against me, so I didn't get the perfect shots I wanted. But it's a gorgeous place. It was intended to be a housing development of sorts, designed by Gaudi. The development never got off the ground, but later Gaudi bought one of the houses himself—not one of the ones in these pictures, which aren't full-scale houses; there are two other buildings on the park grounds, designed by other architects, and it was one of these that Gaudi bought to live in with his elderly father. We toured it, but they didn't allow photos. Not that it mattered for my camera at that point. I recharged them in the room, though, for the next day's big outing: La Sagrada Familia.
More Park Güell pictures on Flickr
Comments
Sara says:

Wow! It looks so cool. What a wonderful trip you are having.

Tabatha says:

Hi Lissa!

I love your travel diary. It will be wonderful for you to look back on over the years. I think I will include some Gaudi on my Art Thursday page, and maybe also Ruins by Rigalt. I will have to look up the rest of their works (Rigalt and Raurich). Reverie reminds me of works I already have posted on Art Thursday. The story of the making of La Sagrada Familia seems like it would be great for a novel — maybe you will write it one day?