August 23, 2009 @ 12:39 pm | Filed under:
Handcrafts
Technically, this isn't a quilting project at all because I didn't do any quilting and didn't use batting. It's just a pieced quilt top backed with fleece.
We adore it.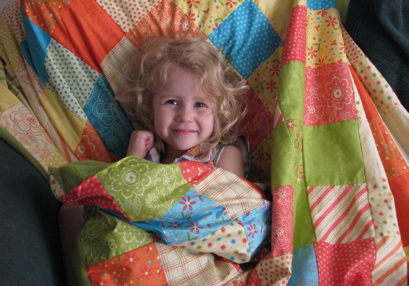 I had some Moda Objects of Desire charm packs and used everything except the prints with shoes on them. Found some green fleece that matches the green prints exactly: joy!
The charm pack pieces are 5″ square. I pieced them into nine-patches (the girls loved helping with that part) and assembled the blocks into a 4 block x 5 block rectangle. No binding, just sewed the quilt top and the fleece together right sides facing, turned it right-side-out, and sewed up the little opening. The whole project took me, let's see, about four baby naps plus maybe another three hours in small chunks of time.
We wanted a light but snuggly blanket for the living-room couch. I didn't want it to be as heavy as a real quilt, so that's why I skipped the batting, and skipping the batting meant I didn't have to fuss with quilting stitches. I was going to back it with flannel—I've done that for a few baby blankets here and there, and it's a nice weight, but I wasn't sure how it would work on a larger scale. But then at the fabric store, Rose and I stumbled upon this fleece in a sale rack, and it matched so perfectly we couldn't resist. And the cotton quilt top plus the fleece backing turns out to be the PERFECT weight and loft to cuddle up under on our cool mornings and nights. The air trapped between the two layers makes it cushiony and cozy and completely irresistible.
Just ask Rilla. If you can find her.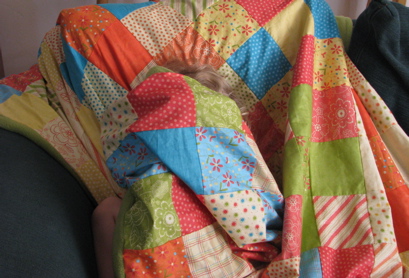 Comments
Sarah N. says:

Fantastic blanket! The colors look wonderful and it's obviously perfectly cosy 🙂

Theresa says:

Cute, cute, cute!

MelanieB says:

Love those bright colors! That is a super-adorable snuggle blanket. And very cute blanket model, too.

Hannah says:

What a lovely, colorful, and cozy-looking quilt!

Beth says:

But wait, why not the prints with shoes on them? Do you find shoe prints weirdly creepy? Non-cuddly? Or are you saving them for a shoe blanket? I am distracted and curious.

Lovely blanket, nonetheless. *smile*

PS: I could not read your Anne-not-Jane post. Oh! Anne was the spine of my childhood/teen years and after successfully wrestling myself into a place in which I could read, I am afraid I have slipped straight back out of that place (am I making any sense at all??) and when I saw what that post was about I had to click frantically away. I hope to read it at some point. I find it most peculiar that my grief manifests in this way.

Joan Peterson says:

She is gorgeous. Wish I couls nibble onthe Baby.

kort says:

just lovely!

Jeanne says:

Love the not-a-quilt. But what are cool mornings and cool evenings?

From southern Virginia in August….

Heather says:

The fabrics in the 'not-a-quilt' quilt are absolutely yummy! sooo cute!

Kristen Laurence says:

Lissa, it's so delightful!! Love those gorgeous fabrics, and the beautiful little lady inside. So sweet.

Melissa Wiley says:

Beth: the shoe prints were high heels with the caption "Objects of Desire." Would've changed the character of the quilt to snooty, not snuggly. 😉 Now, a print with little Mary Janes: I'd be a sucker for that.

And not being able to read about Anne—oh, especially Anne! Mrs. Blythe!—right now makes a great deal of sense. I can see that.