September 3, 2009 @ 12:38 pm | Filed under: Books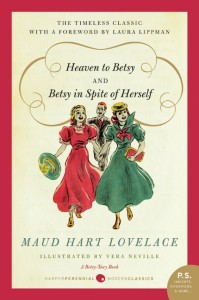 Tomorrow is the last day to sign up for Betsy-Tacy Convert Week.
If you'd like to participate but don't have a potential convert in mind, Bonny Glen commenters Lenetta and Anna would love to be adopted.
---
I'm re-re-rereading
Heaven to Betsy
right now. How could I resist, after all these Betsy posts? It's the first of the high-school books, chronicling Betsy's freshie experiences with a new Crowd of friends—irresistible! The setting is early 1900s Deep Valley, Minnesota, aka Small Town America. Betsy's social life—a merry string of piano singalongs, football games, parties, surrey rides, school dances, and her father's famous Sunday Night Lunches (where onion sandwiches are the stars of the show)—is enviable, but even so, Betsy grapples with doubts and difficulties:
Walking homeward, looking up at the sky, and around her at the wan landscape, she felt an inexplicable yearning. It was mixed up with Tony, but it was more than Tony. It was growing up; it was leaving Hill Street and having someone else light a lamp in the beloved yellow cottage. She felt like crying, and yet there was nothing to cry about.

She made up poems as she tramped homeward, the snow squeaking under her feet. Sometimes when she reached home she wrote them down and put htem with Tony's notes deep in the handkerchief box. But she did this secretly.

"What has become of your writing, Betsy?" her mother asked. "Are you sure you don't want Uncle Keith's trunk [Betsy's old desk] down in your bedroom?"

Betsy was sure; she didn't want it, although she still climbed to the third floor and visited it sometimes.

Writing didn't seem to fit in with the life she was living now. Carney didn't write; Bonnie didn't write. Betsy felt almost ashamed of her ambition. The boys teased her about being a Little Poetess. She felt that she would die if anyone discovered those poems in the handkerchief box, and the bits of stories she still wrote sometimes when she was supposed to be doing algebra.
This is a different Betsy from the little girl who entertained her friends with endless tales back in the old Hill Street days. To be sure, the 14-year-old Betsy is still entertaining her chums with her ready wit and lively spirits. But she hasn't quite figured out what to do with this other side of herself, the serious, introspective side, the place the poems come from. She'll get there, but it'll take time. And as life changes, she'll have to sort the sides of herself all over again: we see her still groping for balance in Betsy's Wedding, the final book of the series. I love that; it rings quite true.
---
Related posts:
How I met Betsy Ray and her Crowd.
Betsy and Tacy Go Over the Big Hill