September 29, 2009 @ 1:01 pm | Filed under:
Books
Betsy-Tacy Convert Week is underway!
I received my giveaway copy (destined for Laurie of Seaglass Hearts) and am rooting for Team Philomathian. The reissues are perfectly lovely, I must say. Wonderful feel to the covers (and that swoony vintage art), the classic Vera Neville illustrations, and loads of photos and extras in the back.
May I ask a favor? If you happened to hear about Betsy-Tacy for the first time here at Bonny Glen (I know a few folks have mentioned that this is the case), would you drop me a note in the comments?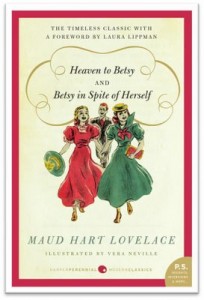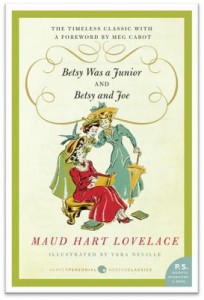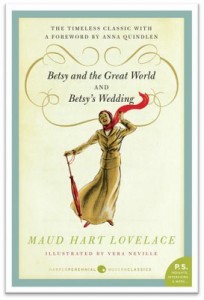 I recently located a copy of The Betsy-Tacy Companion: A Biography of Maud Hart Lovelace and have been looking forward to inhaling it just as soon as I emerge from my current reading jag (the YA novels of Laurie Halse Anderson). Liz's new post at Tea Cozy has me all the more eager. It's kind of thrilling for me to realize I'm living not too far from some bona fide Maud Hart Lovelace sites here in SoCal. I sense some field trips ahead…
Comments
Penny in VT says:

Hi Lissa – yes, it was here I first heard about B/T – and I am forever grateful.

And I just started reading Calpurnia Tate – oh my, what a treasure of a book! My eldest loved it. Thank you SO much for all the book love…

Melissa H says:

Despite a childhood of non stop reading, I did first hear about Betsy Tacy from your blog. How did I miss them? Now I just need to get copies and read them!

MelanieB says:

I first heard of Betsy-Tacy here at the Bonny Glen.

Jessica says:

Yup, this site was my first taste of the series as well. Looking forward to immersing myself to make up for lost time and passing it on to the wee little ones.

Sandra says:

I first heard about Betsy-Tacy here at the Bonny Glen. Youngest dd turns 9 in November and I think I'll get some for her. Luckily the Book Depository in the UK has free worldwide shipping on them (we're in New Zealand) which makes ordering them in more affordable than otherwise.

MFS says:

I credit you with my *re*discovery of Betsy-Tacy. You see, I read the first book in the series to the Misses M-mv more than eight years ago. Your posts reminded me of the two dear friends, though, so one day I turned to the girls and asked if they remembered Betsy and Tacy. They didn't! Oh, the horror! But spit-spot, we've remedied that. We're nearly done with the first sweet story — taking turns reading it aloud over elevenses.

Best regards.

Melissa

Elizabeth in Canada says:

I had heard about Betsy-Tacy books before, and I think I even read the first one (to myself–my boys being only about 1 and 3 then). BUT–I didn't know that the series continued into Betsy's teens. I will be re-reading and going looking for more! Thanks!

Theresa says:

I first heard of them from you. I just finished reading the first one aloud to JBug and we are looking forward to more!

Christie says:

I'll chime in to say you made me a Betsy Tacy convert a couple of years ago.

Mary G. says:

Lissa … sorry, but I'm rooting for the Zet, Zet, Zetmathians!

I'd heard of Betsy-Tacy when I was little but you definitely rekindled my interest in the young books … and thanks to you, I found out about the B-T Conversion challenge!

Blessings and hugs ….

Lorna says:

Absolutely! I still don't know how I missed these when I was young. As soon as I collect them all my 10-year-old wants to read them too! 🙂

Elizabeth M says:

Another newbie here. I heard of them for the first time here on your blog. We've already requested them from the library. I'm guessing my 8-year-old bookworm dd will love them!

Katy says:

I heard about these books here, too! I definitely have them on my "to-read" list!

Anna says:

I have mentioned that this is the first I've heard of them. And I keep trying to remember to check a book out from the library, but I always forget! I'm going to reserve one, right now.

Catherine says:

Never heard of them before you, and so wish I had. We read the birthday chapter from the first book tonight in anticipation of my soon-to-be 5 year old's birthday – for which she is getting a glass pitcher rimmed in gold sold by the B-T Society!

Christine M says:

I can't say for certain if I heard about Betsy-Tacy first from you or from Liz B at Tea Cozy (but I think it may have been here).

Jennifer says:

I cannot remember but it seems probable that I read about them first here.

Deborah C. says:

You introduced me to B-T books, which for some reason I had never heard of. We got some from the library and my daughter so enjoyed them we bought some of the first ones. Later on your recommendation I myself read the "older" Betsy books (my daughter is only five so they have limited interest to her right now) as well as Emily of Deep Valley. All very enjoyable. I love reading about your family's favorite books, because we are always on the lookout for great titles we have yet to discover. Thanks so much for sharing!

Heather C. says:

Though I believe I read every book/series available at our small public library when I was a little girl, I had never heard of the Betsy-Tacy books until reading your posts here at the Bonny Glen. My daughter and I are trying to make up for lost time! Thanks so much for introducing us to such wonderful friends!

Leilani says:

I first heard of them here too. Thanks!

Fe says:

Yep, I first heard about Betsy-Tacy here. They are pretty much unknown in Australia (well, in my bit of the country!). Another bibliophilic friend has recently bought herself a couple of them (after seeing some online discussions), so I've _finally_ read the first one—and she found some of the high school ones at one of our large secondhand sales, so she's given me a couple of those (she'd found a couple of copies:-) ).
I've looked in our library system to no avail, and they don't show up in any of the local bookshops either (with the _possible_ exception of the Borders, the one place I've seen your books locally, as well..)

Heather says:

I first heard about Betsy-Tacy here! Like others, I thought I read every children's series out there, but this one escaped me. And, I have now read and love Emily of Deep Valley! Thanks for all the great recommendations.

Hilary says:

I'm from the UK, and first heard of the Betsy-Tacey books here too – looking forward to reading them! 🙂

Cindy says:

I too first heard about Betsy-Tacy here. I still haven't made time to read them but I am looking forward to it.

Elizabeth@Frabjous Days says:

I heard it here first, too. Now my 9yo is a big fan, but I haven't yet read any!

Domini says:

I, too, first heard about Betsy-Tacy here on your blog. Not too long after, I ordered the first two books from the Betsy-Tacy Society and promptly fell in love. Those who know me know I have a deep and abiding love for books (and movies and music, for that matter) that keep me in touch with the past. Teaching my son (plus the one on the way) about how people used to live is high on my to-do list — he's only 4 and autistic, so it may take a while and I won't mind at all. This said, I often use your site as a sort of reading resource, ever since I discovered your Martha and Charlotte books several years ago.

Anne says:

I first heard of Betsy-Tacy from you.

Sarah Reinhard says:

Oh yes, you're the wonderful one who pointed out Betsy & Tacy to me, and I thank you for it! 🙂

ericka says:

guilty here. it was your blog that first introduced my daughter and i to Betsy Tacy. And now she has listened to the first book on audio book and read the next three in the span of one week. i'm working on one of the books right now and loving it. you have made us into fans for life!!

Teresa says:

Heard it here first and I thank you! Now back to reading…

Momto5minnies says:

YES, it was the first time I had ever heard of the Betsy-Tacy books and I was a pretty voracious reader as a youngster. Just last night I bought the Heaven to Betsy- Betsy in Spite of Herself. Lately I have been so wrapped up in politics, Catholic teaching, and homeschooling books. I SO NEEDED a little vacation from all of that.
When I'm done, I hope to get more books and pass them to one of my 5 girls 😉

THANKS FOR THE RECOMMENDATIONS … you are very convincing!

Another Hannah says:

Yup, another obsession I can thank you for! I bought a B-T treasury and lent it to my sister to read to her little ones… she's still got it!

Amy C. says:

I credit you with my B-T conversion! Oddly enough, though, you didn't introduce me to them . . . I once edited an anthology that included a chapter from Betsy and Tacy Go Downtown, and I enjoyed that excerpt but it didn't spur me to seek out the books. Your rave reviews led me to the lively, gap-toothed, five-year-old Betsy who won my heart, and then my two oldest daughters' hearts. Thanks always for your enthusiastic recommendations . . . they're truly irresistible. I think I'm going to have to start being honest, and rechristen our homeschool The Bonny Glen Annex.

Haley says:

I first heard about Betsy-Tacy here, too!