November 22, 2009 @ 8:59 pm | Filed under: Books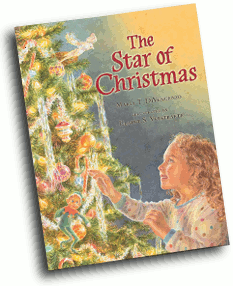 Fans of Maria Wilkes's Caroline books will be interested to know Maria has a new picture book out, a sweet holiday story called The Star of Christmas. Published under Maria's maiden name (Maria T. DiVencenzo) and illustrated by Elaine S. Verstraete, this gentle and golden-hued tale is going to make a lovely addition to our Advent book basket. I know Beanie especially is going to be enchanted by the story—a Christmas Eve conversation between all the ornaments on the tree. Which one of them is the real star of Christmas?
Read the book online at the Winterlake Press website.