May 22, 2010 @ 4:16 pm | Filed under:
Books
Earlier this week, Phoebe asked me to recommend books about the middle ages. Jane and I went around the house pulling things off shelves. The timing was perfect, because I've been on a bit of a middle ages jag myself, ever since reading The Perilous Gard (so good! read it!!) which though set in Tudor times, at the cusp of Elizabeth's reign, is a retelling of the medieval Tam Lin ballad. I've listened to perhaps a dozen different renditions of Tam Lin over the past few weeks; this one by Bob Hay and the Jolly Beggars.
Here's a list of the middle-ages-related books we found around the house. There are many other wonderful books about the middle ages, of course. (Rosemary Sutcliffe and Susan Cooper novels come to mind.) Feel free to leave your own lists (or links to your lists) in the comments!
Disclaimer: Not all of these are appropriate for younger children.
** indicates my family's favorites
HISTORICAL FICTION AND FANTASY
CLASSICAL MEDIEVAL STORIES including Arthurian tales
• Medieval Romances edited by Roger Sherman Loomis & Laura Hibbard Loomis (Perceval, Tristan & Isolt, Sir Gawain & the Green Knight, etc; this was the text for my college Medieval Lit class & has a highly quotable intro, which I shall indeed quote in the next post)
• Favorite Medieval Tales by Mary Pope Osborne, illustrated by Troy Howell (Finn Maccoul, Beowulf, Arthur, Song of Roland, Sir Gawain & the Green Knight; Robin Hood, Chanticleer)**
• The Story of King Arthur and His Knights by Howard Pyle
• The Sword in the Stone by T.H. White (Arthur)**
• The Acts of King Arthur and His Noble Knights by John Steinbeck (based on the Malory)
• The Story of King Arthur by Tom Crawford (Dover Children's Classics)
• The Canterbury Tales by Chaucer (of course!!)
NONFICTION
• The Story of the World, Vol. 2: The Middle Ages by Susan Wise Bauer
• How the Irish Saved Civilization by Thomas Cahill
• Living Long Ago (Usborne Books, lots of pictures: clothes, customs, housing)
• Famous Men of the Middle Ages by John H. Haaren & A. B. Poland (Attila the Hun, Barbarossa, Clovis, Justinian, etc)**
• A Medieval Feast by Aliki (picture book)**
• The Life of King Alfred by Asser, Bishop of Sherborne (written in Latin around 888AD, translated by J.A. Giles)
NONFICTION, SORT OF (contains legend or considerable fictionalization)
• Our Island Story by H.E. Marshall
• The Sailor Who Captured the Sea by Deborah Nourse Lattimore (picture book: Book of Kells; illuminated manuscripts; monasteries; Vikings attack Ireland) (This maybe belongs just under fiction)
SAINT STORIES
Around the Year: Once Upon a Time Saints by Ethel Pochocki (not all the saints depicted here are medieval, but many are)
Our Island Saints by Amy Steedman
Patrick, Saint of Ireland by Tomie de Paola (picture book; early middle ages)
Tomie de Paola also did picture books about St Francis and Sts Benedict & Scholastica, but I couldn't find those today)
Brigid's Cloak by Bryce Milligan, illustrated by Helen Cann
FOLK AND FAIRY TALES WITH A MEDIEVAL FLAVOR
• Saint George and the Dragon by Margaret Hodges, illustrated by Trina Schart Hyman (picture book; although St George predates the middle ages, the dragon legend comes from Spenser's The Faerie Queen [1590] and is based on medieval writings–the Arthurian stories of Geoffrey of Monmouth [1136]; Hyman's illustrations have borders reminiscent of illuminated manuscripts)
• Chanticleer and the Fox by Barbara Cooney, based on the story from The Canterbury Tales**
• Heckedy Peg by Don & Audrey Wood (picture book; fairy tale; setting is a medieval village)**
• The Irish Cinder Lad by Shirley Climo, illustrated by Loretta Krupinski (picture book; Irish fairy tale; dragon, castle, princess)
• The Three Sorrowful Tales of Erin by F.M. Pilkington (Irish fairy tales; Children of Lir)
• The King of Ireland's Son by Padraic Colum (novel-length Irish folk tale)**
OTHER WORKS OF NOTE:
Twain's bio of St. Joan of Arc
Heaney's translation of Beowulf
Dante's Divine Comedy
Stories about Robin Hood (we have several versions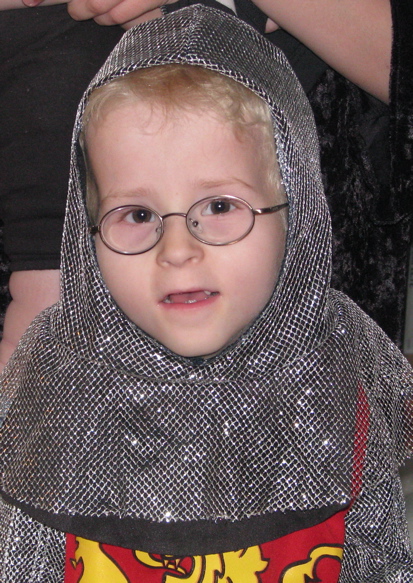 Good Sir Boy of Wonder