May 24, 2010 @ 6:31 am | Filed under: Television
Here be spoilers, of course. Don't read this if you haven't watched the LOST finale.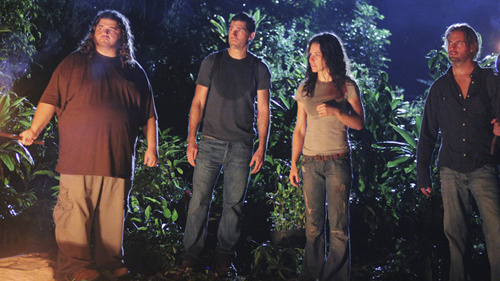 Yes, the reunions made me cry, every single one of them. Jin and Sun's joy at seeing Detective Ford: one of the best moments of television ever. And: Shannon and Sayid. Claire and Charlie. James and Juliet: by then I was sobbing. You got it, Blondie.
When Jack walked into the church, I gasped with delight because for a moment there I was sure that Mr. Eko was going to appear—as a priest, of course.
Instead, I admit it: profound disappointment.* When the coffin was empty, and there was a footstep behind Jack, I knew it was Christian and I yelped an involuntary "No!"
Because, you see, I really wanted to know what happened. While the characters were still alive, on earth. Instead, the show jumped us over the final chapters to the last page of the book. It's a good page: after purgatory, they go to heaven. That's the greatest good there is, the ending I am literally hoping and praying for.
But in terms of this show I've been invested in for six years? I wanted to know what happened in this world, not the next.
About halfway through the episode I began to wonder if the Sideways reality had been a very long denouement—it struck me as a clever solution. Something would happen in the climax, some kind of Electromagnetic Desmond-triggered jump to an alternate reality, a parallel universe or something—which would have been painfully hokey, but I was giving the writers props for figuring out a way to give us plenty of satisfying detail about how everyone turned out (via a whole season's worth of Sideways scenes) without having to squeeze it all into the last ten minutes.
But that wasn't what happened. The Sideways reality wasn't real. It was a kind of gentle purgatory, more akin to a dream than anything else. You know how sometimes as you're swimming up out of a dream toward wakefulness, you can steer the dream a little? That's what the Sideways reality was. Dreams stitched together from fragments of memory and longing, affording the characters the opportunity to make better choices—at least in relation to the each one's fatal flaw. Thus James, instead of becoming a con artist as despicable as the one who ruined his childhood, becomes a heck of a good cop. Jack, the wounded son, becomes a decent father. For the sake of Alex, Ben sacrifices the opportunity to seize power. There's actually quite a lot to talk about regarding each character's purgatory experience.
(Including the interesting fact that Ben, despite apparently doing a good job as the Island's #2 protector in the part of his real life we didn't get to see, felt in need of more purgatory time at the end of the episode. Locke goes into the church, and then into the Light, but Ben remains sitting in the courtyard near the statue of the risen Christ. He gratefully accepts Locke's forgiveness, but doesn't feel worthy of heaven yet.)
But before I can get there—I'm sure I'll spend weeks pondering the purgatory experiences—I have to get past the disappointed ache. Jack's story had a good and satisfying ending. (I loved that last moment with Vincent, the bamboo, the closing eye.)
But what about Desmond? He didn't make it off the island. Did he get back to Penny? Did she wait and wait and wait for him forever (until death)? Or did Hurley find him a way back home? Ben said "no one leaves the island" was a Jacob thing (and anyway, there was quite a bit of coming and going on the old submarine). So, okay, I can let myself suppose that Hurley and Ben found Desmond a way home to his wife and son. BUT I WANTED TO SEE IT.
I suppose supposing is what we're left with, as far as the rest of the earthly stories go. There really weren't many of our friends left alive by the end of the season, were there? Jin, Sun, and Sayid had joined Charlie, Shannon, Boone, Locke, Faraday, Charlotte, and Juliet.
So. Claire and Kate go home to Aaron, and Claire climbs back to sanity. It's interesting to note that their purgatory experiences depended on one another: Kate carjacking Claire's cab, then—here's Kate's better choice—risking her own freedom to return for Claire (aha! major real-life choice, returning for Claire on the island, being paralleled by a purgatory choice, returning for Claire at the bus stop). And then their moment of remembering happens through the birth of Aaron, the most significant event in each one's earthly life. Kate's whole arc was about learning to take care of someone other than herself. Claire's whole arc was about her reluctance to accept motherhood.
Sawyer's arc was about choosing to be one of the good guys, not one of the bad guys. I recently rewatched the first few episodes of season one and was interested to remember how early Sawyer shows his true colors, right there in the beginning: having immediately established himself as amoral and self-serving, he then calmly and heroically steps into the path of a charging polar bear and shoots it dead, saving several lives. That was the real James Ford, the guy who claimed to care about no one but himself, but who made the heroic choice in every single moment of crisis. The guy who jumped out of the helicopter to save his companions (or at least to save Kate), that's the real James, the one Juliet got to live with for three years in the only stable relationship of his life. Their reunion made me happiest of all.
I have more sorting out to do about other purgatories. Widmore's is interesting, and Eloise's—especially the odd note of her final scene with Desmond, when she asks with such genuine distress whether—shoot, what were her exact words? they were significant, and Desmond's reply, something about not leaving yet—and we had "when you're ready to leave" with Jack, too; with him it meant letting go of life. Dying. Eloise's plea is curious, because it's almost as if she knows what Desmond is doing (serving as a kind of angel to shepherd, ahem, his friends out of purgatory into heaven) and wants to remain in purgatory with Daniel a while longer.
For now, my busy day calls. More later. I guess I'm making my peace with the purgatory realities. And I get that the island story had to end somewhere; we weren't going to see the entire rest of Sawyer's life, or Kate's, or Hurley's…but I would have liked glimpses. Yes, that's it, that's where I feel left hanging. I needed a glimpse of Claire (with her hair finally brushed) reuniting with her young son (and her mother! who was in a coma last time she saw her!), and some moment between Kate and Sawyer to hint at what possible consoling future they might have together—certainly a deep and beautiful friendship. A few brief moments would have done me. Or just one more episode, an epilogue in which Hurley and Ben get Desmond safely home, we see him reunited with Penny, and there's some resolution with Kate, Sawyer (and his daughter!), Claire, Aaron, and maybe Sun and Jin's daughter.
It was strange to get to the part where they're all happy together in heaven—the ending I am ALWAYS hoping for—and feel deflated. Maybe I'm just mourning their departure. Denial (that's it? no, wait, I need more!) is, after all, the first stage of grief.

*As you'll see in the comments, the resolution is growing on me, the more I think through it:
…I'm back to agreeing with the reaction I had halfway through last night—that the sideways timeline was going to turn out to be denouement, and was therefore a brilliant idea, allowing us to see how things turn out without there having to three or four episodes following the climax. I mean, it took Tolkien a whole book to wind up LOTR to our satisfaction. It would have been horrible not to know what happened when the hobbits got back to the Shire. And the LOST characters: we *needed* to see them resolve the critical issues each of them was wrestling with for six years.

What's fascinating, and growing on me, is the choice to resolve those issues 1) in the afterlife! and 2) to do it slowly, gradually, during the course of this whole season—out of sequence, really. (Which of course works fine with the wonky way we've flashed back and forth in time all along.)

Last night it felt like a cheat. Today, as I think back through what each of the characters actually accomplished in purgatory (now that I know, or am at least reasonably certain I know, that's what/when it was), I'm seeing how I did in fact get the resolution I craved—I just need to reassemble the pieces.