August 27, 2010 @ 7:51 pm | Filed under:
Books
I know August isn't over yet. I think I can safely predict that I will finish MOCKINGJAY this weekend (I'm only a chapter in), and I doubt I'll be able to start-and-finish anything else by Tuesday.
It's a short list this month: I was driving and visiting, not reading. We listened to two audiobooks in the car and about three-quarters each of two others. The two we finished were:
The Miraculous Voyage of Edward Tulane by Kate DiCamillo. Sad and lovely, and perfectly suited for a journey.
Because of Winn-Dixie, also by DiCamillo. I'd read it before, perhaps five years ago. I really love this book. I was pondering my favorite literary librarians today (having decided to name my new Kindle*, when she arrives on Monday, "Miss Sparrow"), and Miss Franny Block comes in a close second.
The two audiobooks we haven't quite finished are:
On the Banks of Plum Creek, which we bought at the Rocky Ridge gift shop because we were all in the mood to listen to some Laura after visiting her home; and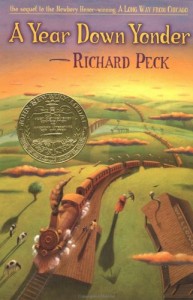 A Year Down Yonder by Richard Peck, which was loaned to us by my sweet friends Beate and Sabine. They were following our travels on Facebook and invited us to stop for lunch on Monday as we cruised through Texas. It was a delightful stop, and they were absolutely right about A Year Down Yonder being a hilarious and captivating yarn. We left Laura half-drowned in the spring freshet to give the Peck a try, and it had us giggling all the way through Arizona yesterday. We need to drive somewhere so we can finish. Like maybe in circles around the neighborhood because that is as far from home as I'm going for a while.
*That's right, my new Kindle. I know I only just got the "old" one. See, two weeks after that one arrived, Amazon announced the New and Improved model boasting (among other tweaks) a drastic improvement in the contrast between text and background, and since my one complaint with the K2 was the poor contrast, I mournfully returned it and set my teeth for the long wait until the late-August launch of the new one. I got the shipping notice this morning; Miss Sparrow should arrive on Monday. Poor First Kindle, I hadn't even named her yet.
Comments