February 15, 2012 @ 7:57 pm | Filed under:
Books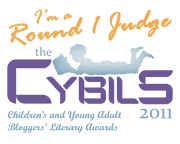 Hop over to the Cybils site for a list of wonderful books. The Cybils criteria include both kid appeal and literary merit. Most other awards focus on one or the other. Cybils are unique in lots of ways, and each year's shortlists are a resource you should take advantage of. The categories include poetry, nonfiction, early readers, picture books, fiction at various age levels, poetry, even book apps (new this year).
As you know, this year I served on the first-round panel for graphic novels. Our task was to create two shortlists: middle-grade and young adult. They are strong lists: some incredible books there. Do check them out. The second-round judges selected one winner from each list: for middle-grade, the delightful Zita the Spacegirl (an enormous hit with my middle bunch, especially Beanie), and for young adult, the smart, absorbing, highly original Anya's Ghost. Congrats to Ben Hatke (Zita) and Vera Brosgol (Anya)—and congrats to all our finalists for making such splendid books.
Among the other winners, my bunch has read and LOVED, in the read-it-again-again-again kind of love (or wead-it-adain, if you're Huck), the early reader champ, I Broke My Trunk—another Mo Willems Elephant and Piggie gem. And the winning book app, the 21st-century incarnation of that enduring classic, The Monster at the End of This Book (starring lovable, furry old Grover), is, I can attest, an excellent way to experience a perfectly marvelous book. As for the fiction picture book winner, Me…Jane, oh what a lovely book! The young life of Jane Goodall and her stuffed chimpanzee. Hats off to Patrick McDonnell.
Can't wait to check out the rest of the winners.
Comments
Hannah @ Lovely Woods says:

Delighted to hear about the Elephant and Piggie book, as we've recently become HUGE fans thereof.

Congrats on a job well done, Your Honor!