Kirkus reviews Fox and Crow Are Not Friends: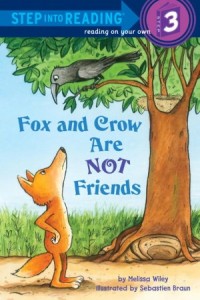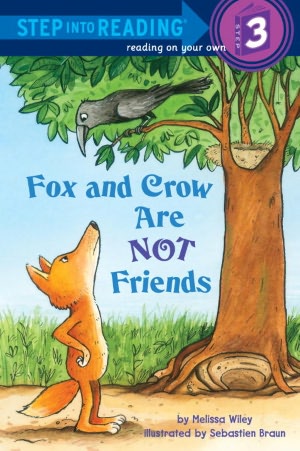 The familiar fable about Fox and Crow, retold for new readers.

Youngsters will quickly understand the word "outfoxed" after reading these tales of flattery, greed and cheese, told as three connected short stories. Fox and Crow are enemies, fighting over one hunk of cheese as if it were the last morsel of food on the planet. It won't take long for readers to giggle at just how far these two will go for the cheese. Fox gets the best of Crow in the first story, in which Fox flatters Crow into dropping the cheese directly into Fox's mouth. Next, Crow dreams of ways to get the cheese back and spends every waking moment constructing a cunning trap, with stew-covered Crow as the lure. Success! Fox retaliates in the final chapter, but both critters are outsmarted by the watchful Mama Bear. Humorous watercolor illustrations are punctuated by thought bubbles showing the animal's plans; other playful details include the owl's eyes watching the shenanigans from a safe distance and the eventual sheepish looks when the enemies are trapped in the same net, with Mama Bear chastising them from the side.

Funny chapter titles will amuse adults, and subtle visual details make this a fable book that new readers will return to. (Early reader. 3-7)
Yippee! Oh, you guys, I can't wait for you to see Sebastien's art in this book. He did a marvelous job—so much humor and energy in his work. I'm over the moon.
Comments
tanita says:

*happy dance*
What a SPLENDID review! Yay!

Sandra says:

The book sounds delightful. Wish I had a new reader to share it with.