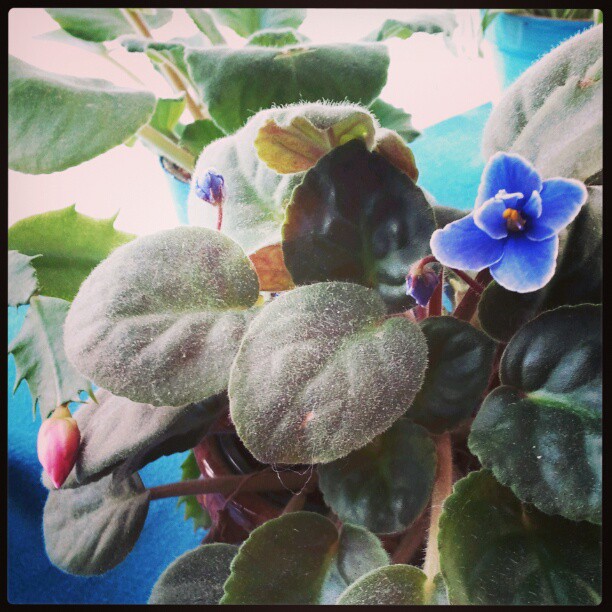 My Christmas cactus is just about ready to bloom—yes, in January—timing its display to coincide with the violets. In another two or three days we'll have quite a show. Lettuce in the garden, daffodils in the flowerbeds, freesia about to bud. At least, that's what was happening out back a week ago. I feel a bit detached, this week, from the world outside; it's been downright frigid here in San Diego, and I find I've lost the knack of handling weather. No insulation in these little houses. Brr.
Maybe that's why we picked Winter Holiday for the new lunchtime read-aloud. We so seldom have a winter that feels remotely wintry. It had just the right flavor for today, but it's quite a long book and I'm wondering how all that tramping about in the snow is going to read when we're back to our 7o-degree sunshiny days, say around Friday.
Comments
sarah says:

We've had the hardest time with the Ransome books and have never made it very far with any of them. I know they are a favorite of so many. We do really love A Day on Skates by Hilda van Stockum. On the list for this winter.

Enjoy. Jealous of all that color you have in January!

dstb says:

Winter Holiday would be a perfect read here. We got several inches of snow over night and the schools are closed (which means my younger homeschooled son gets a day off, too).

I urge Sarah to try the Ransome books again. They were well loved here. I think our kids could particularly relate to them because we spend much of our summer on an island in Maine. Although with Winter Holiday, we would just have to imagine what the winters would be like there. Brr.

Sarah

Erin says:

Yes. I am fuh-REE-zing. 42 here this morning. Makes it hard to want to get out of bed, get the kids up, get to work…but I'm trying to mentally gather it up and keep it for those days in the fall when the hot Santa Anas won't quit blowing…

Fanny Harville says:

We LOVE Winter Holiday! One of our favorites of the whole series so far (we've just begun Secret Water).

MotherReader says:

Right now I would love to think about coming day of 70 degrees. It's been raining and cold in the DC area for days – and it doesn't even have the decency to be quite cold enough to snow.

lesley austin says:

Oh Lissa! I have that in my stack, having ordered a copy from England a few months ago. I figured it would be just the thing in January or February. I am in the middle of another book, however, and they are calling for the rain to turn to snow tonight and I know I shall be tempted to switch over tomorrow.

Let us know what you think of it? I never read the Ransome books to my boys when they were growing up, but have been enjoying them myself this year.

Melissa Wiley says:

Winter Holiday is one of Jane's favorite S&A books, and I think it's Alice's very favorite—I remember there was a period where her kids requested it as a read-aloud every single year.