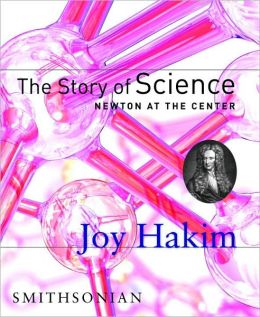 The Story of Science: Newton at the Center by Joy Hakim. Our history spine for the high-tide parts of our year. Yup, history: Hakim's Story of Science series takes a historical-biographical approach to science, tracing the development of ideas in the context of the lives of the great thinkers and scientists, and the cultural and political events surrounding them. This is book two in the three-part series, beginning in the 1450s: the printing press, the fall of Constantinople. My heart goes all pitty-pat when I think about some of the books I can pull off the shelves this year to go along with this one: The Apprentice by Pilar Molina Llorente; The Second Mrs. Giaconda; Twain's Joan of Arc; Diane Stanley's Michelangelo for starters.
Jenn asked for the titles of some of the natural-history books Beanie has been enjoying, so I've started a list in the comments of this post.
And for readers who are new to Bonny Glen: here's a bunch of links to my Tidal Homeschooling posts (explaining how we're unschoolish but not full-fledged unschoolers, Charlotte Mason-influenced but not strictly CM.)
And while I'm at it: Things to Buy Instead of Curriculum.