January 13, 2014 @ 7:31 pm | Filed under:
Television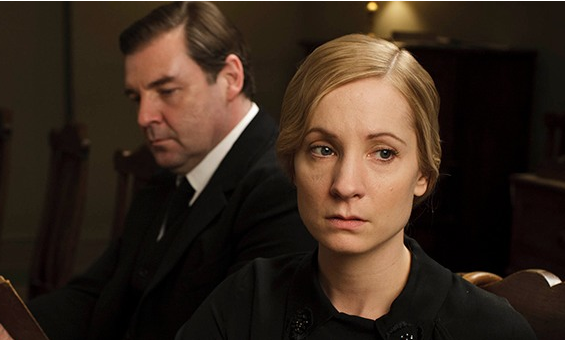 Spoilers below.
I don't have the heart to do a full recap right now. That was a horrible turn of events, wrenchingly depicted, and I'm upset on about fifty different levels, not least of which is a fear that this plotline is being played for drama only and won't succeed (even if it wants to) at taking a really meaningful look at that issue, which ought never never never to be played for drama only.
I will say this: even before we arrived at that terrible point, I was frustrated as all get-out by the way Anna and Bates were being made to behave. I say "being made to" because their interactions felt absolutely contrived, not organic. His cantankerous jealousy, her obliviousness to the villain's obvious flirting. (And what are we to make of THAT? The price of friendly banter? Infuriating, and treads perilously close to suggesting her behavior played a role in what happened next.)
I set too much stock in TV relationships; this is a running joke between Scott and me. For a couple of seasons of The Office, I took it very hard if there was any whiff of trouble of a certain kind between Jim and Pam (after they were together). I welcomed organic challenges to their relationship—smooth sailing does not gripping viewing make—but I wanted believable challenges, not manufactured ones. And for many seasons, that show was remarkably successful in placing organic obstacles in their path. It was fun and refreshing to see them as allies and co-conspirators. So often, television seems to feel that as soon as the long-yearned-for romance is realized, it must Get Rocky and Face Threats. The Office accomplished something unusual in presenting us a strong Jim-and-Pam team that endured many years before a writerly wedge was thrust between them. (And for the record, during that final season, I kept hollering at Jim to SHOW PAM THE FOOTAGE. It was all there, his dogged devotion. My satisfaction when he finally listened knew no bounds.)
In Downton, I've taken a similar pleasure in the Anna and Bates relationship. They've weathered trials together, united. And now, even before the rape (it pains me to write that word so casually, as a plot point, which is my much larger problem with this episode than the subject of this paragraph), we're shown little tendrils of doubt and discord coiling between them, and I don't buy that for a second. Not to go all Kathy-Bates-in-Misery on Julian Fellowes, but, well, Annie Wilkes, whatever else her failings, did have a sound understanding of story.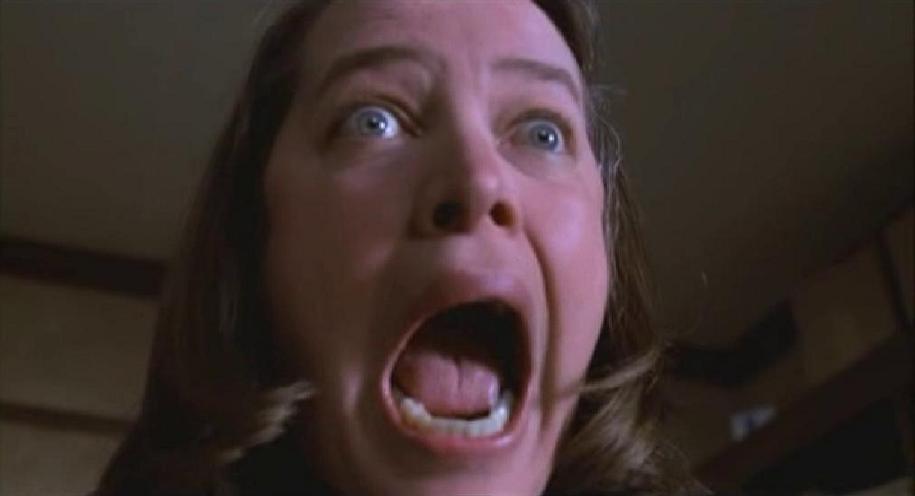 Mr. Bates would never embarrass his wife in public!
But even that, the hamhandedly portrayed strife between Anna and Bates, seems almost inappropriate to complain about after what happened next. As for everything else that happened in this episode, I hardly know how to feel about any of it. I mean, how can there be a rest of the episode after what happened to Anna? I'm supposed to care about Jimmy's sprained wrist and his oddly ambiguous behavior toward Ivy? About Robert's deep discomfort over dining with a (gasp) world-famous opera singer?
I liked Lord Gillingham but am, like Isobel, not quite ready to watch Mary edge toward a new romance. Two episodes on, perhaps. For now I'd rather watch her duke it out with Lord Grantham over the estate. I did enjoy their conversations and was happy to hear the tartness return to Mary's voice. Much better than Zombie Mary.
Boy, the good doctor hovers mighty close to Isobel's side these days, doesn't he?
Does anyone who talks to Tom remember that he, too, has lost a cherished spouse?
Molesley. I just. He'd be much less pathetic if he'd stop talking about how pathetic he is. But it rings true to character, at least. Molesley never has done himself any favors. Grumping aloud to the Dowager while serving dinner was a bit of a stretch, however.
I cared a lot about the Edith and Mr. Gregson storyline, until I didn't. Trouncing the card sharp might have been an entertaining thread in another episode, but the show's final moments retconned the rest of it for me, rendering all the mini-dramas frivolous.
Someone who's seen the rest of the season, tell me it's worth hanging in there for.
P.S. We've been discussing it over on Facebook, too, if you're interested.
My previous Downton Abbey recaps, which are usually more recappy than this one