See #1 in this series: Memrise.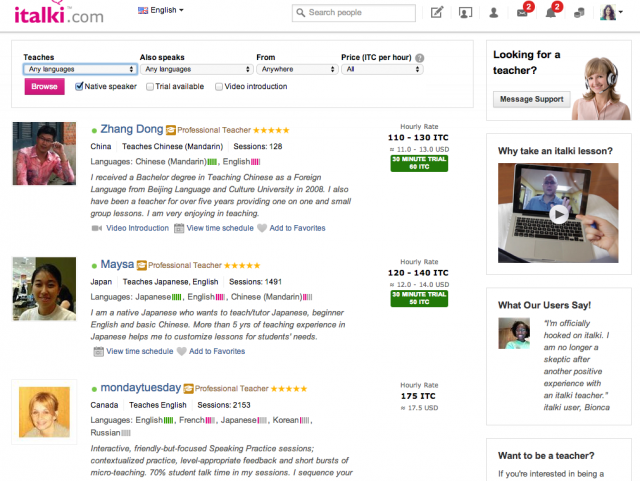 Last night I had a trial lesson at italki.com with a German teacher who currently lives and works in Taiwan. At the appointed hour he rang me on Skype and we had a delightful half-hour chat. We started with video but the connection was wonky so we switched to audio only, and that worked fine. Something I especially appreciated was that whenever I struggled with a word or phrase, Stephan corrected me and typed the correction in the chat window so I could see it as well as hear it. Afterward, the chat log provided a nice transcript of the things I'd learned.

Since this was a first lesson, it was largely conversational. Stephan spoke to me in German from the beginning (when I set up the lesson I'd had to fill out a form describing my current level), asking lots of questions and encouraging me to plunge in and answer as best I could. I loved it. He also sent links to a couple of resources—a German children's book, the first half of which I read and translated with his help, and, when I mentioned that I often confuse which prepositions go with which verbs, a pdf with some preposition exercises.
Italki lets you choose between "professional instruction," where the tutor will probably have you work through a textbook with homework, and "informal tutoring," which is more the conversational kind of session I had with Stephan, practicing and improving my skills through dialogue. The latter is the less expensive option, but both kinds of lessons are pretty reasonable—downright cheap in some cases, depending on the language you're studying and the exchange rates involved. Payment is all handled through italki; you purchase italki credits (ITC) at the rate of 1 dollar per 10 ITC, plus a small processing fee based on your payment method. When you book a session, italki holds your credits, and after you mark the session completed, they pay the instructor. If the session doesn't happen for some reason, you get your credits back. Most lessons seem to be in the neighborhood of $10-15 per session.
The selection of language is fairly staggering. Basically, anywhere there's Skype, there are italki tutors eager to take you on as a student. Most instructors have made short videos to introduce themselves. I love this one from Modabo in Spain. 🙂 Many instructors indicate on their profiles whether they have experience teaching children, if you're looking for a tutor for younger kids. For teens, pretty much any instructor is a possibility.
Many instructors offer trial sessions like the one I had at a special rate. Italki allows new users to sign up for three of these trials, so you have a chance to try out the interface (and the teacher) without spending very much.
The website also encourages connections among users; you can find language partners to practice with or do swaps—say, you help me with German and I'll help you with English. After all, actually speaking a language—jumping in, trying to form sentences, making lots of mistakes and having someone correct you—is the best way to move toward fluency. Users are also encouraged to write notebook entries in their target languages, inviting native speakers to offer corrections and advice. There's a handy markup system to use in editing others' entries. All very friendly and low-pressure.
So far, in my limited experience (two weeks browsing the site and last night's wonderful lesson), I give italki high marks. Rose is drooling over the language list. We're thinking some italki Spanish lessons might be a very good option for her. Like me, she's been using Memrise to build vocabulary in her target language(s), and she studies Spanish grammar in a print textbook. But there's nothing, nothing, like speaking with a native speaker. I've been stuck at a sort of low-intermediate level in German for a very long time. As in: decades. It was exhilarating last night to discover how much I really can say and comprehend. I understood almost everything Stephan said, and when I didn't, he repeated the phrase, typed it out for me, and told me the English. It's a very organic way to learn. I would love to take more lessons with him, the informal tutoring kind. I see Sign Language is offered as well, which is a very exciting possibility.
Comments
tanita says:

Oh, WOW. I see some great ideas for long winter afternoons… I'd love to schedule a chat with someone, and brush up on my failing French and Spanish (which has, sadly, turned into Spench and Franish – I'm mixing up everything), or even learn something totally new (which has a better chance of not being added to the linguistic stew I make of French and Spanish!)