It's our 21st wedding anniversary (though we begin our official count from our first date, five years earlier) and San Diego celebrated with RAIN, which you know is a huge big deal here these days. Glorious.
I can't find our copy of Winnie the Pooh. Where is it hiding? So after Pooh Corner (sans final chapter) I had to (eventually) give up the search and pick something else. I'll get Pooh from the library, I guess. IT'S JUST I KNOW IT'S RIGHT HERE UNDER MY NOSE SOMEWHERE. I bought a boxed set of Milne way back before we got married (we'd been an item for three years, though, so you know I was envisioning a house full of rugrats by then…Ingleside, to be precise) because my part-time job during grad school was at a children's bookstore and I felt compelled to take full advantage of the employee discount. Hmm, someday I should comb our shelves for all the books I bought that year. Dear Mr. Blueberry, I remember that for sure, and every single L.M. Montgomery title I didn't already own. I had Anne and Emily but not Pat, Jane (Jane!!), The Story Girl, or Valancy. (Valancy!!!!) Nor any of the short story collections, and I recall deciding it would be worth living on ramen for a while in order to procure every last morsel of LMM. I was right.
(Total digression: one of these days I need to do a post on LMM books in order of perfection. It might kill me to pick a #1, though. The bottom of the list is a piece of cake. Sorry, Kilmeny.)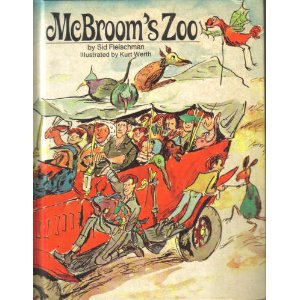 ANYHOO. Back to the temporarily abandoned Pooh Search. In lieu of the silly old bear, I reached for McBroom. I wanted something fast-moving and full of laughs. Plus we've been reading Tall Tales this spring (I love the Mary Pope Osborne collection) and was in the mood for more wild yarns. Let's see, in three days I think we've devoured five McBroom books. Started with McBroom Tells the Truth, of course, and then (in order of whatever the kids picked next) McBroom and the Big Wind, McBroom the Rainmaker, McBroom Tells the Truth, and McBrooms Ear. I hope they pick McBroom's Zoo next–that's my favorite. Our copy is the one I had when I was a kid, with the sturdy Scholastic book club binding.
Sid Fleischman's language–his rich, hilarious, colorful turn of phrase–is simply unbeatable. And every whopper McBroom tells is funnier than the last. Oh, such good stuff.
***
As for my own reading, I'm halfway through Blackout and am FINALLY keeping all the dates and locations straight (more or less). And things are beginning to go crackerbots for Polly, Mary, Eileen, and Mike…You know, one of my favorite things in life is when I'm enjoying a book so much I can't wait for bedtime (the only time of day I can count on a chunk of dedicated reading time…all the other minutes must be stolen, snatched, and squoze-in).
***
I meant to fill this post with throwback pictures in honor of our anniversary, but Scott just got home with a celebratory pizza. Photos, schmotos.
Comments
sarah says:

Happy anniversary and hooray about the rain! I dare you to compile that LMM list. I actually think it will prove impossible. I almost said Blue Castle should come first … but then, there's Anne's House of Dreams … and Rilla (which isn't the best written but it has Dog Friday) …

Actually, I just finished reading HoD for the umpteenth time and am now halfway through Ingleside again. Some books are forever books.

I can't wait until you've finished Blackout, I want to hear what you have to say about it.

Melissa Wiley says:

I'm grinning because my mental process was much the same. I had the original thought all hearty and confident–I'll make a list!–and immediately came crashing upon it the waves of Impossible to Choose. Blue Castle? Jane, my delight? No of course it must be Anne–Green Gables of course, oh no wait, I mean House of Dreams…no, I mean Island because FINALLY it all comes right…Impossible.

Rilla is one of my favorites to reread and yet I agree, not her finest writing. But so very good!

Samantha says:

Blue Castle, Rilla. For me the bottom is Rainbow Valley.

Margie O says:

HAPPY ANNIVERSARY!!!!!!!!!!!!!
From Margie and Woody

Penny says:

Oh happy day 🙂 May you celebrate many, many, MANY more!!

Ellie says:

Happy anniversary 🙂

Lists are just impossible. Groupings though, that might work. Top Tier and Secondary and so on. Then you could list several together, yet still above this other group of several, see?

Melanie Bettinelli says:

Happy anniversary!

I have such a hard time choosing between Anne and Emily. I think I like Emily best in herself but not the whole Dean Priest thing. What was she thinking? Gilbert is so much more satisfying as a love interest and Anne's story is just a more satisfying story. But oh I do love Emily so.

Blackout! I know you're going to post about it and it's going to go back onto my re-read pile.

Melanie Bettinelli says:

Oh and I just noticed Miss Happiness and Miss Flower on your 2015 reading log list. I need to pull that out again for the kids. It's been a couple of years since it set Bella to making dolls houses out of cardboard boxes. Right after we finish Swallows and Amazons.

maria says:

Happy Anniversary! Hope the pizza celebration was wonderful!(and LOVE that you all celebrate, officially, from your first date) 🙂

Karen Edmisten says:

And happy anniversary!