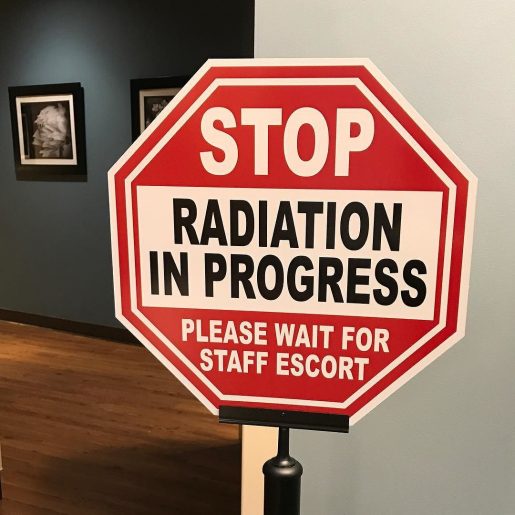 The sign that greets me outside the treatment room is ominous, and in context the words are sobering. But as I lie there on the table—for only a few minutes; the procedure is beautifully streamlined—I think about the words on the sign and realize the core message is one worth embracing. Radiation in progress…in philosophical terms, it's really only a stone's throw from Education is an atmosphere, isn't it?
***
I just went on a little stroll through my archives, looking for an atmosphere post to link to. I didn't find the one I wanted, but this one popped up and gave me a few happy pangs: This First Day, about Rilla's first day of High Tide back in (gulp) 2012. The timing pierces, because today is S's first day of school and that means the tide is shifting for the rest of us, too. This was a good passage for me to revisit this morning.
I used to waffle about methodologies: was I a Charlotte Mason homeschooler? An unschooler? Something in between—eclectic, perhaps? But it was all just groping for a label—and not even a label for my kids; it was about how to characterize myself in conversations with other homeschoolers, so that we might better understand one another. All the while, my kids and I went on simply doing what worked for us. If something stopped working, we did something else for a while—usually this has meant facilitating a child's need to immerse deeply into a single passion or pursuit. I grok that; it's how I love to learn, too. This blog is a chronicle of my own sudden immersions, some of them finite, some recurring at intervals: breadbaking, gardening, sewing, Irish pennywhistle, British period drama…it's a long list. My kids have lists of their own, each one different, some interests overlapping.

Always, always, after one of these immersions, the diver comes up for air eventually. And there's a restlessness, a pacing at loose ends, that has, for us, always been cured by a return to morning lesson time. Rose has told me she likes having the structure there to push against: knowing there are things she is expected to do fills her with ideas for things she longs to do. One of my jobs is to keep ears open for the longings, and drop resources and opportunities in her path to help her realize them. I love that part of the job.
After this summer's upheaval, I'm ready for a return to some of the old rhythms that have served us well for so long. Of course, everything is constantly remaking itself, and the 'old rhythms' are overlain with new melodies.
***
Addendum: here's another 2012 post that turned up and gave me a smile (and a pang) this morning.
This one's for the curriculum-junkie homeschooling mothers of 2002. I'm going to try not to think about the boatload of books and things we left behind in San Diego—it's time to go shop my shelves and rediscover the treasures we did bring with us. We made a lot of packing decisions in a tearing hurry and I've had moments of wishing I hadn't been quite so ruthless in the purge. But we still have shelves bursting with literary riches, and my job this morning is to stock the living-room shelves with a few dozen gems. And where's the giant world map, Huck wants to know?