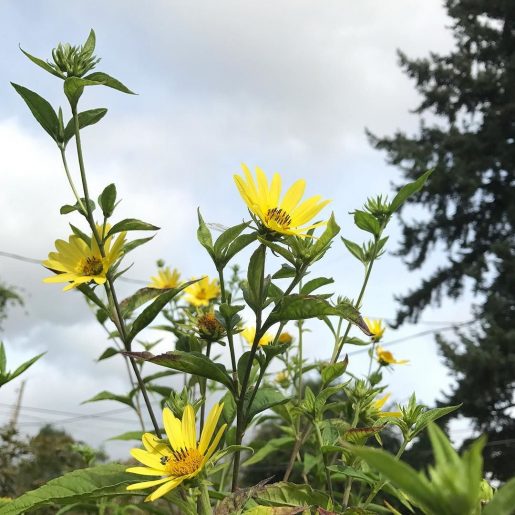 I'm up early, enjoying the quiet morning light in my studio. The neighborhood crows woke up about the same time I did and immediately jumped on their social networks, which seem as well populated as Facebook and as heated as Twitter. I haven't dipped into mine yet. Lately I want to preserve the peace of the morning as long as possible. I'll catch up with the news over breakfast, in an hour or two.
Today is my radiation planning appointment—a dress rehearsal of sorts. They'll figure out how best to position me in the machine and give me a tiny dot tattoo to mark the zapping spot, a little blue freckle. Or maybe two. I'm amused by the cliché of it all. Move to Portland, get a tattoo. 🙂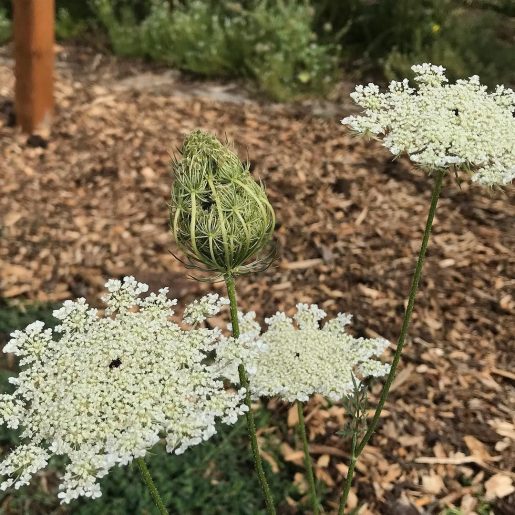 Things we have seen growing in our neighbors' front yards on our daily walks:
• corn, including a thick stand of it along the road across from our nearest park;
• figs, ripening;
• raspberries, lots;
• blackberries, growing wild at the edge of the schoolyard fence;
• plums;
• apples;
• tomatoes in abundance;
• vegetables of all kinds, often in large raised garden beds on the strip of land between sidewalk and street;
• giant Russian thistle, utterly to swoon for;
• countless pollinator plants, thrilling me no end;
• loads of Queen Anne's lace growing like weeds in the grass and along the verge;
• walnut trees, including two in our next-door neighbor's yard;
• and all sorts of interesting things.
Yesterday Scott and I had just arrived home from the store when a car pulled over in front of our house and the driver took a picture of it. I got out of our car, and the driver saw me and rolled down her window. "I'm so sorry," she said, "it's just that I lived here when I was a little girl!"
Her grandparents were the original owners of the house. She and her mother moved in with them when she was eight years old, 61 years ago, because her mother was dying. After her mother's death, L. continued living with her grandparents and aunt for another five years. She had lots of stories about her neighbors from that time, including the family who had refused to sell when Fred Meyer bought up a bunch of house lots to build a store on a main road nearby.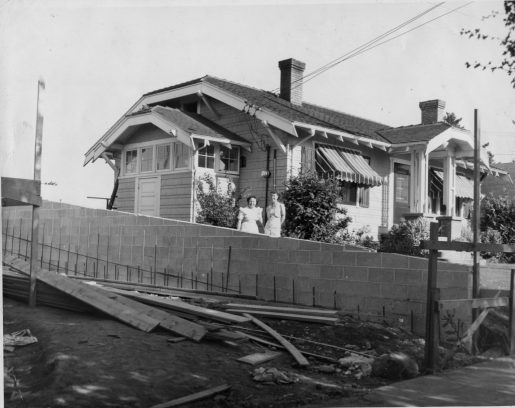 We gave her a tour and she told us all about what the house used to look like before some remodeling was done. Turns out my studio was her childhood bedroom. The spot I'm sitting in right now in my comfy gray chair used to be a doorway. "A glass door that led to my grandmother's bedroom," she told me. "The closet is exactly the same."
The big old tree her bedroom used to look out upon is gone, but many of the neighboring trees are the same—the very same treetops serving as a morning gathering-place for the local crows. From my cozy chair I can hear three or four of them gabbing away, probably telling stories they learned from their grandmothers about the little girl who used to live here sixty years ago.
Comments
Penny says:

You're so eloquent. Such a joy to read, even through the trials of life.

I walk my dog to the morning crow report. A bird telegraph, is how I think of it.

Maybe one day you can turn that dot into a smiley face. In any event (((Lissa)))

xoxo

Melanie Bettinelli says:

Oh how fun. I've been the one stopping to take the photo and the one living in the house when the former owner shows up. It's really such a delight to have that sense of history and continuity.

Our neighborhood crows only come around in the late morning. They don't stick around very long. But I keep trying to lure them back with peanuts.

Joann says:

There's a book coming out of that encounter.

Penelope says:

Oh what a lovely thing to have happen! Years ago, before the brain tumor, I was able to take my now 17 & 15 year olds round to the house I grew up in (well, from 8-18), and the present owners allowed us to come in and I was able to show the kids all around.

Will you be able to have a garden here? Flowers, veggies, berries … that would be lovely 🙂

I shall be thinking of you and your blue dot tattoo today! I am yet determined to get a tattoo — blue roses will be apart of it. Of course, your tattoo is not quite on the same level of , 'oh fun, let's get a tattoo …' … Much love and prayers to you and for you!! You are in my daily thoughts and prayers, as ever. {{hugs}}

Abigail R Benjamin says:

Beautiful! Enjoy your new home!

sarah says:

How wonderful! I have been thinking of you and praying all continues to go well. <3

Sarah Stevenson says:

Lovely! It sounds like you're settling in well…love the tiny Olmec head as well as your unexpected visitor, returning to her childhood home. 🙂 Take care of yourself!

Lise M McGuinness says:

What a beautiful post for a difficult time. My heart goes out to you; I am remembering my mother's blue dot and all it meant. Hugs from a stranger who feels she knows you a bit.

Susanne Barrett says:

Lovely!!

Before moving up the mountain to beautiful Pine Valley, our previous home was in the South Park/Golden Hill (depending upon with whom we spoke) area of San Diego–a 1914 Craftsman with a distinguished porch and much history.

When e-mailing with my former 8th grade English/history teacher, he asked about our home. It turned out that his best friend lived in our home from 1933-1945, and my teacher had spent many hours in our home! He and his friend came by before we moved, showing us how things had been. We had restored the house from stem to stern, and apparently we had returned the home much to its original design. We had purchased it in 1991 from the family who had bought it in 1945, and the five kids who were raised in that home from 1945-1991 stopped by often; the son lived next door, so we also had stories of the house from their era, too.

I love living in homes with a history!! Enjoy yours!! 😀

Warmly,
Susanne 🙂

Mary says:

What a journey! I wish you all the best. Take care.

Natalie says:

Just found this a cool history of Fred Meyer http://ohs.org/museum/exhibits/the-fred-meyer-story.cfm