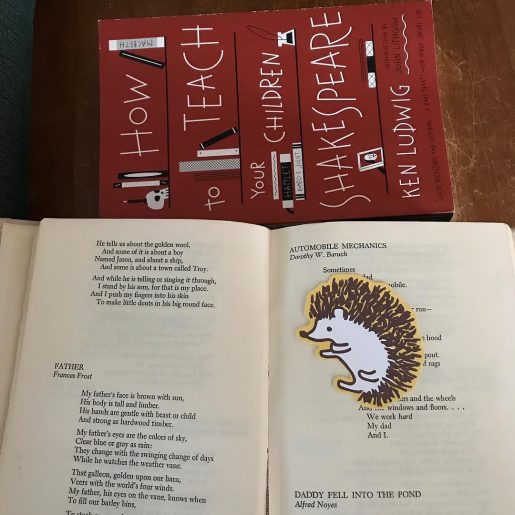 HMMM, I just realized my Diigo sidebar feed hasn't been updating. If you like to check in on my Caught My Eye section, I've fixed the problem now. You especially shouldn't miss Gabrielle Calvocoressi's gorgeous and devastating poem, "The Sun Got All Over Everything."
"…which seems like something I'd make up in a poem
except this time I actually did it.
I wrote: Grieve. Because we're all so busy
aren't we? And so broke."
Lately it seems like poetry is the one constant in my day. (Well, and nail-biting.) We slid back into high tide about a week ago—albeit a choppy one, since I have to slip away for an hour in the middle of every morning to lie on a table that looks like something out of the set of 2001: A Space Odyssey—and what fits best into the allotted space are poems. Giddy over the thought of a Real Autumn, I turned to the "almanac" section of Favorite Poems Old and New and am working my way through all the seasonally appropriate verses. And then I'm reading "Rime of the Ancient Mariner" a section at a time—I can't remember what prompted me to reach for it last week, but I'm glad I did because it's been a big hit. You know it warms the cockles of this mama's heart to hear her young children actually pleading for me to keep going, just a little more. I mean, of course they love it, it's a good old-fashioned ghost story. Huck has joined the ranks of those tormented by the question of why the Old Mariner shot the Albatross. Why?
Side note: I had to chuckle over this stanza:
He holds him with his glittering eye— 

The Wedding-Guest stood still, 

And listens like a three years' child: 

The Mariner hath his will. 
I know Coleridge had a pretty good handle on childhood—"Frost at Midnight" is in my top five favorite poems—but "listens like a three years' child"? You mean the Wedding-Guest is wiggling and thumping his heels on the floor and interjecting questions into the tale every four seconds?
***
Thank so you much to all of you who have subscribed to my Patreon! I'm two people shy of 50 patrons, which is pretty darned exciting. I'm starting slowly with the special subscriber-only posts (trying to be sensible until radiation fatigue is over), but a new dispatch went out this afternoon. A monthly contribution of $1 or more gets you access to the private patron feed.
Comments
Melanie Bettinelli says:

Bella read Rime of the Ancient Mariner recently. I read the first part and then everyone else sort of lost interest— I forgot how long it is!– but she picked it up and finished it. I should have thought of spreading it out over days. That would have been more sensible.

All this summer Sophie's chosen to do poetry for copywork and has been memorizing many of those she copies. Lucy and I just recited Something Told the Wild Geese, which she picked up from hearing Sophie learning it.

I'm laughing too about the three years' child. Maybe it was an especially quiet child? It's like the book I read once which described a three-year old as "toddling" across a room. I thought the author hadn't spent much time with three year olds. Usually by that age they're running everywhere.

Penny says:

Oh thank you for the poetry ideas. Poetry has been calling me but I wasn't sure where… now I know. 🙂

Good luck with the treatments – all that matters is that you are well. Truly.

Cute kids 🙂

Melissa Wiley says:

Penny, for your high-schooler I would recommend Poetry 180 too! Billy Collins chose a poem a day for high school students. We've had wonderful discussions sparked by these poems. https://www.loc.gov/poetry/180/p180-list.html

Penny says:

Lissa – I am loving Poetry 180, thank you for the link!

Be well…. xo

Susanne Barrett says:

I'm starting British Poetry with my high school senior today, and I think I'll work in the Billy Collins' Poetry 180, too. I had the pleasure of meeting Billy Collins in 2013 when he did a reading and spoke about poetry at the Writer's Symposium by the Sea at Point Loma Nazarene University. The sessions are available through UCSD-TV if you're ever interested. Lately Dean Nelson has been on a poetry-streak with the Symposium speakers, including Nikki Giovanni and Joyce Carol Oates, plus last years' jazz session with Robert Pinsky.

Here's Billy Collins' poetry reading: http://www.ucsd.tv/search-details.aspx?showID=24992

And here is his conversation with Dean Nelson (my former office mate at PLNU): http://www.ucsd.tv/search-details.aspx?showID=24601

And to check out all sessions of the Writer's Symposium: http://www.ucsd.tv/writers/

I can't wait to see whom Dean will have on tap in 2018! 🙂

Warmly,
Susanne in finally-cooling Pine Valley 🙂

Melissa Wiley says:

I forgot to mention ModPo!!! I just got the notification this week that a new session is about to start up. (Tomorrow!) I'm hoping to tune into many of the sessions with Beanie…

tee+d says:

Wouldn't it have been lovely to have Poetry 180 when we were in school? I love and visit it often.
I'll take your though, Liss, and try poetry during medical thingies. That certainly would take one's mind away from the various high tech instruments peering at one's person.

I think Coleridge had an idealized three year old child in mind; with his privilege, he probably had People to take the children away so the great poet could work. Bah.

Melissa Wiley says:

"I tell you what, my love,
I cannot write unless he's sent above!"

Thomas Hood, now–HE had a real three-year-old, for sure. 😉

A PARENTAL ODE TO MY SON,
AGED THREE YEARS AND FIVE MONTHS
by Thomas Hood,

Thou happy, happy elf!
(But stop,—first let me kiss away that tear)—
Thou tiny image of myself!
(My love, he's poking peas into his ear!)
Thou merry, laughing sprite!
With spirits feather-light,
Untouch'd by sorrow, and unsoil'd by sin—
(Good heav'ns! the child is swallowing a pin!)

Thou little tricksy Puck!
With antic toys so funnily bestuck,
Light as the singing bird that wings the air—
(The door! the door! he'll tumble down the stair!)
Thou darling of thy sire!
(Why, Jane, he'll set his pinafore a-fire!)
Thou imp of mirth and joy!
In Love's dear chain so strong and bright a link,
Thou idol of thy parents—(Drat the boy!
There goes my ink!)

Thou cherub—but of earth;
Fit playfellow for Fays, by moonlight pale,
In harmless sport and mirth,
(That dog will bite him if he pulls its tail!)
Thou human humming-bee, extracting honey
From ev'ry blossom in the world that blows,
Singing in Youth's Elysium ever sunny,
(Another tumble!—that's his precious nose!)

Thy father's pride and hope!
(He'll break the mirror with that skipping-rope!)
With pure heart newly stamp'd from Nature's mint—
(Where did he learn that squint?)
Thou young domestic dove!
(He'll have that jug off, with another shove!)
Dear nurseling of the hymeneal nest!
(Are those torn clothes his best?)

Little epitome of man!
(He'll climb upon the table, that's his plan!)
Touch'd with the beauteous tints of dawning life—
(He's got a knife!)
Thou enviable being!
No storms, no clouds, in thy blue sky foreseeing,
Play on, play on,
My elfin John!
Toss the light ball—bestride the stick—
(I knew so many cakes would make him sick!)

With fancies, buoyant as the thistle-down,
Prompting the face grotesque, and antic brisk,
With many a lamb-like frisk,
(He's got the scissors, snipping at your gown!)
Thou pretty opening rose!
(Go to your mother, child, and wipe your nose!)

Balmy and breathing music like the South,
(He really brings my heart into my mouth!)
Fresh as the morn, and brilliant as its star,—
(I wish that window had an iron bar!)
Bold as the hawk, yet gentle as the dove,—
(I'll tell you what, my love,
I cannot write, unless he's sent above!)

tee+d says:

Oh, SO REAL!!!! (My nephew is EIGHT now, and this … stilllllll describes him a little bit.)
Thank you for sharing! I love this; hadn't seen it before.

Melissa Wiley says:

We first encountered it in the copy of Favorite Poems Old & New pictured at top. There've been times where they (especially my older girls when they were little) requested (i.e. demanded) it on a daily basis. When you read it out loud, you have to do it up BIG. 🙂

"Go to your mother, child, and wipe your nose!" has become a Peterson catchphrase. 🙂

Selvi says:

Was there more below the jump on your caught my eye sidebar? I'm a regular at that sidebar and would be sad to miss something.

Also, apropos the poem you linked to about the sun, another poem on a similar theme came my way today via cupofjo: https://www.poetryfoundation.org/poetrymagazine/poems/39190/happiness-56d21cb4b54e9

Wishing you strength and swift healing.

Melissa Wiley says:

I think the only other link that was new since the widget stopped updating is this one, which is way cool!— https://earthobservatory.nasa.gov/IOTD/view.php?id=90683

"As a child growing up in Rhode Island, Katharine Johnson would run through the woods and wonder about how things used to be. She would see old apple trees or remnants of stone walls and wonder: "What used to be here? How did this place look?"
Today, her work focuses on uncovering such hidden remnants of the past. Using lidar imaging, Johnson and her colleagues at the University of Connecticut (UConn) have been piercing dense forest cover to uncover historic sites in New England."

Nancy says:

What a whooper of a beautiful poem. But isn't it good to make an appointment with one's anguish? I think I actually wrestle with that one and the answer remains all muddy.