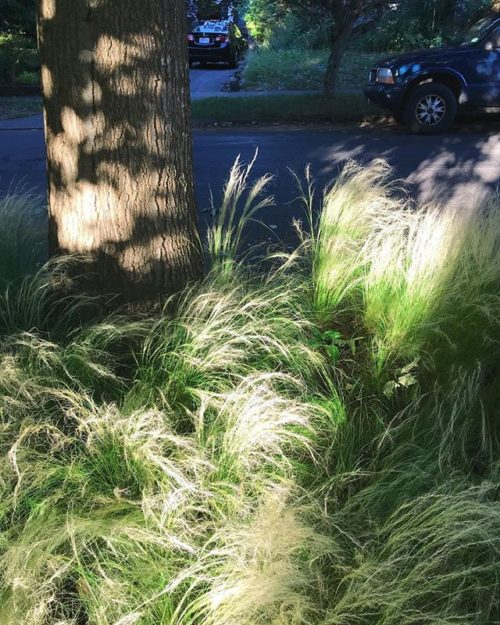 I've had to change my evening schedule again to catch the light. All summer I reveled in the long, long days of the Pacific Northwest. I like to take my walk during golden hour whenever possible and in June and July I grew accustomed to slipping out around 8pm. But this week that put me walking home in the dark! I'm shifting back to an after-dinner walk. Dinner, a long walk, a bit more work before tv time with Scott. (We're starting Guernsey Literary and Potato Peel Pie Society soon. Y'all know I adore the book, so I'm both excited and nervous about the show!)
What's your favorite time of day to take a walk?
Bonus: my current evening-walk playlist
Comments
Penelope says:

Oh, to walk! A daily turn about the neighborhood! Ah, those were the days … A blessing to be sure. I love the thought of walking with the light, shifting the favored hour to follow the earth as she tumbles round the sun and our solar system.

From my indoor realm, I like all shades and corners of light falling dark to light again. I like the clouds that scud across the sky, I like the sun arcing east to south to west and gone, across the hours, seen and felt through the windows of our dining lesson room, where I spend so much of my day. I like the light of stars at night, and moon, and planets. I even — still, during these horrid weeks of flood and neverending wet — like the rain which encloses all in shaded silver gray. I find, here on the threshold of autumn, that I am longing for the heaps of snow, the airy light it brings.

Penny says:

I am a very early morning walker, and I love it. Saying good morning to the trees and birds and wishing my neighbors a good day (whispered wishes as I pass their homes, I don't actually see anybody that early!) – it gets my day off to a great start.

TGLAPPPS is a pretty good movie! Not exactly like the book but very enjoyable – I hope you like it.

tanita says:

We're up and out around six-fifteenish, and try to be home before seven, though that varies, depending on how I'm walking that day (it varies) and how quickly we got up and out of the house (even in the dark there are already distractions). I don't like music or many words, even, at that hour, but sometimes our path takes us home while our neighbor at the end of the road is just going out. He has the two sweetest, velvety-ist wee dogs and we take the time to greet them, and then the day begins. Sometimes we don't walk that way, because the slough is too smelly. It's fun to have open water near us – but salt marshes and other tidal bits have weird smells, and sometimes they're a little choking, if some animal has left a fish head there, or there's not much of a breeze!