This is the first week in ages and ages when I had just a normal workload, not a bananas one. And I felt a bit like a cat in winter, prowling the house trying all the doors but balking at walking through any of them. Last weekend I had actual free time and no idea what to do with it—or rather, too many ideas, a bewildering array of options and a seeming inability to commit to any of them.
(I used to be like this as a kid whenever I came home from the library with a pile of books. Couldn't pick which to read first, and sometimes it would take me days to make the choice and commit.)
What lovely thing to do first? Handwork? Read? Paint? Take a walk and bumble around some of the artsy shops on Hawthorne or Alberta? Tidy up the houseplants? Write a letter? I had to make myself a list, not a to-do list but a Fun Stuff list, with checkboxes and everything. I'm 100% more likely to do something if I've given it a checkbox. (But only if it's my checkbox. Other people's checkboxes, especially the homeschooling kind, send me running.)
I did wind up reading, quite a lot actually because I'm still working my way through the YASF Cybils finalists. (Two to go. Reading's on the fun list tomorrow, for sure. Of course, so is all the other stuff. The question is: will I DO it instead of waffling between options?)
(Answer: yes. I'm determined to Have Some Fun. Or else Do Nothing Much At All, which is just as important as Fun Stuff. But I am putting my work away for the weekend. Housework doesn't count. I like mopping floors, and we're overdue.)
All right, enough browbeating. Here are some things that are working well these days:
• My morning ritual of reading poetry and writing…hmm, writing things that will grow up to be poems when I come back to them. The bones of poems, or maybe just the marrow. The pluripotent stem cells that will become poems, eventually. (Hmm, there's another poem there, actually.) I get up at 5:30 or 6—alarm is set for six but I often wake up early and then I can't wait, cannot wait, to get back in the chair to read and write. I turn on the electric kettle, the studio lights, the warm blanket because I am a creature without much in the way of natural warming abilities.
I do a few stretches in the kitchen while I wait for the water to boil. Then I curl up in the gray chair with the red blanket, the turquoise mug, the green notebook. I start with poems: this week it was Rachel Zucker's Museum of Accidents, which smashed my heart into smithereens, I'll never be the same; and Olav Hauge's The Dream We Carry, who is full of quiet surprises. Then I write for a while, until quarter of seven when Huck pads in, pajama-clad, and climbs into my lap under the warm blanket. He always stops to turn off the overhead light (there's no convenient place for a lamp next to my writing chair), so that the window goes from glassy reflection to backyard view. The sky is perfect today, he whispered yesterday morning, settling in. It's been a sheet of gray lately but yesterday it was five or six shades of blue fading one into the other, almost green where it bumped the neighbor's rooftop. The bare arms of the trees, the morning flights leaving PDX, the rumor of sunrise just beyond the garage. These are good moments.
• The Wee Free Men, which has been deemed utterly enchanting and is the first thing we want to reach for when we begin our homeschooling mornings together.
• The "pick one chore today" list on the family chalkboard, when I remember to write it!
***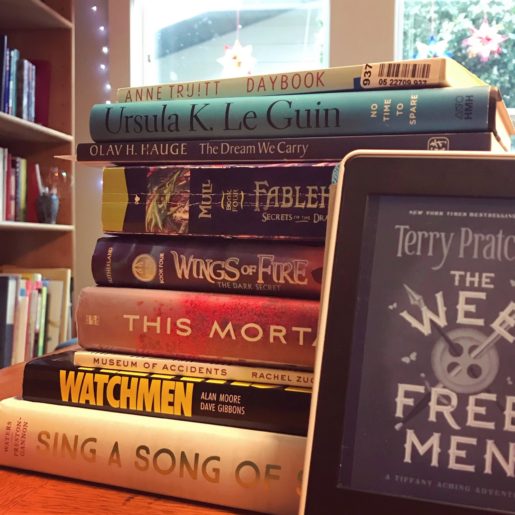 If you're on Instagram: I accidentally invented a new hashtag today and you are welcome to play along. In Stories, I posted a stack of the books that Beanie, Huck, Rilla, and I are reading (we were the only ones home at the time) and tagged it #ourdayinbooks—and later discovered that tag had never been used before. I wrote a post about it, and now others are joining in the fun. If you're not an Instagrammer but would like to play, feel free to share your list or link here!
Comments