October 15, 2019 @ 7:47 am | Filed under:
Books
Happy book birthday to Truckus Maximus! Congrats Scott Peterson and José García!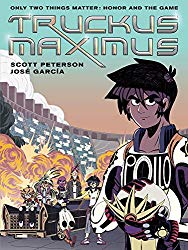 Comments
sarah r hutchins says:

This is so exciting! Love the plot summary. Best of luck with promotion and sales. Hope it does well so everyone can see how crazy talented that husband of yours is!