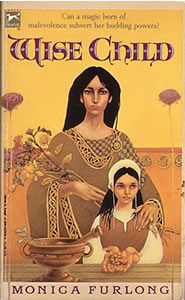 "After breakfast," she went on, "you must have a look at Daisy and the rest of the garden. Then we'd better do some lessons."
"In magic?" I asked. I was both curious and scared.
Juniper laughed.
"I thought we'd begin with reading, writing, astronomy, fairy stories—that kind of thing. Later on we'll do a bit of Latin."
"Girls don't learn Latin," I told her. "It unfits them for marriage." (I was quoting my Uncle Gregor's views on the education of girls.) "And I never heard of a school that taught fairy tales."
"All learned people learn Latin," she said. "It's bound to come in useful. Fairy tales, on the other hand, are about real life."
—from Wise Child by Monica Furlong
I first read Wise Child in 1993—I remember because my boss at Random House was Monica Furlong's editor on Robin's Country, and everyone there said 'Oh you've got to read her other books, they're wonderful,' and they were right. That was before I had children, before I'd ever heard of homeschooling, much less considered doing it. So I'm amused, now, to find that what I've been doing all along is really Juniper's version of education. Minus the good cow, Daisy.
(Also wonderful: Juniper, a prequel to Wise Child.)