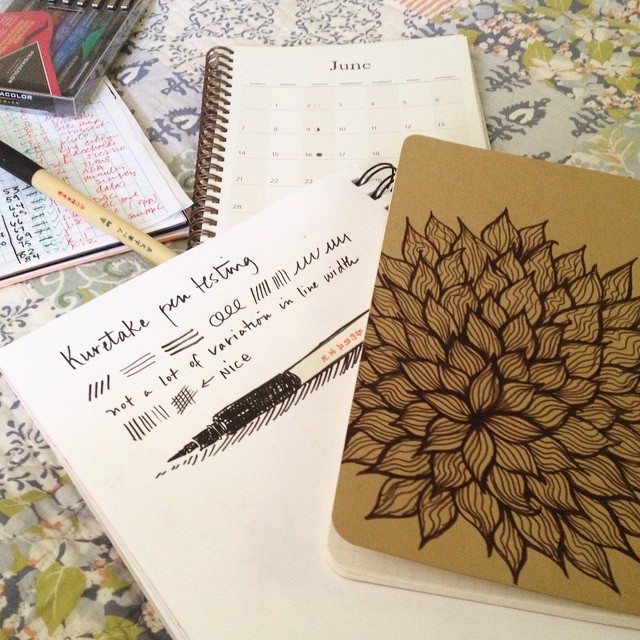 Oh, May. You beautiful, terrible month. I can't say I'm sorry to see the back of you. Massive workload, plumbing woes, multiple trips to the children's hospital (which sounds more alarming than it ought to—here in San Diego they send your kids to Children's for every little thing; for example: a chest x-ray when your child has pneumonia even though there is an x-ray lab RIGHT NEXT DOOR to the pediatrician's office, AHEM, and a four-hour wait and a three-second x-ray later the radiologist will say, all right, I've just sent these to your doctor, zap)…but it's June now, let's put all that behind us.
Ahhhh…
I suppose, though, that May did have its moments. Scott surprised me with a trip to a big art supply story downtown, a wonderland full of pens singing at me. I came home with a metal brush pen, aka my new best friend, it feels amazing when you pull it across the page; and a tube of raw umber paint because I have been unsuccessful in mixing a shade the color of chocolate with my basic color palette. Rilla's birthday breakfast is still waiting in my sketchbook to be painted. Since April, sheesh.
In May my boys' writing class wrapped up—this was a group of nine homeschooled boys ages 10-14 whose mothers approached me about putting together an eight-week writing course. We had us some fun, let me tell you. A highlight of my spring was watching our freewrites transform from "TEN WHOLE MINUTES??!!?" to "Oh wait can I please have a bit more time?"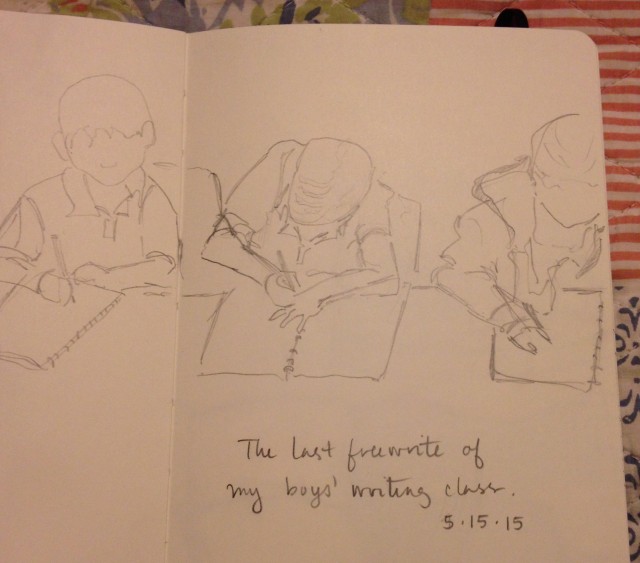 Other highlights:
Huck discovered the delights of the Oz books—specifically the Eric Shanower/Skottie Young graphic novel adaptations that Rilla loves so much. He spends a lot of time like this:
He's also enjoying the Magic Tree House books, like so many of his siblings before him. Scott read him the first one to get him started. The corresponding nonfiction volumes are particular favorites, and I am once again being treated to daily factoids about sharks and pirates. Never gets old.