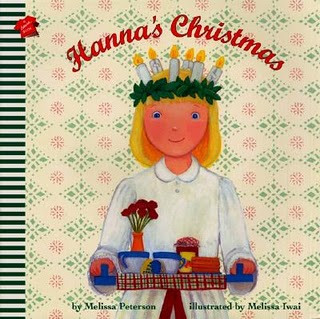 Hanna's Christmas is a book I wrote for HarperFestival in 2001, a joint venture between Harper and the Hanna Andersson clothing company. It was published under my married name, Melissa Peterson, and illustrated by the wonderful Melissa Iwai.
The book had a small print run and was intended to be a catalog tie-in for Hanna Andersson. I had a wonderful time writing the story, but I knew it was fated to be short-lived; such is the nature of that kind of commercial work-for-hire assignment.
But a funny thing happened: this little book took on a life of its own. Readers seemed to like it, and I was thrilled and gratified to discover it had become a part of family holiday traditions for people around the world. In the book, Hanna and her cantankerous tomten friend—an accidental stowaway in a crate of goodies from home—celebrate the Swedish Santa Lucia custom in which the oldest daughter in a family dresses up in white, with a crown of candles, and serves sweet rolls to her parents in bed on the morning of December 13. Every year as St Lucy's Day approaches, I receive dozens of letters from readers in search of a copy of Hanna's Christmas.
Unfortunately, copies are hard to come by. I gave away most of my comps long ago—I didn't even keep enough for my own children! (I didn't have as many kids when I wrote it.) People charge exorbitant prices for used copies at Amazon and Barnes & Noble. I'd advise searching in the summer, when resale prices are lower.
UPDATE, December 2013: At a request from a second-grade teacher from Blue Ridge, Texas, I've made a video read-aloud of Hanna's Christmas. Here's my video introduction:
And here's the read-aloud video. Hope you enjoy!
Thank you for your interest in Hanna! Please visit my Books page for a look at my newer books, which are much easier to get hold of. 🙂