Friday night there was a party at the hotel for all us comic-convention guests. It was an award ceremony in Spanish for Spanish artists, and there was a lot of very loud music and giant video screen and inscrutable finger foods. Certain shameless ingrates tried to slip away from this party for a romantic evening out, just the two of them, all alone in a foreign country halfway around the world from the five children they had never ever before left for more than a night, but these ingrates were caught and picked up by the scruff of the neck and deposited back in the middle of the very loud music and the fish-flavored rice.
Honestly, the nerve of some people.
After the party, a group of artists went out to a club, but these particular ingrates had had their fill of shouting small talk in a noisy setting, so they hatched an alternative plan with certain British chums and slipped stealthily downstairs to the piano bar. Unfortunately it turned out the British chums hadn't actually been able to hear the whispered plan above the party din, and the smiling and nodding and exclamations of "Brilliant!" was more of a general amiability and not so much an assent to The Secret Plan. The two ingrates, therefore, found themselves alone in the empty and quiet piano bar; and though the British lads were missed, quiet solitude was not at all a distressing turn of events.
Eventually the charming Peter Bagge strolled in and joined the contented couple for a drink and some fine conversation. Just another lovely evening in the Barcelona Catalonia Plaza.
The next morning saw Scott back at his desk in the editors' corner of the convention hall. I fitted my camera out with fresh batteries and headed out to see, at long last, Gaudi's cathedral-in-progress, La Sagrada Familia—the Temple of the Holy Family.
This enormous church was begun in the 1880s and is still under construction. There is a long way to go. I walked in thinking it was a pity about all those cranes and all that scaffolding, and I sure hope they get this thing finished up soon. I walked out believing in my bones that it doesn't matter how long it takes to finish. The work is part of the artistry. The making is part of the magic. This is a magnum opus taking shape before our eyes, like the raising of the great cathedrals of old, when generations of craftsman devoted their lives to creating something magnificent for the glory of God. Here, too, we have families of artisans in which the craft is passed down from grandfather to father to son: sculptors and stonemasons, glassworkers and engineers. It's a grand work, an epic work: and there is love going into every inch of the cathedral. Every small detail has significance, has been pondered and planned. You could spend a lifetime 'unpacking' the symbolism.
Gaudi was quite a young and relatively untried architect—but already his genius and vision was obvious to his peers—when he was hired to replace the cathedral's original designer, one year into construction. The crypt had already been dug, but the rest of the design is Gaudi's, every arch, column, window, and spire. Through the decades that followed, even when he was taking commissions to design other buildings, the work of Sagrada Familia remained close to his heart. In 1914, with most of his loved ones dead and gone, he devoted himself full time to the church. He knew he would not live to see its completion and wanted to leave a complete and thorough record of plans and models for those who would follow him. He poured the last 12 years of his life into this labor of love, and even though many of his plans were destroyed in a fire during the Spanish Civil War ten years after his death, his plaster models and other records survived.
He envisioned an edifice with 18 spires rising high above the city, the tallest (and as yet unbuilt) tower high enough to be seen from anywhere in town—and yet a little bit smaller than Montjuic, the mountain from which I first glimpsed Sagrada Familia's spires. Man's creation, Gaudi said, ought not to pridefully surpass God's.
The church will have four facades. Two of them are completed, and a third seemed well along, but it was hidden behind scaffolding. The fourth and final facade will be the Glory Portal and Gaudi's vision for that entrance is breathtaking. The two facades that I saw were on opposite sides of the building: the Passion Facade and the Nativity Facade. Both are stunning and it's hard to know where to begin talking about them.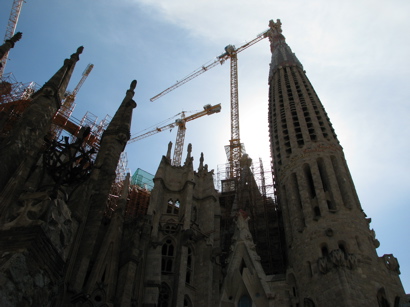 Here's how I saw it first: head tilted back in awe.
You will not be terribly impressed by my photos. There are better images all over the internet. I really need to go back: that first day I was too blown away to think like a photographer.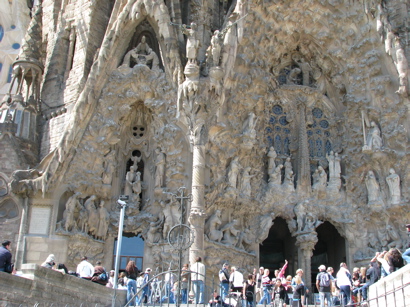 Nativity facade, left and center porticos. (Left is the Joseph portico; center is the Jesus portico. Why oh why didn't I get a shot of the Mary one?)
(Because I didn't know until later what I was looking at. I read all about the church on the plane coming home.)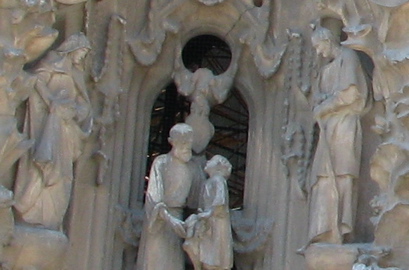 Detail, Joseph facade. Jesus brings his foster-father a wounded dove; his grandparents St. Anne and St. Joachim look on. Note the rosaries hanging beside them. There is a wealth of beautiful detail here. The Nativity facade portrays scenes from the birth and young life of Christ.
Gaudi intended the cathedral to be a visual Bible of sorts, portraying the entire gospel on its stone walls. And one of the strange things for me was to be viewing these scenes in the midst of a comic book convention: I'd had the same sensation in the mural rooms at the Museum the day before. All of this is sequential art, stories unfolding in panel after panel, just like modern-day comics. Gaudi's "stories" even contain a good deal of text, like comic-book captions. Words are carved all over the stone, ribbons and banners proclaiming "Hosannah" and "Gloria in excelsis deo" and such.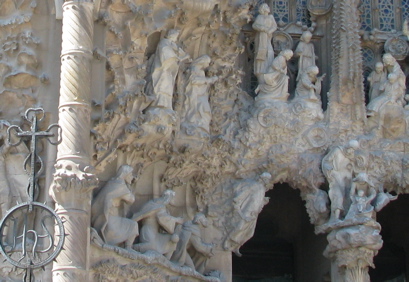 Scene from Jesus portico, over the main doors. Joseph and Mary present the infant Jesus while the Magi and angels look on. The big column on the left separates the Joseph and Jesus porticoes. There's another on the Mary side. At the base of these columns are two large tortoises: one a sea turtle and one a land tortoise, the former facing the sea and the latter facing the mountains, to signify unchangingness and eternity.
Also note the JHS symbol inside the crown of thorns on the wrought-iron cross.
Another rosary is draped over the top of the window.
You see how I could easily keep this up all day. There is too much to show and tell!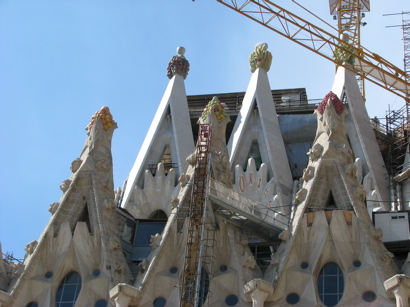 Atop these spires are bunches of fruit made of sparkling Venetian glass—fruit to symbolize abundance and fertility. Gaudi's work—all of it, not just this cathedral—is full of images and motifs from nature. The gargoyles on this church, instead of being monsters and demons, are reptiles and amphibians, creatures associated with evil. Gargoyles are meant to siphon rainwater off the roof; Sagrada Familia's gargoyles are salamanders, serpents, lizards, frogs—all facing downward, fleeing the Mary symbol on the "Star of the Sea" spire which is yet to be built.
There will be 18 towers in all: 12 for the apostles, 4 taller ones for the four gospel-writers, 1 taller still for Mary, and the tallest of all for Jesus. At a projected 170 meters, it will be taller than the great cathedral in Cologne, Germany, which I had the good fortune to visit at age 14—and, as I mentioned above, one meter shorter than Montjuic.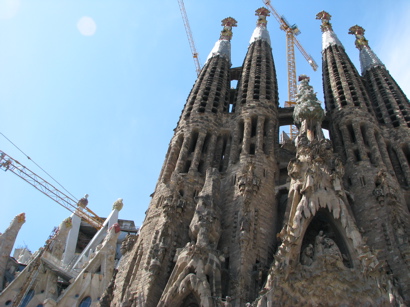 Four of the apostle spires above Nativity portico.
The church is shaped like a Latin cross, rounded at the top end. The cross arms are the Nativity and Passion Porticos, facing east and west respectively. The Glory facade will face south. The north end, the nave end, is dedicated to Mary with a special chapel.
That end, though, was the one covered by scaffolding. I walked around to the west side and paid my entrance donation to visit the interior through the Passion portico.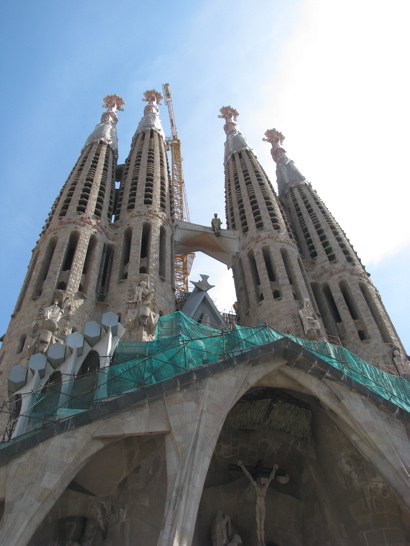 The Passion facade. I listened to an audio recording by the sculptor who designed these figures. He said he didn't want to try to imitate or duplicate Gaudi, but rather to create something in keeping with Gaudi's vision which was also true to his own work, his own vision. My pictures come nowhere near to conveying the power and solemnity of these stark, sorrowful figures.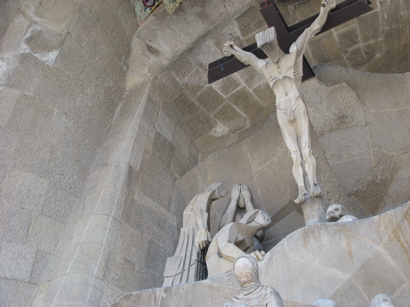 The skulls at Christ's feet really got to me.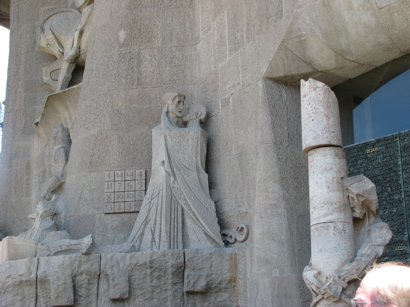 Judas betrays Jesus with a kiss. Note the serpent uncoiling from beneath Judas's robe. On the wall behind them is a crytogram; can you figure it out? To the right, the scourging at the pillar.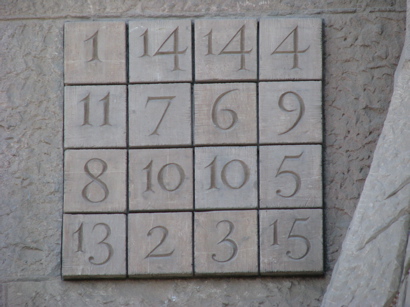 Here's a better look at the cryptogram.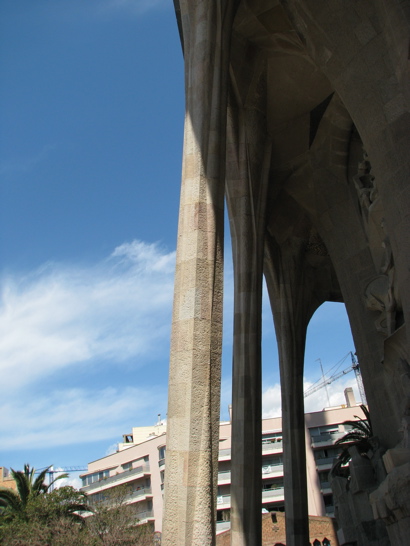 The columns holding up this portico are like bones.
There is a particularly horrific depiction of the slaughter of the innocents. I was sure I had a photo, but I can't find it. You can view an image here, but be warned: it's pretty brutal. Um, I guess that would be obvious from the subject matter. That poor mother's anguish will be burned into my heart forever.
Oh my, this is a very, very long post, and I haven't even gone inside yet. And inside: oh, the beauty! But I think I will end this now. Perhaps I'll write about the interior later. For now, let me leave you with just a few last pictures: a rose window from inside, and columns rising on the Glory facade without.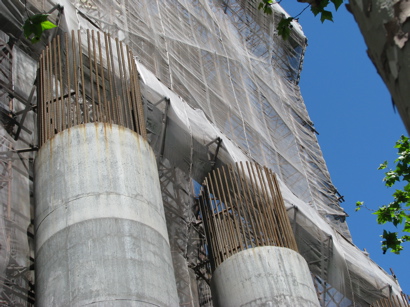 Art in progress.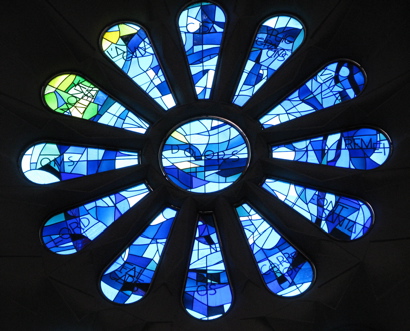 Art in full flower.
Comments
Sarah in VA says:

It has been so much fun reading about your adventure!!! I can't wait for the next installment. So glad that you are back and that all went well. I just finished reading Pillars of the Earth by Follett, so it was particularly interesting to read your post today. Looking forward to more.

Michelle says:

I loved looking at your pictures and reading about the cathedral. I was there back in 2002, and I'm going to have to dig out my pictures now to compare with yours and see what's changed!

WendyinVA says:

Wow. Just… wow.

I always love your blog, but your Barcelona pictures and posts have been SO MUCH FUN to look at and read.

Thank you from the bottom of my heart. 🙂

Sheila says:

Ooh, incredible stained glass window. Unbelievable. And how lovely to see someone else who uses "But I digress" in their posts!

I'm so glad you had a good time. You may need to retain these memories for at least another 5 years before you go away again, right?

Maria says:

What's the cyptogram say??