Sunday. Our last full day in Barcelona. Scott was still tied to his two shifts of portfolio review. I knew exactly where I wanted to spend the morning: in the Gothic Quarter, and at the cathedral most especially. I had skirted the fringes of the Gothic Quarter the afternoon before, when I slipped out for a few hours between lunch and dinner to visit a Gaudi house (Casa Batilo) and the Music Palace, and had walked south from the Palace in search of a subway station. I could have kept on walking and I'd have been quite close to the cathedral, but it was late in the day and I knew Scott would be finishing up at the con soon. It made sense to save the cathedral for Sunday Mass anyway.
And so it was that I set off in a gray mist on Sunday morning, pink umbrella overhead. A short subway ride later, there I was. When I say "cathedral," I mean the old Gothic church, fourteenth-century I think, not the Gaudi church-in-progress I raved about yesterday.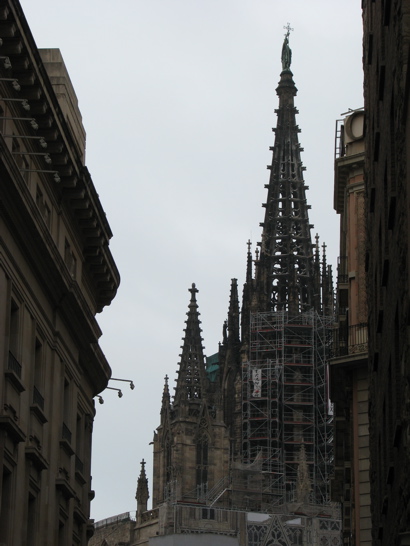 The gray day seemed fitting for this solemn old church. I was just in time for Mass, and it was sort of thrilling to be able to follow along even though the service was in Catalan.
I squeezed in a few photos during the five minutes between Masses, but not many. There was not much light, anyway. But I loved this church: loved it with a completely different kind of admiration than the soaring, trembling attachment I'd felt to Sagrada Familia the day before. The old cathedral is quiet, somber, majestic, heavy with the prayers of millions who have passed through its doors. It is full of a peaceful resignation, a grave courtesy, a sense of comfort in the familiar, the time-tested, the faith that endures.
I loved the old-world feel of the narrow alleys outside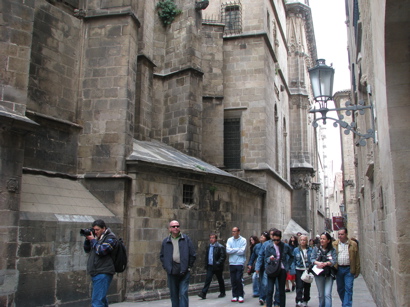 and the ornaments, like this unicorn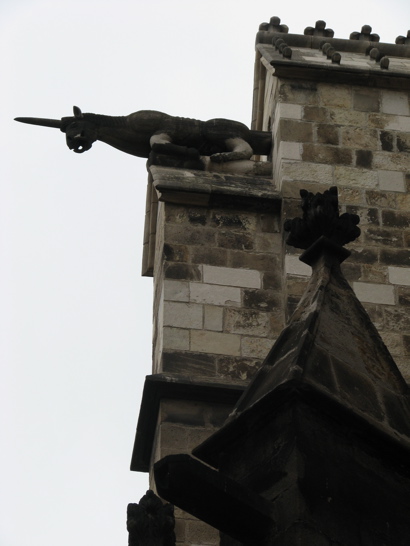 and the windows, especially the windows. I took a great many window photographs.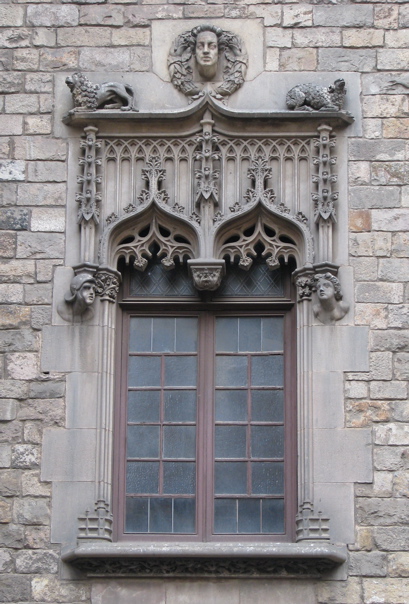 The cloister was a serene place full of shrines for many saints, connected around a courtyard by high-roofed walkways.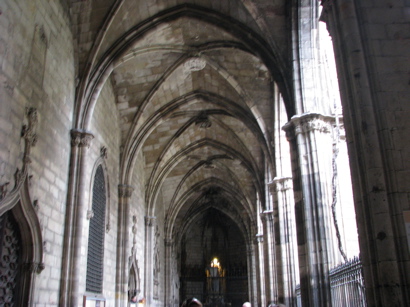 My favorite statues were up in the main sanctuary: Our Lady of Happy Childbirth was a particularly lovely one, and I lit a candle for a friend there.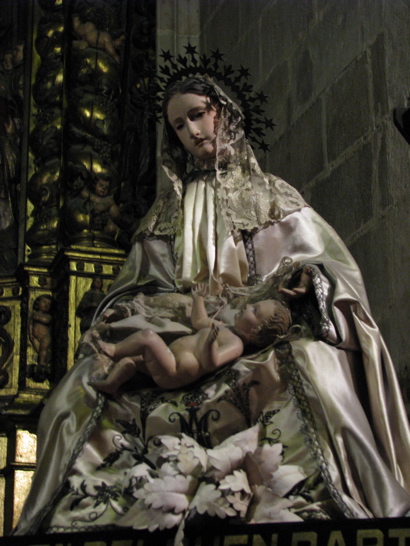 My pictures of the famous "Black Madonna" did not come out very well.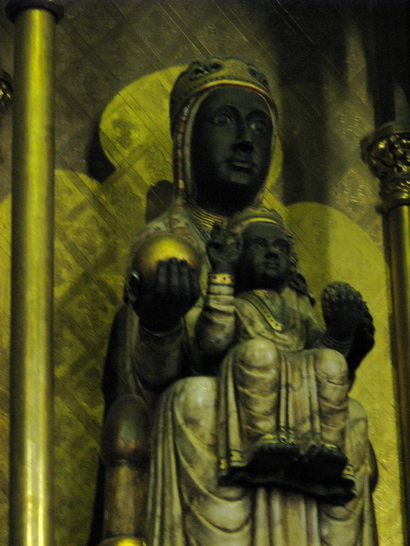 I loved the Immaculate Conception shrine very much.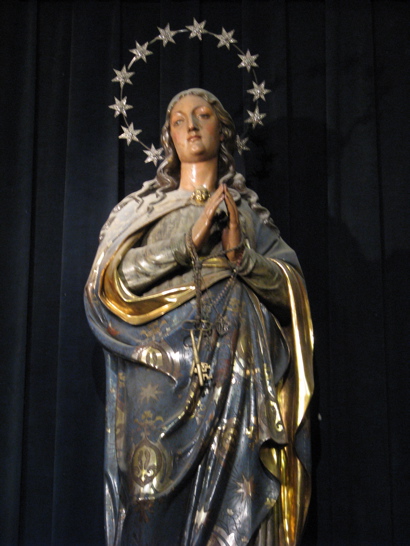 After a very long time, I tore myself away from the cathedral. I wandered over to La Rambla, the wide pedestrian walkway lined with flower vendors and shops.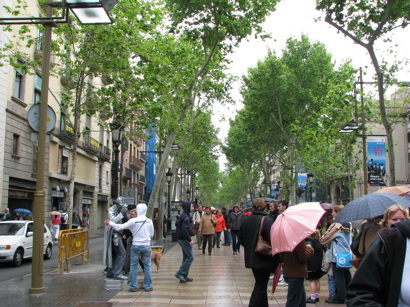 La Rambla is famous for its "living statues." Can you spot the one in this photo?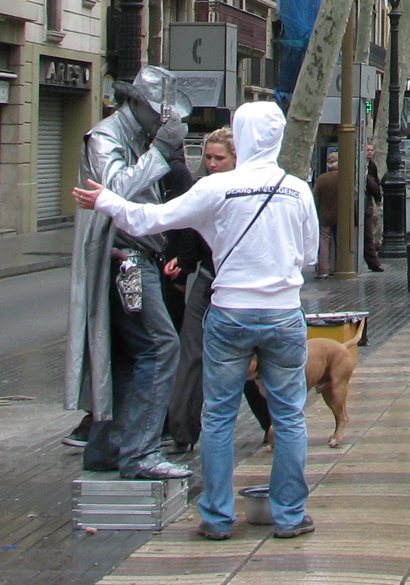 It was hilarious to watch him startle scrutinizing passersby by whipping out his pistol when they came close.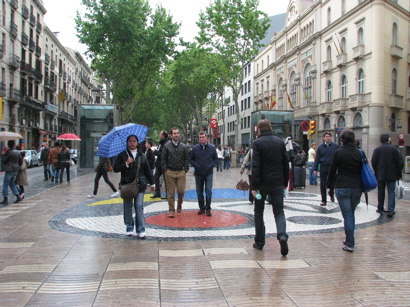 More art! A Miro mosaic in the sidewalk.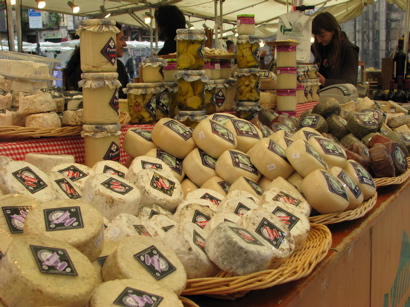 Outdoor cheese stall down a side street.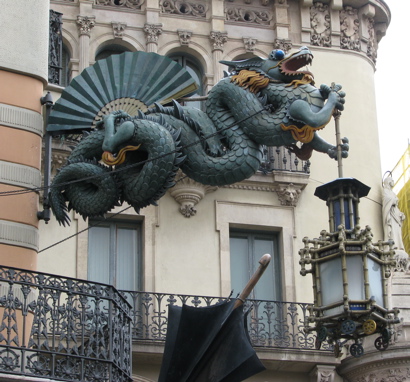 I was amused, later, to find this same photo (only better) in a guidebook. Because, you know, I didn't read any guidebooks until I was on the plane coming home. Brilliant!
The rest of my Gothic Quarter pictures begin here at Flickr.

Comments
Allison Fouse says:

I wish we had cheese stands like that in the US. I would be all over that.

patience says:

Stunning.

Anna says:

Oh, the lion and lamb in the window.

And that DRAGON! Wow. Is he hanging from the wall, out to a tower, or is he holding up a light?