for more pictures…
the godmother gets
more pictures. 🙂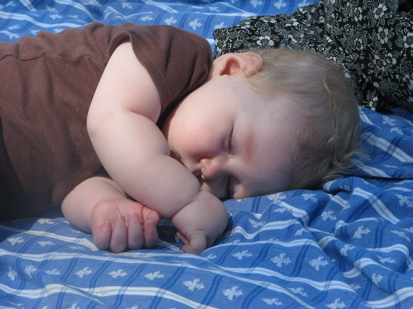 Comments
Suzanne Temple says:

I love these pictures! He's ADORABLE! We have that onesie, of course we do…they just don't make many lines of clothing for infant boys.

MelanieB says:

Oh he is the sweetest thing! My girls are wondering why I'm squealing. We don't produce blond hair and blue eyes in this family.

Ellie says:

Look at those blessings. *sigh* God is glorious, isn't He? 🙂

~ Ellie

Melissa Wiley says:

Ellie, this is why "How Can I Keep From Singing" pops into my head about fifty times a day. 🙂

Karen Edmisten says:

Sigh. The godmother is very happy. 🙂

Veronica Mitchell says:

Oh my word, those chubby elbows! I think I just ovulated.

Penny in VT says:

He is seriously cute. Seriously. For real.

On another note Lissa, I was walking in Boston Common yesterday and was showered with acorns (which hurt, and made me laugh, all at the same time). I thought of you. 🙂

My computer is back up, so I'll see ya around.

Emily says:

That first picture is just precious.

Theresa says:

oh! So beautiful!!!!

Jeanne says:

Baby on blanket with books. My favorite alliterative combination!

Melissa Wiley says:

Bonny baby boy on blue blanket with books at beautiful Balboa! 🙂

Jeanne says:

Well, if you want to get all adjective-ish about it, LOL.

Truly, he is a B-B-Blessing!