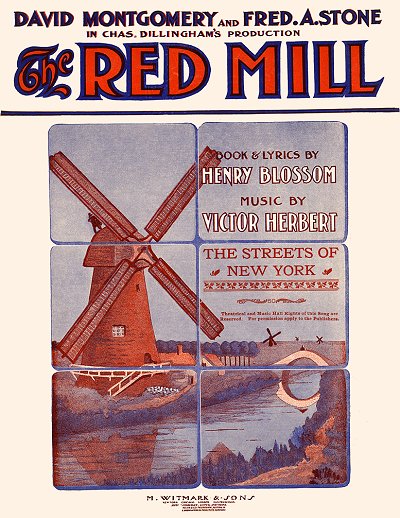 [Harry] started coming to the Rays' regularly. He brought Julia flowers and candy. He brought her the score of The Red Mill, and he and Julia sang a duet from it:

"Not that you are fair, dear
Not that you are true…"

He lifted his eyebrows and puffed out his chest. He quite eclipsed poor Hugh.
—from Betsy in Spite of Herself
by Maud Hart Lovelace
The Red Mill, an operetta by Victor Herbert and Henry Blossom, opened on Broadway in 1906. Among Herbert's other works are Babes in Toyland (1903) and Naughty Marietta (1910).
Here's the score of The Red Mill, including "Because You're You," the song Julia sang with the chest-puffing Harry.
Love is a queer little elfin sprite,
Blest with the deadliest aim!
Shooting his arrows to left and right,
Bagging the rarest game,
Filling our hearts with a glad surprise,
Almost too good to be true!
And still can you tell me why do you love me?
Only because you are you, dear!

Not that you are fair, dear,
Not that I am true,
Not my golden hair, dear,
Not my eyes of blue,
When we ask the reason,
Words are all too few!
So I know I love you, dear,
Because you're you!
• The Red Mill at Wikipedia. Fun tidbit:
In 1906, producer Charles Dillingham made theatrical history by placing in front of the Knickerbocker Theater a revolving red windmill powered and lit by electricity. This was Broadway's first moving illuminated sign.
• Selections from The Red Mill in a Youtube clip. My guess is that "Because You're You" is the melody beginning around 2:27.
Comments
Hypatia says:

You can listen to a bit of it here, too:

http://castalbumcollector.com/recordings/4643

Thanks for sharing all this music! It's a grand look into Betsy's world.