I didn't take many notes on this one, but there are stories to tell. First of all, I went into it expecting a discussion about the show, the ending, our questions, our theories—I mean, I figured there would be five or six people up front debating and taking comments from the crowd. It wasn't like that. What it actually was was an info session on DK's soon-to-be-published LOST Encyclopedia, moderated by a DK rep, with the book's two authors as panelists/interviewees.
This sounds very market-y, but it was FASCINATING. And before twenty minutes had passed, I had shifted from feeling very shruggy about the notion of an "encyclopedia" for a TV show, even one as intricate and awesome as LOST, to thinking I MUST HAVE THIS BOOK.
So: if it was a commercial, it was a darned effective one.
But it wasn't really a commercial. It was two intelligent and enthusiastic writers talking about the process of researching, writing, and organizing a complex work of nonfiction. The visuals were interesting enough—sample layouts, even a short video clip from the LOST DVD's bonus materials—but what really grabbed me was the authors' discussion about how they worked with the LOST writers and producers to write entries on every single person, place, and thing that appeared on the show, from Aaron (Littleton) to Zodiac (raft). Or, as Paul Terry, one of the cowriters, kept adorably saying, "From A to Zed."
My sparse notes say:
• Authors: Paul Terry and Tara Bennett. Liked these two very much. Clearly they are passionate about the material.
• The book will include everything that is LOST canon, including material from the not-yet-released bonus scene from the DVD, which of course I AM DYING TO SEE because I'm convinced it will be about—no wait, I can't say, since my own dear daughter hasn't made it past Season One yet. Must not spoil!! But, you know, if you're a Lostie then you probably have a good guess as to what sort of story there might be left to tell…
• Book will offer clarifications, yes, but will not fill in the holes—that isn't possible, said Bennett. No entries were winged; there are no speculations.
• Entries have levels of importance. A-level is major players, Jack, Locke, etc. D- or E-level would be something like Shannon's asthma inhaler.
• One particular challenge was that the language had to be concrete, couldn't leave opening for misinterpretation; the book was much harder to write than Terry and Bennett realized it would be when they took on the project.
• Once they were committed to writing it (seems to have happened perhaps midway through the run?), they stopped reading recap & speculation blogs, boards, etc; needed to keep their relationship to the show pure/uninfluenced by non-canonical theories & interpretations.
So much for my notes. But I said there were stories. The first one is actually from the panel before the LOST one, a discussion about webcomics by several successful creators. I went to this one out of mild interest, intending to stick around for the LOST panel since it was in the same room. The webcomics panel was structured as a "lightning round" Q-and-A: the panelists had 20 seconds each to answer questions from the audience. I'll write up that panel when I get a chance; it was lively and interesting and funny. But the really funny part was when one of the questioners remarked, somewhat snidely, that unlike many people in the room, he was there for the webcomics panel specifically, not just camping out for a seat at LOST. The webcomics guys said, Wait, what? There's a LOST panel in here next? And they asked for a show of hands: who was just waiting for LOST? About a third of the people in the audience raised their hands.
Ho-ho, said one of the webcomics guys. And for the next few minutes, whenever an audience member stepped up to the mic and asked a question about webcomics, he answered as if an entirely different question had been asked and it was about LOST.
Q: "How did you go about building an audience for your comic?"
A: "The whole Dharma Initiative arc? Irrelevant."
(Huge laugh from crowd.)
Superfunny. The panelists were Scott Kurtz, Robert Khoo, and Brad Guigar, by the way, and if their comics are anywhere near as funny as their panel, they have me at hello.
OK, by the time the LOST panel rolled around, spirits were already running high. The LOST Q & A was quite lively, if not as uproarious as the webcomics panel had been. But then, right in the middle of the question period, a boy stepped up to the mic, in his teens, shy and eager. The panelists lit up.
"It's Young Ben!" said Paul Terry. "Sterling Beaumon."
Stunned hush in the rows, and then a roaring cheer and wild applause. Young Ben/Sterling blushed and ducked his head. He was bursting with his question, which was about whether there would be an entry on "Annie" in the encyclopedia. His earnest, excited speech made it clear he's just as big a fangeek as the rest of us. It was charming.
I tried to take his picture but my giggling made it blurry.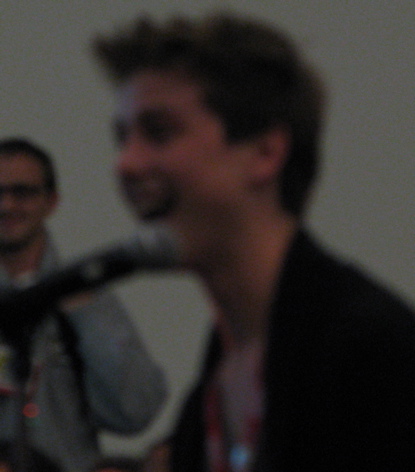 Such a cutie!
Anyway, I guess I'm totally buying the LOST Encyclopedia now. Well played, DK.

More on SDCC 2010:
A few photos
Photos of supercool steampunk wheelchair
Awesome sketch drawn for me by the incredible Fiona Staples
What I did at SDCC
Rick Riordan panel
Epic fantasy panel
Books that caught my eye (part 1)
Books that caught my eye (part 2)
Comments
Theresa says:

When does it come out?? Gotta have it!

Ellie says:

Oh, Lissa! I must have this!! Oh, what fun, can't wait. **sigh** I know I say this every year, but you are so lucky 🙂 thanks for the write-ups, my 21-yr-old geek enjoys them as much as I.

Melissa Wiley says:

Theresa, the Encyclopedia pubs August 24. (That's not an affiliate link so this is not a disclosure notice. 😉 )

Ellie, thanks, you are very kind! I always wonder if people are out there reading and thinking ENOUGH ALREADY! I still have at least two more panels to yap about, and the rest of that list of interesting-looking books.

Erin says:

I'm definitely psyched about the encyclopedia. That panel sounds like a hoot! And I love that Sterling asked about Annie! She's still one of the dangling threads that bugs me most…

Tara Bennett says:

Thanks very much for the wonderful write up of our Lost Encyclopedia panel. We're happy we swayed you to being interested and hope it doesn't disappoint. We LOVED getting to chat with our fellow Lost fans. Thanks for helping to make it such a special day for Paul and I. We were completely shocked to see a packed room!