"So what do you do at Comic-Con, anyway?" a friend asked me. My con experience is generally quite different from most of my friends' experiences there, the daytime parts at least. Most of my con pals are writers, artists, and editors who are there to work. They put in time at publishers' booths, they sign books and do sketches, they speak on panels and meet fans and go to special events. For most pros, it's a fun week, but a hard one too, often quite exhausting. People are usually pretty wiped out by Sunday afternoon. Even I am exhausted, and I didn't have to work. As you know, I took a break from fiction writing with the last two babies, so I haven't had any new books to promote in the past couple of years. (Though I suppose this is as good a time as any to tell you that I did get back to work in January, and I will have three new books coming out in 2012 and 2013. But that's a topic for another post…)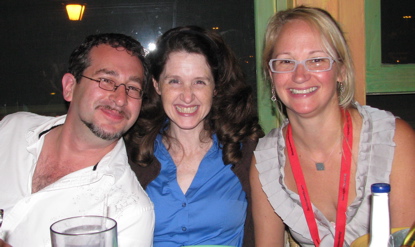 At dinner with Babymouse author and utterly lovable person, Jenni Holm, and her delightful husband, video game developer Jonathan Hamel. My crazy gremlin smile is because that is how happy they make me.
Anyway, for me, as a pro who has been on hiatus, SDCC is kind of an ideal convention experience: I get all the fun of spending time with writer and artist friends, many of whom I only see once a year, and I get to explore the vendor hall and scout out interesting new books to read—which you know is pretty much my favorite pastime—but I am also free to attend panels all day long, if I wish. And I love the panels at Comic-Con. I love listening to other creative professionals talk about their work. The folks who speak on SDCC panels are some of the smartest, most talented, most interesting people I've ever had the pleasure to listen to. Comic book writers and artists, children's book writers, science fiction and fantasy authors, cartoonists, editors…a feast for the curious mind.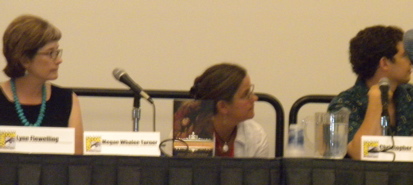 So: I went to lots of panels, and when I wasn't tweeting about them, I took copious notes in my notebook—notes I will shortly attempt to write up here, for my own records if nothing else. Here are the panels I attended; I'd love to know which ones you'd be most interested in hearing more about:
• "Once Upon a Time"—panel on high fantasy with authors Brandon Sanderson, Brent Weeks, Lynn Flewelling, Megan Whalen Turner, Christopher Paolini, and Patrick Rothfuss. SUCH A GREAT DISCUSSION! Topics: everyman vs. superhero; role of prophecy/destiny in fiction.
• Digital comics (this one turned about to be more about marketing than the creative and technical processes)
• Webcomics
• The LOST Encyclopedia
• Rick Riordan interviewed by novelist Michael Scott (EXCELLENT panel; I tweeted notes and took many more)
• "Entertaining One's Inner Child"—panel of children's graphic novel author/illustrators moderated by Jennifer Holm. The panelists were: Jimmy Gownley (Amelia Rules), Sina Grace (Among the Ghosts), Matt Holm (Babymouse), Adam Rex (Fat Vampire), David Steinberg (Daniel Boom), and Greg Van Eekhout (Kid Vs. Squid).
• Spotlight on the legendary comic-book writer and Batman editor Dennis O'Neil, moderated by my favorite man in comics, a handsome fellow by the name of Scott Peterson
Besides the panels, there were lunches and dinners and discussions that lasted late into the night. On Saturday evening a large group of children's lit folks—authors, artists, and editors—met for drinks at the Hyatt and then a bunch of us drifted over to Buster's Beach House for fish tacos and lively chat.
The lovely Raina Telgemeier, author/illustrator of Smile (the graphic novel Rose has read at least six time in the past four weeks), and her husband, cartoonist Dave Roman.
I'll share my enticing book discoveries in another post; exploring the publisher booths occupied a considerable number of my hours at the con. And, of course, there was plenty of time simply to marvel at (and sometimes be overwhelmed by) the crowds—tens of thousands of creative, colorful comic-book fans, some of the most dedicated and passionate readers in the world.
More on SDCC 2010:
A few photos
Photos of supercool steampunk wheelchair
Awesome sketch drawn for me by the incredible Fiona Staples
Rick Riordan panel
LOST Encyclopedia Panel
Epic fantasy panel
Books that caught my eye (part 1)
Books that caught my eye (part 2)
Comments
Theresa says:

LOST Encyclopedia!!!!

Margaret in Minnesota says:

Awesome. I was hoping you'd a post like this.

And ditto what Theresa said!

Margaret in Minnesota says:

"Hoping you'd DO a post like this," that is.

(I can't leave a comment on a post about writers and not correct my typo.)

Jacki says:

I was telling Jonathan about your adventures at Comic Con and he was very impressed. He's a big Riordan fan, so more on that panel, please! How fun for K that she got to go too. Was this her first year?

Sarah N. says:

I can't wait to hear more about the panels and the books you discovered. I'm sooooo excited to hear that you've written a young graphic novel. My daughter is soaking up all the young graphic novels she can get. She stayed up late last night determined not to sleep until she'd read Hamster and the Cheese which I'd brought home from the library.

Penny in VT says:

Sounds wonderful!

Now tell us about *your* books please. Thank you. 🙂

Charlotte (Matilda) says:

I am not familiar with BabyMouse but I did read Jennifer Holm's Boston Jane series at the beginning of the summer and I really liked it! Gonna have to check out her other stuff.

Melissa Wiley says:

Yes, Jenni writes beautiful historical fiction as well. Newbery Honor medalist for OUR ONLY MAY AMELIA. I can't wait to read her new novel, TURTLE IN PARADISE.

Maureen E says:

Definitely the one with Megan Whalen Turner! Because she's awesome!

Not that I'm a huge fan or anything. *cough*

Hannah says:

LOST Encyclopedia, of course.

And how can we choose? They sound fascinating.

And I'm thrilled to hear that you have not one but TWO new books in the works! GOod gracious. And you blog. And you mother six. But that's OK. We still love you. 😉

BTW, love the Carney T-shirt!

Melissa Wiley says:

Hannah, you're a dear! Remember: I'm the most half-hearted cook alive. Hey kids, how's grilled cheese sound! Again! Refusal to menu-plan frees up lots of time to write. 😉 AND I STILL DON'T DO THE LAUNDRY.

Actually I mostly write on the weekends. Scott is a sweetheart about carving out (sometimes fiercely) work time for me on Saturdays.

I have a couple other projects in the hopper besides the two books I mentioned. A set of board books I'm waiting to hear about. A beginning reader. A proposal for a YA novel that I think has some teeth. We'll see. It feels great to be working again. The hiatus was lovely and necessary, and three years passed in a blink. The blog kept me from going crazy. But fiction is where my heart is and it feels very good to be back in the thick of it—if a little crazymaking, with so many ideas competing for time.

Tabatha says:

My son would vote to hear about Michael Scott's interview of Rick Riordan, as he loves both those authors. (I admit I haven't read RR's work, but I like MS's books very much myself.)