21 days, 16 states, nearly 5800 miles by minivan. We left home on August 4th, the six kids and I, and got back this afternoon. It'll probably take me another three weeks to tell all the stories. I started posting about the trip while we were still on the road but didn't want to say we were away from home until we weren't anymore.
We got to spend time with beloved family on both sides, Scott's and mine, and had delightful visits with friends all over the country. This was an August we'll not soon forget.
Tomorrow we'll tackle the mountain of laundry, but tonight I'm still thinking of the mountains west of Tucson this morning, as we moved out from under a heavy blue storm into the bright desert light.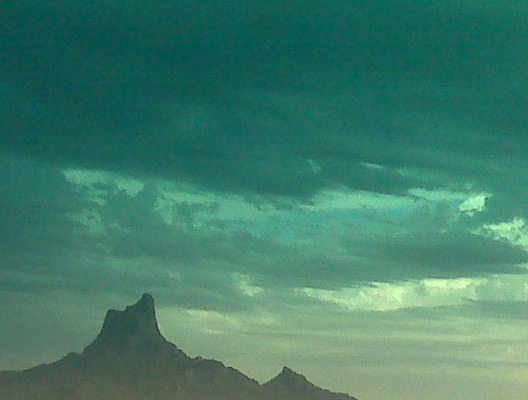 (Grainy cellphone photo.)
Tonight we are happy to be safely home, reunited with Scott (who flew out to Virginia to join us for a week of our trip, but returned home ten days ago). Kids are bathed and still mostly on Central Time, so bedtime is nigh. Scott says we have three episodes of Mad Men to catch up on. There's dulce de leche ice cream in the freezer. I loved our grand adventure, but I am happy, happy, happy to be home.